If you're suffering from a severe bout of cold and flu and a visit to your doctor is becoming a painful thought, then here comes honey tea to your rescue, briskly boiling in that pan!
How to Make Honey Tea?
It is very easy to make honey tea. Let us look at the recipe for making the tea.
Ingredients
Recipe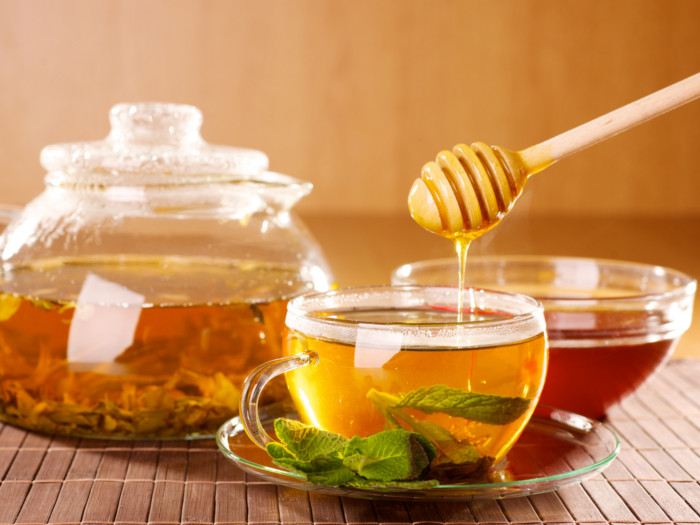 Step 1: Add water in a pan and let it boil
Step 2: Grate ginger and add it to the boiled water. Let the concoction steep for 3 minutes
Step 3: Add honey and lemon to taste
Step 4: Stir thoroughly and serve hot!
Note: You may also add a dash of cinnamon to your honey tea for a spicy flavor.
Benefits of Honey Tea
There are many amazing benefits of honey tea, including relieving menstrual cramps, treating cough and cold, soothing laryngitis, boosting immunity, fighting free radicals, and improving skin health. Let us discuss them in detail below.
Menstrual Cramps
By reducing the pain and tightness in the abdominal area, honey tea helps in relieving menstrual cramps. It also helps increase the blood flow and thereby promotes menstruation. Avoid drinking beverages that contain caffeine as this may exacerbate the pain and bloating associated with menstruation.
Cough & Cold
You should drink a cup of hot honey tea in order to relieve your cough and cold symptoms. While sipping on this herbal tea, you should also inhale the fumes coming from this tea as they help in relieving congestion in the chest and sinuses. The honey in this tea will also soothe your throat and thereby eliminate any associated pain and irritation. For best results, you can sip this tea right before you tuck yourself in bed at night.
Laryngitis
If you are suffering from an infection of the vocal cords, honey tea can help relax and soothe them. Sip this tea slowly and also breathe in the steam to moisten your throat and reduce the symptoms of laryngitis.
Others
This tea also has some other less known benefits, including the following:
Fights free radicals
Eliminates toxins
Improves skin health
Boosts immunity
Balances pH levels in the body
Acts as a

diuretic

Revitalises your body
So don't wait for Pooh to bring you that delicious pot of honey. Go buy honey to brew this amazing tea and sip in its health benefits!