Kirby cucumber is a miniature, crunchy variety of traditional cucumbers that packs quite a few nutrients and is versatile in many recipes.
What is a Kirby Cucumber?
Kirby cucumber is a small variety (not more than 6 inches) of cucumber, which is popular for pickling. The flesh of these cucumbers is quite firm, and there are bumps along the entire body of the vegetable. They have a very crunchy consistency and they are very popular for pickling cucumbers. That being said, they are also excellent for salad or diced up for salsa. The term "Kirby cucumber" has now become synonymous with pickling cucumbers, even though there are other pickling cucumber varieties that didn't always fall under this classification. These cucumbers don't have a waxy outer layer, which is why they are so ideal for pickling. [1]
For those people who like to avoid too many seeds in their cucumbers, this variety also has an immature seed cavity in the center of the vegetable, leading to very few seeds. These cucumbers are also slightly less juicy, on average than traditional cucumbers.
Dill Pickle Recipe
Crunchy, appetizing, and delightfully tangy dill pickles are capable of leveling up as a sandwich from a snack without a hiccup. Also, they are super easy to make at home. You don't need an entire afternoon either because you can make few pints of pickle jars in less than 30 minutes. Refer to our recipe below and find out how!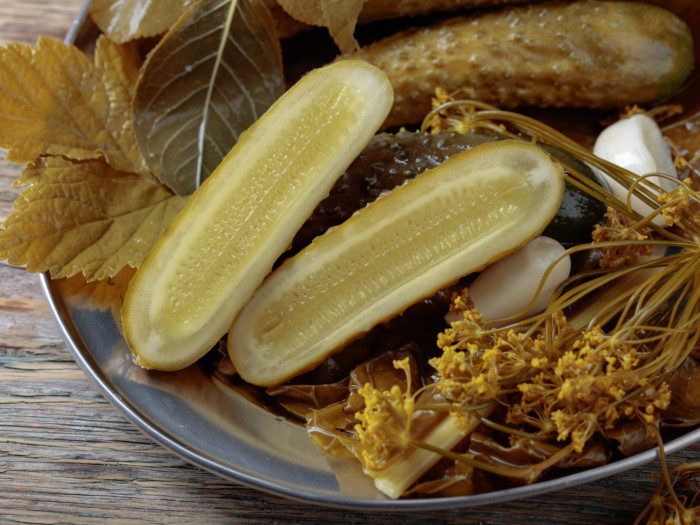 Appetizing Dill Pickle Recipe
Learn how to make crunchy dill pickles with fresh Kirby cucumbers.
Print
Pin
Rate
Ingredients
1 1/2

oz

Kirby or Persian cucumbers

4

cloves

garlic

peeled and smashed

2

tsp

dill seeds

1/2

tsp

red pepper flakes

optional

1

cup

apple cider vinegar

1

cup

of water

1 1/2

tbsp

pickling salt or kosher salt
Instructions
Bring a large pot of water to a boil and sterilize 2 wide-mouth pint jars and their lids. If you plan to make frozen pickles, simply wash the jars and lids.

Wash and dry the cucumbers. Trim away the blossom or stem end of the cucumber and leave it whole. Cut them into spears, or slice into coins, as desired.

Divide the garlic, dill seed, red pepper flakes between the pint jars: 2 smashed cloves, 1 teaspoon dill seed, and 1/4 teaspoon red pepper flakes.

Pack the cucumbers into the jars. Trim the ends if they stand more than the actual height of the jar. Pack them as tightly as you can ensuring cucumbers are not getting smashed.

Place the vinegar, water, and salt in a small saucepan over high heat and bring it to a boil. Pour the brine over the pickles, fill each jar to within 1/2-inch of the top.

Gently tap the jars against the counter a few times to evaporate the air bubbles. Top it off with more pickling brine if necessary.

Place the lids over the jars and screw on the rings until they are tight.

Cool and refrigerate. The pickles will improve with flavor as they age. Give at least 48 hours before cracking them open.
Notes
Canned pickles keep for at least a year on the shelf and for several weeks in the refrigerator once opened.
To make a larger batch, keep the ratio of water, vinegar, and salt as the same and make enough to store on your shelves.
The smaller and fresher pickles you begin with, the crunchier they turn out. Large cucumbers soften easily.
Trim off ends of the cucumber with a knife. The ends have enzymes that further soften the cucumbers.
Use small cucumbers and can the jar tightly. If your cucumbers are large, you cannot fit as many in the jar and will need extra brine.
You can use this pickle in your sandwiches, hot dog, or a hamburger.
The pickle juice can also be used in salads as a vinaigrette.
Kirby Cucumber Calories
In terms of calories, Kirby cucumbers only contain 14 calories in 1 cup of sliced vegetables. This is quite similar to normal cucumbers, which only contain approximately 16 calories in 1 cup of sliced vegetables. There are also some active ingredients and minerals, as well as a small amount of dietary fiber, but generally speaking, these are not nutrient-dense vegetables. [2]
How to Store Kirby Cucumber?
Most people recommend the immediate use of Kirby cucumbers, or any pickling cucumbers, for that matter, but that simply isn't a reality for everyone, particularly if they want to use them as salad vegetables over a matter of days. If you don't use them immediately, you can try to wrap the cucumber in a damp paper towel and store it in the refrigerator. Other people recommend placing the cucumber immediately into a plastic bag without washing it first. On an average, however, you can store a Kirby cucumber in some type of breathable container (grape bag, etc.) for 3-5 days before their quality becomes overly compromised. [3]