For all the vegetarians/vegans or simply those who want to embrace a plant-based diet, why not include kombu in your diet? This edible ingredient, also known as the "king of seaweeds" has an amazing flavor and a high nutritional value. More so, the most striking benefit of this seaweed is its high content of glutamic acid, the amino acid responsible for umami – an oriental element that provides an elemental taste to the dish.
Let us explore in detail with a fantastic seaweed salad recipe to follow!
What is Kombu?
Kombu (Laminaria japonica) is an edible brown sea kelp that serves as sea vegetable or seaweed. It is traditionally used as a flavoring material, a food additive, and a type of foodstuff in many Asian countries. It is popular in Japanese cuisine as a flavored soup stock called kombu dashi. Due to the high concentration of glutamic acids, or MSG, it is valued for its in-depth flavor, umami. It is not fishy in any sense but has a briny, almost a mushroom-like flavor. Kombu is hard to digest and should be cooked for a long time before consumption. [1]
There are various theories claimed over the years with one that is predominant even today. During the Muromachi period (1336 – 1573), kombu was allowed to be stored for more than a few days. Since then it has become an important export from the Tohoku area. Furthermore, during the early 20th century in Okinawa, kombu was easily cultivable, inexpensive, and readily available in the markets.
Kombu Nutrition
Kombu is a low-calorie and nutrient-dense food. On the health front, it is linked to fitness and longevity as it is a nutritional powerhouse. According to USDA FoodData Central [2], a 7g serving of kombu fetches you:
Calories: 17
Protein: 1 g
Carbohydrates: 3 g
Dietary fiber: 1 g
It also contains high levels of iodine ideal for thyroid functioning but it should be consumed in moderation. Moreover, it is known for reducing hypertension and blood cholesterol. It is also rich in vitamins A and C, which are beneficial for eye health and immunity. However, further studies are required to establish health claims of kombu as a beneficial food. [3] [4]
Kombu Seaweed Salad Recipe
Have leftover kombu and don't know what to do next? Make this perfect seaweed salad with ponzu sauce, or substitute it with soy sauce if you want to experiment and pair it with our delicious miso soup recipe! Meshiagare! (Japanese way of saying bon appétit).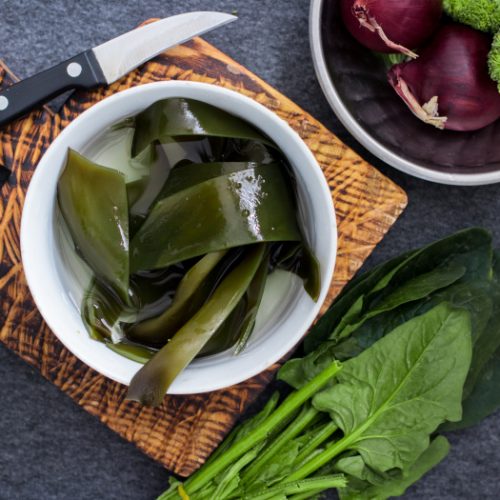 Healthy Kombu Seaweed Salad Recipe
Give your taste buds a surprise with this quick and tasty kombu salad recipe!
Print
Pin
Rate
[5]
[6]
Ingredients
1

cup

dashi kombu

dried kelp

2

tbsp

honey

extracted or strained

2

tbsp

soy sauce

shoyu

2

tbsp

ginger root

raw

3

tbsp

white rice vinegar

2

small carrots

julienne

2

small cucumbers

with peel, julienne

2

tsp

sesame seeds

dried
Instructions
Place dried kombu in warm water for 20 minutes and bring it to a boil.

Reduce the heat to medium-low, and simmer until the kombu has softened.

Drain and let it cool until easily handled.

Slice the rehydrated kombu into skinny strips.

In a bowl, whisk soy sauce, honey, ginger, and rice vinegar together. Add julienned carrots, cucumber, and sesame seeds.

Let the mixture refrigerate until the flavors blend well.

Garnish it with sesame seeds and serve.
Notes
If you want a protein-packed meal, add some silken tofu.
Kombu needs to be brushed clean and trimmed to avoid irregular spots.
Do not try breaking the kombu into pieces as the edges become slimy.
Kombu Substitute
Kombu cannot be replaced and it is not advisable to use another seaweed substitute in its place. However, if you are unable to procure kombu for making dashi, you can get pre-made dashi broth. These stocks come in boxes that are similar to tea bags.
Furthermore, if kombu is entirely unavailable, you can fetch dried shiitake mushrooms rehydrated to get the umami-rich broth. This does not replace the dashi flavor but instead adds a complimentary taste to the dish.
Where to Buy Kombu?
Dried kombu is mostly found in East-Asian markets and health food stores. More often, the strips are covered with a white powder from natural salts. This white powder is full of the naturally occurring glutamate that gives kombu its umami taste.
You can store kombu in an airtight jar, away from sunlight, to retain the moisture. It does not spoil as long as it is kept dry but may start losing its sweet aroma and turn stale.