Building a strong immune system is the best way to protect yourself from any kind of infection or illness. Deficiencies of any kind can cause the body to become susceptible to different kinds of viruses and bacterias. To keep your immune system healthy and strong, it is imperative that you give your body a daily dose of excellent nutrition, which is where a delicious and wholesome bowl of miso soup comes to the rescue.
Miso soup is your all-weather friend for flu and cough. A salty, savory broth cooked with lots of vegetables, green scallions, soft tofu, and sometimes meat, this soup is the best thing you can have for breakfast, lunch, and dinner, especially when you feel under the weather. This dish is a Japanese delicacy and is served in many restaurants. However, you can make your own customized version at home. Let us look at the detailed recipe below.
How to Make Miso Soup?
To make homemade miso soup, all you need to do is prep-up a whole bunch of vegetables and put them in a bowl to boil. The ingredients to make the best miso soup could include ginger, carrots, celery, shallots, shitake mushrooms, leeks, black pepper, garlic, and cayenne pepper. You can add noodles and brown rice if you wish to add carbs to the soup. Some also like to add dried seaweed, fish flakes (bonito flakes), and chunks of meat if they wish to have a non-vegetarian variant of the soup. The best part of miso soup recipe is that you can custom-make it just the way you want. The flavor of your miso soup also depends on which variety of miso you use. Let us take a look at the different kinds of misos below.
Different kinds of Misos
Miso is a fermented paste, which is typically made using soybeans. However, you can also make it from barley, brown rice, and other grains and legumes.
The flavor of the miso will be dependent on the depth of its color. Typically, the darker the shade, the longer the duration for which it has been fermented. The darker the color, the stronger the taste.
To get a relatively spicy version of miso, which is also very restaurant-like, red miso is ideal. However, you can try having a milder and sweeter version of the same by going in for white miso, or a more earthy-flavored version ie., yellow miso. Red miso is usually made from soybeans fermented with barley or other grains, whereas white miso is made from soybeans that have been fermented with a large percentage of rice.
Yellow miso, on the other hand, is typically made from soybeans that have been fermented with barley and at times with a small quantity of rice.
There is another variant known as black miso, which is either made entirely of fermented soybeans or with dark grains like buckwheat.
We have made use of red miso in our recipe. Take a look at the detailed recipe below.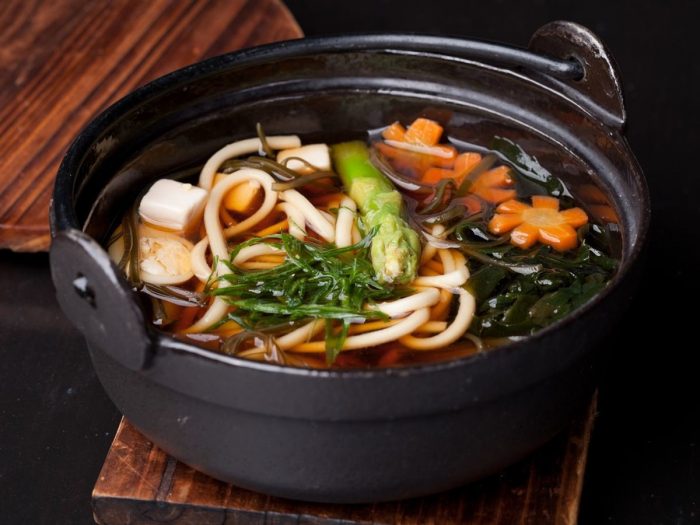 Immunity Boosting Miso Soup Recipe
Enjoy a bowl of wholesome goodness to keep the hunger pangs satiated and the flu away!
Print
Pin
Rate
[1]
[2]
Ingredients
1

tbsp

sesame oil

unrefined

2

tbsp

ginger

finely chopped

1

onion

chopped

2

tbsp

red miso (fermented soybean baste)

2

tbsp

rice vinegar

1

tbsp

garlic

finely chopped

1/4

cup

green onions

thinly sliced

1/2

pound

carrots

thinly sliced

6

cups

vegetable broth

2

leeks

trimmed and finely chopped

8

ounce

tofu

1

tbsp

cayenne pepper

optional

salt and black pepper

as per taste

1

cup

shitake mushrooms

1

cup

celery
Instructions
To make homemade miso soup, take a large pot and heat oil in it over medium heat. Before adding all the vegetables, mushrooms and tofu, as mentioned above, add ginger, garlic, and onions. Cook them on medium heat until they turn translucent. This should ideally not take over 5 minutes.

Thereafter, add the vegetable broth, chopped vegetables, and the tofu and bring them to a boil. Reduce the heat and simmer the vegetables until they become tender. This should not take more than 5-10 minutes. Once done, remove the soup from the heat. Add salt and pepper as per taste.

Now in a small bowl, serve about one cup of the hot broth. Add red miso, cayenne pepper (optional) and stir till it is properly mixed. Remember, cayenne pepper is added to just make the soup spicier so exercise caution on how much or whether you want to add it. Thereafter, transfer it into a pot and keep stirring. Add vinegar while you stir and ladle it into bowls and garnish them with green onions.
Notes
You can decide which miso to use depending on how you wish your soup to taste.
If you wish to make a gluten-free and a healthier variant of the soup, you can replace the noodles or rice with butternut squash peels or zoodles (zucchini noodles).
Herbs and spices predominantly help with the flu. So feel free to experiment with them and make your own version of miso soup.
How to Eat Miso Soup?
In Japan, miso soup is traditionally served in a bowl with a lid. In Japanese cuisine, a spoon is rarely used to eat food and miso soup is no different. People tend to drink the soup by lifting the bowl to their mouth. You could use chopsticks or spoons and forks to eat the vegetables, rice/ noodles. You can either have it as it is or with bread as an accompaniment. So, do try out our simple recipe and don't forget to share it with us.