Lemon iced tea is an evergreen favorite to beat the summer blues. Amidst the sweltering heat, a DIY iced tea is not a bad idea. Moreover, a beverage that matches your taste and preference is always a win-win compared to the packaged drinks. Besides, it is fun and easy to make, isn't it?
Preparing iced tea at home can be fun and exciting as it makes you explore your culinary skills. You think of a variety of ways to add flavor and make your drink stand out. Your version of iced tea can be sweet, salty, or sour. You could add slices of lemon, or wedges of fresh, tropical fruit, and even herbs. With a lot of recipes available at your disposal, make your cool version and impress your folks.
What is Iced Tea?
Iced tea is sweetened black tea which is served with ice. It is a popular summer drink and is usually flavored with lemon juice, lemon slices, apple slices, or peach slices. It is an ideal drink for get-togethers, barbecues, and picnics.
Iced tea started to become popular in the southern US and has been a favorite ever since. Richard Blechynden, an American merchant, has been credited with inventing iced tea. He sold iced tea instead of hot tea at the 1904 World Fair in St. Louis during a particularly hot period. People loved the idea and iced tea has become an American staple since then. At the present time, iced tea comprises about 80 per cent of the tea drunk in the United States, most of it in the southern states. [1] [2]
How to Make Lemon Iced Tea?
Making the perfect iced tea is no rocket science. It needs the right ingredients – could be citrus fruits or even tropical fruits and your iced tea is ready in a couple of minutes. Let us tell you how in our recipe below!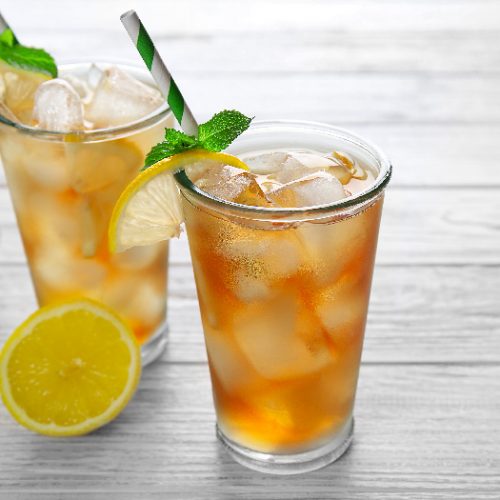 Invigorating Lemon Iced Tea Recipe
Time to enjoy warm, sunny days outside. There's nothing better than relaxing on a sunny day at the beach or laying by the pool taking sips of a tall glass of sweet lemon iced tea.

Print
Pin
Rate
Ingredients
5

cups

water

2

tbsp

black tea powder or tea leaves

1/2

cup

sugar

3

tbsp

lemon juice
ice cubes

as required

few

lemon slices for garnish

optional
Instructions
Steeping Tea
In a pan, pour 5 cups of water. Heat the water on a medium flame and let it come to a boil.

Once the water comes to a boil, switch off the flame and add 2 tablespoons of black tea powder.

Add sugar and mix well.

Let the leaves steep for 4 to 5 minutes. For a lighter tea flavor, you can steep it for 2 to 3 minutes.

After the tea is steeped in hot water, then add 3 tablespoons of lemon juice. Stir with a spoon.

Now strain the lemon tea in a steel or glass jar.

Let the lemon tea cool at room temperature. Later, keep it in the fridge to let it chill.
Making Iced Tea
While serving, add 4 to 5 ice cubes in a glass. You can add less or more as per your preference.

You can also add 1 or 2 lemon slices. This is optional.

Pour the iced tea in the glass.

Garnish it with a lemon slice or a sprig of mint leaves.

Serve the iced tea immediately. Stir the lemon iced tea with a stirrer or a spoon.
Notes
You can also use tea leaves. Green tea is a good choice for iced tea since it is rich in antioxidants. You can skip the sweetener - although you can use jaggery (the taste will be different). If using honey, then add it in the tea when it is at room temperature. Adding honey in hot tea or cooking it at high temperatures, makes honey toxic.
Flavor Tips and Tricks
Here are some cool hacks to make your iced tea more enjoyable:
Tea blends: This recipe includes plain black tea bags but you can use whatever blend you like. For instance, fruit-infused black teas to make a fruitful iced tea.
Green tea: If you use green tea, the hot brew technique is very important as it can get bitter if you steep it cold.
Avoid potential danger: If you are unsure about your pitcher being heatproof, prepare the tea in a saucepan and transfer once cooled.
Make it as per your taste: Iced tea recipes are fun to experiment with. You can brew it light or strong or make it sweetened or unsweetened. Once you get the basics right, you can play with the variations as per your taste.