Marshmallow root tea is a mild herbal tea brewed with the root of the marshmallow plant, scientifically known as Althaea officinalis. [1]Known for its medicinal applications since antiquity, this herbal tea has remained popular in the regions where it grows, including Europe, North America, and North Africa, as well as other parts of the globe. With many healthy properties, powerful antioxidants, and anti-inflammatory compounds, you should definitely keep this tea around the house.
Drinking marshmallow root tea is a wonderful way to soothe inflammation, but understanding its benefits and potential side effects is also important.
Marshmallow Root Tea Benefits
This tea has a wide range of benefits, including
Treating dry cough
Preventing UTI
Lowering inflammation
Reducing joint pain
Preventing kidney stones
This tea is primarily known for soothing inflammation and cooling the body, as well as easing joint pain. It does have some laxative properties, due to the mucilage present in the dried root. Some studies have also linked this tea to a reduction in kidney stones. If you feel like you may be getting sick or have a dry cough, you can drink a cup of this tea, due to its antibacterial and antiviral properties. [2] [3]
How to Make Marshmallow Root Tea?
Making marshmallow tea is simple, provided you have dried marshmallow root on hand. Here's an easy recipe to make marshmallow root tea at home.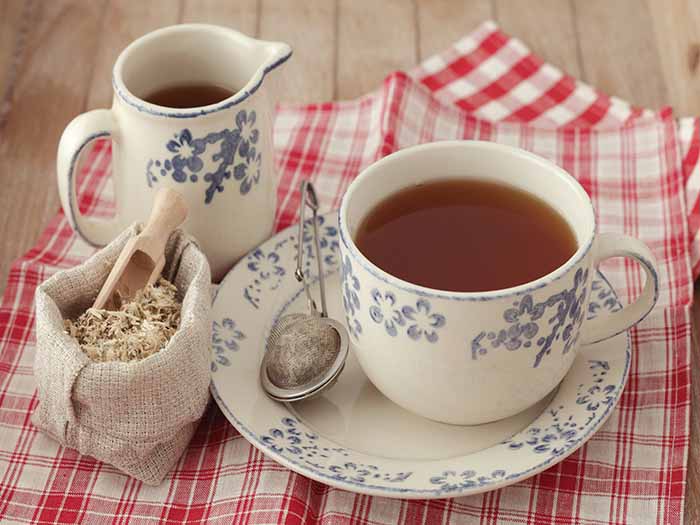 How to Make Marshmallow Root Tea: Easy Recipe
For centuries together, marshmallow root has been used to treat various kind of infections. improve digestion, reduce congestion and swellings of any kind. It's needless to say then that marshmallow tea has far-reaching health benefits as well. It's relatively easy to make this tea at home. Follow these simple steps given below.
Print
Pin
Rate
[4]
[5]
Instructions
In a mason jar, combine the marshmallow root and water. Cover it with a lid.

Allow the mixture to sit overnight.

Strain out the roots, leaving behind a syrupy, light-yellow liquid. Enjoy the drink!
Marshmallow Root Tea Side Effects
When used topically, marshmallow root tea can cause the following:
Skin Inflammation: It can cause skin irritation, especially in those who are allergic.
Stomach Upset: Some people report gastrointestinal problems, such as nausea, cramping, bloating or diarrhea.
Drug Interaction: There is a chance that use of this tea can interfere with medication for diabetes, so speak to your doctor before adding this tea to your health regimen.