Mulberry is one of the hardiest trees, requiring very little care. It is best known for its juicy, flavorful fruits. But the leaf of the mulberry tea can be just as useful. Interestingly, it was mulberry leaves which were highly prized centuries ago. The Chinese used these leaves to feed silkworms. As a result, the mulberry tree became a critical part of the Chinese silk trade. Today we use the leaves in other ways, mostly for dietary supplements and as tea leaves.
There are three types of mulberry trees – red, white, and black. They are named according to the color of the fruit. The leaves are very similar with just minute variations.
Benefits of Mulberry Tree Leaf
Mulberry leaves are used in traditional Asian medicine for its beneficial properties. Many of these have since been proven in clinical trials. Some of the top benefits of mulberry leaves are:
Lower Blood Sugar
Mulberry tree leaf has been used in traditional Asian medicine to treat diabetes. Its efficacy has consequently held true in scientific trials. A 2017 study published in PLoS One found that mulberry leaf extract may reduce blood glucose response after a carbohydrate-heavy meal. The study concluded that the extract may have multiple modes of action, including slowing down the absorption of glucose from the gut. [1]
Promote Heart Health
Multiple studies have shown that mulberry leaves can be beneficial for our cardiovascular health. A 2018 study, published in the journal Pharmaceutical Biology, concluded that phenolics and flavonoids present in the leaf reduce cardiometabolic risks. Another study published in BioMed Research International found that these antioxidants work by decreasing serum triglyceride, CRP, and LDL levels. [2] [3]
May Help Reduce Obesity
Mulberry tree leaf has shown potential in reducing weight and dealing with obesity. An animal trial published in Experimental Biology and Medicine found that mulberry leaf extract worked through multiple channels in reducing obesity and related complications. This included the reduction of plasma triglyceride, adipocyte size, liver lipid peroxidation levels, and improved hepatic steatosis. [4]
Reducing Risk for Chronic Diseases
The anti-inflammatory properties of mulberry are credited for its ability to reduce risks for chronic diseases. A study published in the Journal of Functional Foods found that mulberry leaf extract helped in decreasing the impact of inflammatory compounds like cytokines. This could make the extract very effective against chronic conditions and inflammations like arthritis, fibrosis, diabetes, and cancer. Since the study was based on a dose-dependent regime of mulberry extract, homemade alternatives like mulberry teas could help in achieving similar results. [5]
Chemopreventive Potential
Mulberry leaves have long been considered beneficial in traditional Chinese medicine in treating chronic diseases. A review published in the Journal of Traditional and Complementary Medicine covered different researches (including clinical and lab researches) on the mulberry extract. The study found that mulberry could help in preventing and managing different types of cancers. The review recommended combining it with drugs in creating better immunity. [6]
Uses of Mulberry Tree Leaf
Mulberry tree leaves are the sole food source of silkworms. But they have many uses beyond that. As explained above, mulberry leaves have been used for centuries in Asian cultures for their medicinal properties. These are also used for culinary purposes. The young tender leaves can be cooked and eaten. You can use it in place of grape leaves when making our Dolma recipe. It is most commonly consumed in the US as a dietary supplement. Another popular way of using mulberry leaves is by brewing the dried leaves in a tea.
How to Make Mulberry Tree Leaf Tea?
Mulberry tree leaf tea is very easy to make. You just need to steep the tea leaves or tea bags in hot water. The tea is made from the dried leaves. In the US, you can buy the tea from certified herbalists or order them online. You can quite easily get mulberry leaf teabags. When buying the tea, we recommend that you look for organic brands.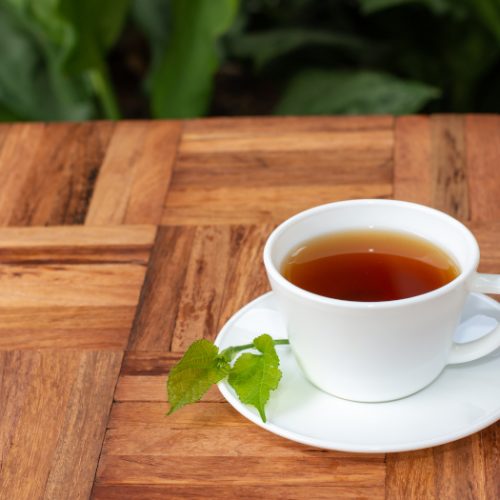 Mulberry Tree Leaf Tea Recipe
Mulberry leaf tea has a sweet flavor with just a slightly bitter edge. The tea is very easy to make with just steeping the leaves in hot water.
Print
Pin
Rate
[7]
[8]
Ingredients
1

tsp

mulberry tea leaves

or

1

mulberry leaf teabag

1

cup

water

filtered

honey or lemon

optional
Instructions
Mulberry tea is best made with water at 160-200 degrees F. To do that,

bring a cup of water to boil. Let it cool for just a minute.

Add tea leaves to a teapot and pour over the hot water. Alternatively, you can steep a tea bag in a cup of hot water.

Let the tea leaves steep for 3-5 minutes. If using a teapot, strain the tea into a teacup.

Your tea is ready! Mulberry leaf tea is usually taken without any additives. But you can add honey or lemon if you want.
Notes
If you find the tea too strong, try steeping for a shorter period next time. Keep in mind that a teabag takes less time when you dip it repeatedly in the hot water.
How to Identify a Mulberry Tree Leaf?
Mulberry trees are relatively new to the American landscape. But it is becoming increasingly popular among permaculturists and foragers. The hardy tree is easy to grow and almost indestructible. If you are foraging for the leaf, you should know how to identify it. Fortunately, the leaves are similar. So, you don't need a different guide for each type! To identify the leaves, here's a short guide:
Shape: There is no uniform shape in mulberry leaves, not even in the same tree. A leaf can have five, three, two, or no lobes at all. Mulberry leaves are heart-shaped or oval with toothed edges. The leaves often have deep lobes.
Symmetry: Mulberry leaves are rarely symmetrical. You may find a rare almost perfectly symmetrical three-lobed leaf. The lobes are often distributed unevenly on each side.
Texture: Mulberry tree leaves are usually hairy on the top and downy at the bottom. The texture can differ minutely between the different types of mulberries.
Word of Caution: We don't have long-term studies on the side-effects of eating mulberry leaves or drinking its tea, although it has been part of Chinese traditional medicine for centuries. Hence, we advise caution when taking this tea. Pregnant women and children should avoid the tea since there are no long-term studies on its safety. You should also keep in mind that mulberry leaves are known to lower the blood sugar. As always, talk to a doctor before including it to your diet if you are on any medication.