If there is one thing that food can do, it is to bring people from different parts of the world together. Gastrodiplomacy, as it's commonly known, is based on the assertion of finding a way to people's hearts through their stomachs. Every country has its own cuisine with which it brands itself, using its delicacies as soft power. If the Italians have their pizzas and pasta, the Japanese have their sushi and ramen, the Americans their hamburgers, and the Indians their biryanis. Likewise, the Koreans are known for their all-pervasive dish- kimchi.
Kimchi is known for its health benefits as much for its interesting flavor. Check out our article on 10 Surprising Benefits Of Kimchi to know more about it. There are different kinds of kimchi. The one that we all know and read about the most is baechu kimchi (napa cabbage kimchi). But today we shall talk about yet another type of kimchi – the radish kimchi, also known as kkakdugi. [1]
What is Radish Kimchi?
Kkakdugi when translated in English means fermented diced radishes. Radish kimchi made traditionally with daikon or Korean radishes (also known as moo), and red Korean chili powder is predominantly a flavorful mix of sour, spicy, and umami. The flavor of the dish can vary depending on the freshness and variety of radishes used, the amount of salt or sugar used in preparing it, and the total time taken to ferment the dish. While winter radishes are slightly sweet and peppery, the summer ones tend to be bitter, but they too can be used to prepare the dish. All you may need to do is add more sugar to offset the bitterness.
How to Make Radish Kimchi?
The tradition of making kimchi, also known as kimjang, is an age-old tradition that has been uniting villages and neighborhoods since time immemorial in turning different types of vegetables into a source of food and nutrition for people. Radish kimchi is a dish made with radish, ginger, garlic, chili peppers, sugar, and salt. The eclectic mix of ingredients is then pickled and fermented and aged in pots away from direct sunlight. Like other fermented foods, it is prepared in bulk and then later on divided into different perfectly-airlocked mason jars and kept in a cool environment to allow the mix to ferment for months together. What makes radish kimchi a delicacy is its eclectic mix of flavors. [2]
Spicy: To add the spicy element to your radish kimchi, use red Korean chili powder, cayenne pepper, or red pepper. The red chili pepper gives the kimchi its signature red color. While you can adjust the spiciness as per your preference, radish kimchis are usually made light and mild.
Sweet: The typical Korean radish is naturally sweet. So if you are using it, you may go easy with the sugar component. However, if you are using radishes that are bitter or a little too peppery in flavor, then you may have to add more sugar to it. The sugar also kickstarts the fermentation process, by giving the bacteria something to feed on.
Umami: To give the radish kimchi an umami flavor, you can add fish sauce or fish paste. You can choose to make your kimchi without adding the fish ingredients. Kimchi sans fish ingredients will automatically have a lighter and fresher taste. But, if you insist on having the quintessential umami flavor, this is a must.
Salty: Use non-iodized or kosher salt as iodized salt is likely to prevent fermentation.
Garlic: This is also a very important component that is added to your radish kimchi. During the fermentation process, the garlic gives out a deep and strong flavor. But also ensure that you do not add too much garlic to the preparation as it could turn bitter and smell a lot.
Sour: Given that radish kimchi, or for that matter any kimchi, is a fermented dish, it is predominantly sour to taste. During the fermentation process, the bacteria produce lactic acid, which lends the dish a tart and pungent flavor.
Now that we have looked at the individual flavors of radish kimchi, let us take a look at the detailed recipe given below.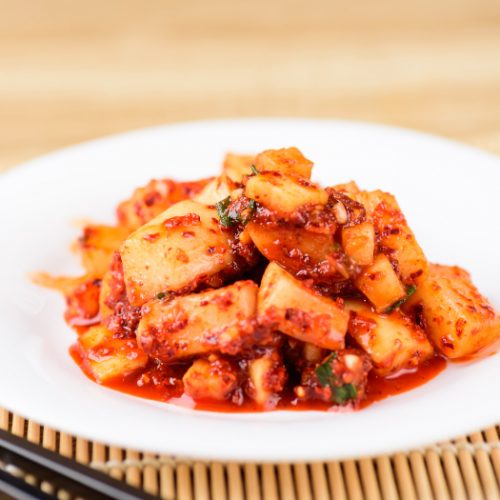 Sweet and Tangy Cubed Radish Kimchi Recipe (Kkakdugi)
Enjoy the tart, pungent, sweet and spicy flavor of homemade radish kimchi!
Print
Pin
Rate
Prep Time:
1
hour
15
minutes
Total Time:
2
days
1
hour
15
minutes
Ingredients
Basic Ingredients
1/3

cup

of kosher salt/ non-iodized salt

3-4

Korean radishes

medium-large

4-5

scallions
Seasonings
2

tbsp

fish sauce

3

tbsp

of minced garlic

2/3

cup

of Korean red chili pepper flakes

1

tsp

of grated ginger

2

tbsp

of sugar

(more if using a different variety of radish)
Instructions
To make radish kimchi, start off by properly cleaning the radishes. Scrub all the dirt and impurities from the radishes. If the skin is not clean, you can peel off the skin. Thereafter, cut the radishes into 1-inch cubes and place them in a large bowl.

Once the radishes are cut in cubes and placed in a bowl, sprinkle kosher salt or non-iodized salt over all the cubes and toss them properly to ensure that it is evenly spread. Now let the cubes sit this way for 30-40 minutes so that the radish cubes soften and let out some liquid.

In the meantime, prepare the seasoning ingredients and keep in a separate bowl. Ensure that they are properly mixed. Let it rest this way for a while till the red pepper flakes get properly dissolved and become pasty in texture.

Meanwhile, drain the liquid from the radish cubes using a colander. Ensure that you don't rinse the radish cubes as that can adversely affect the flavor of the vegetable. Note that radishes have a lot of water content. During the fermentation process, more water will be released, as a result of which, the kimchi will have a thick gravy.

Once the radishes are properly drained, place them in a bowl and add the scallions and seasoned ingredients. Mix everything really well, preferably with your hand so that it is evenly coated with the ingredients. Ensure that you are wearing gloves while mixing the ingredients and the radish cubes. You can taste the radish at this point to gauge the taste. It must be a little too salty to taste at this point. You can add the other ingredients at this point if you think it requires so.

Now take an airtight container and place the radishes in it. Keep pushing them inside the container with your hand so that there are no air pockets between the cubes. Depending on how fast you want your kimchi to ferment and ripen, leave the airtight mason jar out at room temperature. Thereafter, keep it inside the refrigerator. The longer you keep the kimchi inside the fridge, the better it will taste. It is ideal to have it after a week or two of keeping it inside the refrigerator as the flavors will properly mature this way and stay on for longer.
Notes
You can use any type of radish you want to make this kimchi, but understand that different types of radish taste differently, and hence you may need to alter the ingredients accordingly. For instance, add more sugar while using the summer radish as it tends to have a bitter taste.
Here we have made use of fish sauce for the umami flavor, but some also like to add salted shrimps for the same.
How To Use Radish Kimchi?
As far as Korean cuisine goes, kimchi, and in this case, radish kimchi, can be served with almost every dish. You can either have it as an appetizer just as it is, or add it to stews to enhance its flavor. Likewise, you can use it to enhance the flavor of noodles, fried rice, sandwiches, or any kind of stir-fry. You can also have it as a side dish to your spicy marinated steak, or simply use it as a delicious garnish to your grain bowl to give it a tangy and spicy spin. This kimchi can also add a nice crunchy texture and hot-tart flavor to savory pancakes. You can also add radish kimchi to your scrambled eggs to give it an interesting spicy-tart touch.