Kimchi is a popular dish in Asia that is characterized by an array of salted and fermented vegetables. Kimchi is known to possess potential anti-mutagenic, anti-bacterial, and anti-carcinogenic properties. Health magazine has ranked it among the world's five healthiest foods.
The wealth of potential antioxidants it contains are thought to exercise healing effects on the digestive system, as well as chronic medical conditions, including heart disease, cancer, diabetes, obesity, and skin disorders.
Nutrition Facts

---

Cabbage, kimchi

Serving Size :
Nutrient
Value
Water [g]
94.3
Energy
15
Energy [kJ]
65
Protein [g]
1.1
Total lipid (fat) [g]
0.5
Ash [g]
1.7
Carbohydrate, by difference [g]
2.4
Fiber, total dietary [g]
1.6
Sugars, total including NLEA [g]
1.06
Calcium, Ca [mg]
33
Iron, Fe [mg]
2.5
Magnesium, Mg [mg]
14
Phosphorus, P [mg]
24
Potassium, K [mg]
151
Sodium, Na [mg]
498
Zinc, Zn [mg]
0.22
Copper, Cu [mg]
0.02
Selenium, Se [µg]
0.5
Thiamin [mg]
0.01
Riboflavin [mg]
0.21
Niacin [mg]
1.1
Vitamin B-6 [mg]
0.21
Folate, total [µg]
52
Folate, food [µg]
52
Folate, DFE [µg]
52
Choline, total [mg]
15.5
Vitamin A, RAE [µg]
5
Carotene, beta [µg]
55
Carotene, alpha [µg]
1
Vitamin A, IU [IU]
93
Lutein + zeaxanthin [µg]
49
Vitamin E (alpha-tocopherol) [mg]
0.11
Vitamin K (phylloquinone) [µg]
43.6
Fatty acids, total saturated [g]
0.07
12:0 [g]
0
14:0 [g]
0
16:0 [g]
0.06
18:0 [g]
0
Fatty acids, total monounsaturated [g]
0.04
18:1 [g]
0.04
Fatty acids, total polyunsaturated [g]
0.24
18:2 [g]
0.1
18:3 [g]
0.14
Sources include : USDA [1]
Nutritional Value of Kimchi
Kimchi is a low-calorie, high fiber, nutrient-packed side dish. It is a storehouse of a multitude of vitamins, such as vitamin A, vitamin B1, vitamin B2, and vitamin C. It is also rich in essential amino acids and minerals such as iron, calcium, and selenium. It has an impressive assortment of antioxidants and provides an additional benefit of probiotics in the form of lactobacillus bacteria. It contains numerous helpful components including capsaicin, chlorophyll, carotenoids, flavonoids, and isothiocyanate, and has a low amount of fat and sugar. [2]
Health Benefits of Kimchi
The delectable – yet distinct – taste of kimchi, which has been admired globally comes with a super bonus of health benefits attributed to a range of qualitative evidence supported by several pieces of research. The major health benefits are discussed below.
May Promote Digestion
A study published in the Journal of the Science of Food and Agriculture [3]states that kimchi is a food used to promote digestion. It is a potential source of possible probiotics attributing to the process of fermentation involved in its preparation. The process of fermentation not only enhances the taste but also creates healthy bacteria, Lactobacillus, which is required by the body to keep a healthy state of intestinal flora.
Kimchi is made from cabbage, which is already well known for its positive health benefits, including promoting intestinal health, with fiber content assisting in stabilizing bowel movements and preventing constipation. [4]
May Regulates Cholesterol
In a randomized trial conducted by researchers at the Department of Food Science and Nutrition, Pusan National University in Korea, it was found that kimchi helps in lowering the total cholesterol and LDL (bad) cholesterol along with the concentration of blood glucose in the body. [5]
Regular consumption of kimchi has a beneficial effect on the levels of cholesterol. Garlic, which is used to prepare it, is rich in selenium and allicin. These two components are thought to help in reducing unhealthy levels, in concert with a healthy diet and exercise. Allicin, an eminent component that may assist in lowering cholesterol levels may reduce the risk of developing cardiac disorders, such as strokes and heart attacks. Selenium also exerts a potentially protective effect on the artery walls by preventing the build-up of plaque and decreasing the threat of atherosclerosis.
May Contain Potential Antioxidant Properties
A 2008 study found that kimchi varieties made using red pepper seeds are possibly rich in powerful antioxidants. These antioxidants along with phenols and flavonoids present in them may exert a protective effect against oxidative damage and shield the body from the harmful effects of oxygen-free radicals. [6]
May Have A Therapeutic Effect on Atopic Dermatitis
The presence of lactobacillus bacteria in kimchi makes it a multi-faceted condiment. It extends its therapeutic effects on various skin ailments such as atopic dermatitis which is characterized by increased levels of immunoglobulin E and skin lesions such as edema and hemorrhage. According to a 2018 Korean study conducted on mice, kimchi may help alleviate atopic dermatitis. Another animal study published in the Journal of Applied Microbiology [7] has shown that healthy bacteria present in fermented kimchi exert suppressive effects on mite-induced dermatitis and help in reducing inflammation. However, more scientific evidence would be needed to ascertain the benefits for humans with atopic dermatitis.
May Aid in Weight Loss
Kimchi is a source of healthy lactobacillus bacteria which the body utilizes for its healthy functioning. The fiber content present in it keeps your body full and your hunger satisfied for a longer duration preventing you from overeating. One study published in the Nutrition Research [8]conducted on obese patients showed favorable effects of fermented kimchi on the body with respect to body mass index (BMI) and body fat, which helps in reducing the development of factors implicated in metabolic syndrome.
May Boost Immune System
The multi-nutrient-packed kimchi is potentially rich in a range of flavonoids and phenolic components. The variety of ingredients involved in the preparation of kimchi – including ginger, garlic, and peppers are thought to be super protectors on the immune system. They are thought to help in fighting infections and are valuable in curing cold and flu symptoms. [9]
May Have Anti-aging Properties
Another valuable benefit provided by kimchi attributed to the presence of antioxidants and vitamin C – is its anti-aging qualities. A study evaluating the anti-aging activity of kimchee suggests has revealed that it helps in regulating and attenuating inflammation that speeds up the aging process. The same study also showed promising results with regard to factors like possibly reduced oxidative stress in the cells, inhibition of lipid peroxidation, and extended lifespan in the subjects, making kimchi a potent anti-aging component. [10]
May Have Anti-Cancer Potential
Kimchi may be a valuable food that contributes to a reduced risk of cancer. One study performed on its samples has validated its possible anti-cancer potential given that it may have the ability to inhibit the proliferation of unbeneficial cells. Other powerful cancer fighters present in cruciferous vegetables, such as cabbage, are glucosinolates. Glucosinolates break down to form isothiocyanates, which are considered effective against cancerous cell growth. Kimchi has beneficial implications for being anti-carcinogenic, however, more research is needed to confirm the effects. [11]
May Aid in Diabetes Management
A study conducted on high-fat-diet-fed type-2 diabetic rats who were given kimchi revealed some anti-diabetic properties of this Korean delicacy. The study showed better glucose tolerance and lower levels of fasting glucose after eating a kimchi-containing diet in those rodents with diabetes. It also suggested that this Korean delicacy may prove more useful in diabetes if it is eaten with a normal or low-fat diet instead of high-fat food. [12]
May Reduce Gastric Ulcers
Kimchee exerts therapeutic effects in gastritis and peptic ulcer disease caused by Helicobacter pylori bacteria. Research conducted in this regard has shown that the antagonistic activity of kimchi attributes to the abundance of Lactobacillus bacteria which can inhibit the harmful pathogens from connecting to the human gastric cancer cells. [13]
Culinary Uses
Kimchi is prepared and enjoyed in many varieties. It makes an excellent side dish or pre-meal appetizer. It can also be added to soups, stews, or rice dishes. Kimchee serves deliciously well even as a topping on sandwiches or with pancakes.
Other Uses
Various studies have proven the potential effectiveness of kimchi in curing avian influenza or bird flu virus, and many other viral diseases affecting the poultry. However, none of these results are definitive, and more research is needed to confirm its effectiveness.
[14]
How to Prepare Kimchi?
Kimchi can be prepared in different ways, depending upon one's taste and preference. There are many types, available that are made using vegetables including Chinese cabbage, leek, scallion, radish, cucumber, ginseng, garlic, cayenne peppers, and Indian mustard leaves. These vegetables are mixed with spices and seasonings and kept for fermentation for specified days under favorable conditions. Let us take a look at the recipe below. [15] [16]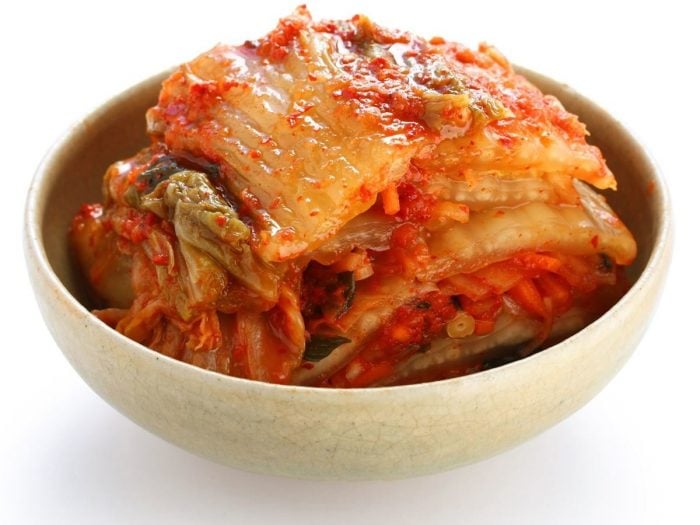 Easy-to-Make Kimchi Recipe
Enjoy the sweet and tangy flavor of the Korean delicacy!
Print
Pin
Rate
Prep Time:
1
hour
15
minutes
Total Time:
2
days
1
hour
15
minutes
Ingredients
2

pounds

of napa cabbage

4

medium

scallions trimmed and cut into 1-inch pieces

2

tbsp

of fish sauce

1-5

tbsp

of red chilli flakes

1

tsp

granulated sugar

1

tsp

grated peeled fresh ginger

5-6

cloves

grated garlic

1/4

cup

of iodized salt

filtered water (as desired)
Instructions
To make kimchi, first, cut the cabbage lengthwise into quarters, through the stem. From each of the pieces then cut the cores. Ensure that you cut each quarter cross wise to strips that are not less than 2-inch in width.

In a large bowl, place the cabbage and sprinkle salt all over it. Use your hands to mix the salt properly until it begins to soften a bit. Now, add enough water to it until the cabbage is properly covered. Place a plate on top of the cabbage and weigh it down with something heavy. Allow it to stand like that for one or two hours.

Ensure that the cabbage is rinsed properly in cold water at least three times. Keep it aside to drain it in a colander for about 15-20 minutes. In the meantime, start to prepare the spice paste.

To make the spice paste, first, properly rinse and dry the bowl you will use for salting. Then add the sugar, fish sauce, shrimp paste, ginger, garlic or water and stir into a smooth paste. To it, add the red pepper/chili flakes and stir properly. If you want it mild, add just a tablespoon of it. If you want it to be spicy, add 5 tablespoons of it. Once ready, keep it aside until the cabbage is ready.

Once the cabbage is ready, gently squeeze out any water, if remaining, from the cabbage and add it to the spice paste. To this add the scallions and mix well.

Gently work the paste using your hands and let it seep into the vegetables until it is properly coated.

Once ready, take a 1-quart jar and pack the kimchi in it. Press it down until the liquid that comes out of the kimchi rises to cover the vegetables, leaving at least an inch of space on the top. Seal the jar, once done.

Allow the jar to stand at cool room temperature, far away from direct sunlight, for anywhere between 1 and 5 days. You may see bubbles inside the jar and brine (which is the liquid of the kimchi) may seep out of the lid.

Keep checking the kimchi atleast once a day, opening the jar and pressing down on the vegetables with a clean finger or spoon. This way the vegetables will be submerged under the brine. Allow it to ferment properly and keep checking the taste from time to time. When the kimchi tastes ripe enough, put it in a jar inside the refrigerator. Either you eat it right away, or keep it inside an airtight container inside the refrigerator for another week or two.
Notes
Kimchi gets its umami flavor from seafood. While most regions and families may use fish sauce, oyster or shrimp paste, it can turn out to be quite difficult if you are a vegetarian. Thus for a vegetarian kimchi, you can use 3/4 teaspoon of kelp powder mixed with 3 tablespoon of water. You can refrigerate the kimchi for up to a few months. You must use
clean utensils every time to extract the kimchi from the jar.
Side Effects of Kimchi
Kimchi may cause some side effects, as follows:
Digestive Health: Excess consumption of kimchi may lead to digestive problems. Research conducted suggests that too much of it may aggravate the risk of developing gastric cancer when the excess sodium and red pepper combine to form a carcinogen. On a less severe note, due to fermentation, kimchi is abundant in fiber that maybe gas and bloat – causing issues in susceptible individuals. It is advisable, to begin with adding small quantities of kimchi to the diet in order to assess its effects. [17]
Cardiac Functions & High Blood Pressure: Individuals suffering from high blood pressure should be cautious while eating kimchi given the presence of high salt concentration, which gets further accentuated during the fermentation process. However, a study conducted on hypertensive subjects revealed that consuming low-sodium kimchi may not exert harmful effects on blood pressure and cardiac activities. It is always advisable to consult a medical professional before considering it for therapeutic usage. [18]