When life gives you a bunch of pretty pink radishes, you can use them in delicious salads for easy family dinners or summer cookouts. Pink radishes, also called the Easter egg variety, can also be red, white, crimson, or purple, and are the most easily available radishes in summer. They have a mildly sharp taste as compared to the white long radishes or the black Spanish variety, making them perfect for salads. Watermelon radishes, with their green exterior and red interior, are stunning to look at and can be used instead of pink radishes too. To enjoy the flavor of pink radishes, you can slice them and toss them in butter or add them to salads. We share our favorite ways to make radish salad.
Summer Radish Salad Recipe
Radishes are best enjoyed raw or pickled to appreciate their peppery taste. Radish salads make an excellent accompaniment to steak or Asian-style chicken due to their sharp taste. These tiny root vegetables can be combined with other crunchy vegetables for texture and flavor, and they go well with shredded cabbage, sweet pear slices, or even creamy avocado.
A classic summer salad combines Persian cucumbers with pink radishes. You can enjoy this wonderful and summery cucumber radish salad for a quick lunch or as an evening dinner. It is perfect for barbeque parties or pretty enough to be served to impress at a book club meeting. It gets extra brownie points as it is low-carb, keto-friendly, and makes for a great vegetarian or vegan option. So let's get straight to it.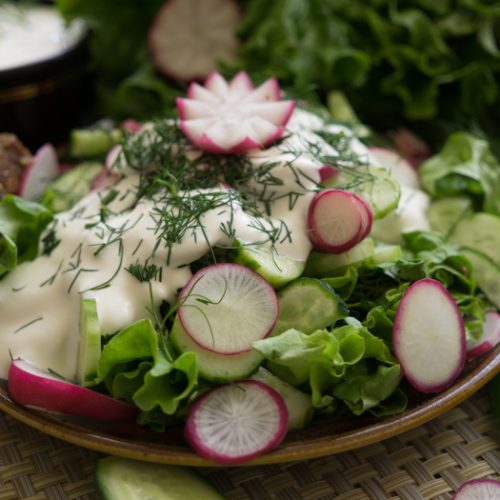 Easy Cucumber Radish Salad Recipe
A delicious summer salad that can double up as a quick, refreshing lunch on a hot day!
Print
Pin
Rate
Refrigeration Time:
1
hour
Ingredients
2

cups

pink radishes

thinly sliced

1

cup

cucumbers

sliced

1

cup

red onion

sliced
Salad Dressing
1/2

cup

olive oil

extra virgin

2

tbsp

white wine vinegar

1

garlic clove

minced

1/2

tsp

sugar/honey

optional

1

tsp

dill

fresh, chopped
Instructions
To make the salad, add the radishes to a big bowl and add salt. Let it stand for ten minutes. Drain out the liquid from the bowl. Now add the cucumbers and onions.

Whisk together the salad dressing ingredients in a small bowl. Now pour the dressing on the salad and toss well to coat evenly.

You can add your favorite salad greens to make a one-bowl light lunch meal. Also, for a softer flavor, you can use green onions instead of regular onions. Enjoy!
Notes
It is best to put the dressing on the salad about three hours before you serve. Otherwise, the cucumbers and radishes may get too soggy and soft. For a creamy version, you can use a dressing of sour cream, minced garlic, and fresh chopped dill.
Pickled Radish Recipe
Marinated whole radishes can be made easily at home with ingredients from your pantry. Put 10-12 whole radishes in a bowl and add a pickling mixture made with 1 cup of warm water, 1/2 cup of apple cider vinegar, salt, and some sugar. Let them sit for an hour and your picked radishes are ready to eat. You can also store them in an airtight container for up to three weeks in a dry, dark place or the refrigerator. For a spicier version, try our Traditional Korean Radish Kimchi Recipe.
Helpful Tips
While buying radishes, look for bright, firm ones. The leaves should be green and unblemished.
If you have a fresh radish bunch on hand, don't throw away the radish greens. Radish greens taste a little like arugula and can be sautéed in olive oil with garlic and lemon juice, or tossed into salads.
Separating the radishes and radish greens and storing them in a paper or plastic bag in the crisper section of the refrigerator can help extend their shelf life.