Scouring the internet for the perfect, traditional fried rice recipe? You might want to stop right here! While no two plates of this rice are alike, we can offer an easy, single-wok recipe to make a comforting bowl. You can follow this recipe as is, or you can make little tweaks to call it your own, for that is what we believe this uplifting rice recipe to be all about.
Fried Rice Around the World
Fried rice is said to be an authentically Chinese creation. Some say it was a popular way to enjoy rice across the region, while others claim it was a king's favorite from another region he had visited and brought it back with him. The story is lost in the pages of history. But this may not be so bad. With no single original recipe, fried rice has turned into a comfort food that can be made with almost any vegetables and meat in your refrigerator, with the only constant being rice. (We're not going to talk about cauliflower rice for now.)
Moreover, several countries in the world now have their own special version of fried rice with some really specific recipes, be it nasi goreng topped with a fried egg, or the Hawaiian version with spam.
We think it is unfair to all these yummy recipes to compare them to each other, for one cannot fulfill the craving for another. But for now, let's look at how to make a quick, easy, and lip-smacking fried rice right in your kitchen.
How to Make Fried Rice?
What makes your fried rice perfect is not some age-old authentic recipe or the list of specific ingredients. It is about getting the basics right. So let's look at how to fool-proof your fried rice so you get perfect and consistent results every time. Let's dive into the recipe.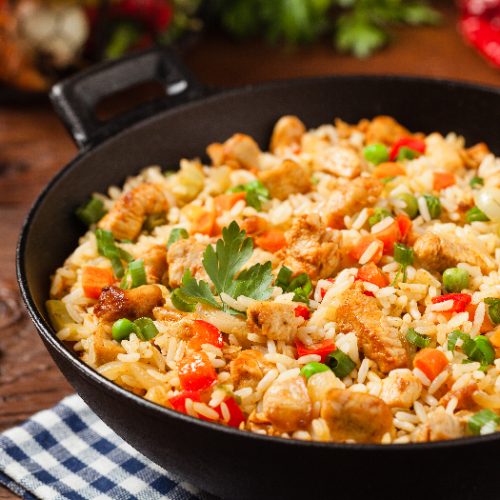 Easy One-Wok Fried Rice
This fried rice recipe is easy to make and full of flavor. The recipe is flexible so feel free to substitute one ingredient, especially vegetables or meat, for another similar one.
Print
Pin
Rate
[1]
[2]
Ingredients
Instructions
Before you start with the fried rice, marinate your prawns with a sprinkle of salt and a dash of turmeric for about 20 minutes. The latter is optional.

Start by placing a wok on high heat. If you do not have a wok, a large pan would do. Add oil to the wok and move the wok around to ensure that the oil coats all sides.

Once the oil is hot enough, add the onions. Toss them around in the pan for close to a minute. Do not let them turn completely translucent. To this add the ginger and garlic and let it simmer for a few seconds. Ensure that the heat is maintained at high and you are moving quickly.

Add the carrots to the mix and let them saute for about a minute.

Thereafter, add the prawns and let them cook till they have turned opaque and the color has turned orange-pink.

Now shift the ingredients to the sides of the wok, making a hollow round space in the middle. Here, add the eggs and quickly scramble them around. Let them form into little cooked bits.

Add a dash of soy sauce or vinegar if you prefer. As per your taste, you can also add some Schezwan sauce. If you are not using any sauce, sprinkle salt and black pepper as per your taste.

Finally, add rice and toss it around well. Keep the ingredients moving so the rice fries well but doesn't stick to the wok. Take it off the heat in a couple of minutes when the mix has come together and the rice seems done.

Serve hot with a garnish of scallions.
Notes
Like we have already mentioned, the recipe is customizable. So if you do not feel like having eggs or prawns, some other options to consider are chicken breast, Chinese sausages, ham, bacon bits, spam, and beef steak.
Similarly, some vegetables you can add are mushrooms, green peas, bell peppers, french beans, cabbage, purple cabbage, celery, or bok choy.
If you are substituting any of the above ingredients for the ones mentioned in the recipe, make sure they cook enough in the wok before you add the next ingredient.
If you want to experiment with sambal for an added zing, fry the sambal paste before the vegetables.
Frequently Asked Questions
Which rice should I use for fried rice?
It is best to use a medium-to-long grained rice variety which is low on starch and not sticky. The easiest choice here is jasmine rice. Basmati also works well, but the long-grain variant breaks easily.
Do I need to use day-old rice?
The easiest choice is using day-old rice. But if you don't have leftover plain rice, you don't need to scrap your fried rice plans. Cook the rice in an open pot with excess water, a pinch of salt and a teaspoon of oil, till it is about 90% done. Take it off heat, drain the excess water, and run some room temperature water through it to cool it down. Spread this out on a flat tray for about an hour.
What sauces can I use?
We have already mentioned Schezwan sauce and sambal as options for the primary flavors. But if you are looking to dial down the spice, add a little teriyaki sauce for sweetness. Alternatively, you can let soy sauce be the star by adding another couple of teaspoons. In case of sauces for fried rice, it is best not to overdo it, else you will end up with a bowl of gravy.
What are the different types of fried rice?
Some of the most popular ones are egg fried rice, pork fried rice, beef fried rice, pineapple fried rice, kimchi fried rice, and teriyaki chicken fried rice. This is based on the ingredient variations made. Around the world, you can find specialties such as Yangzhou fried rice, bokkeum-bap (Korean), arroz frito (Latin America), jollof rice (Ghana), and paella (Spain).
We love topping a hot, spicy bowl of fried rice with a fried egg or bacon bits. How do you enjoy your bowl of fried rice? What are your tricks to make the perfect bowl? We would love to know. Drop us a comment below.