Looking for the perfect summer treat? If those words define something that is sweet with a hint of tang, all while having a cooling, soothing effect against the summer heat, we have the right thing to hit that sweet spot! Mango sorbet are two words that sum up the fun aspects of summer. But that's not the only reason we enjoy a well-made mango sorbet. With the fundamental ingredient of any sorbet being fresh fruit, you know it is nutritionally rich. Moreover, it is a faint reminder of ice creams but with no milk used in making it, sorbets are a great option for vegans, people with lactose intolerance, or anyone else who is avoiding dairy or milk fat.
The History of Sorbet
While the origins of sorbet are often disputed, many sources trace it to a time in history when royalty married across empires and navigators set sails to become discoverers of new lands on their behalf. These royal interests led to cultural exchange, some of which was naturally lost in translation. Case in point – sorbet.
The etymology of the word 'sorbet' suggests that it has developed from 'serbet' which has Central Asian or Asian origins, usually referring to 'drink' as a noun or a verb. The word was carried to Europe from the east, possibly along with the explorations of Marco Polo. The Italian explorer was known to have traveled along the Silk Route in Asia during the mid-13th century. [1]
Another lore links the popularity of sorbet or the Italian 'sorbetto' to the late-16th century French court of King Henry II. There are popular myths about how his wife, Catherine de Medici, brought her affinity to sorbetto from Italy to France when the noblewoman married the then French King. While the popularity is credited to her in these stories, it is also said that the recipe was brought to her notice by Giuseppe Ruggieri, a farmer. [2]
As is the case with several culinary evolutions, especially ones which have traveled across lands, it is difficult to pinpoint the true origins of sorbet as we know it. While these may be exciting pieces of culinary history, The Oxford Companion to Sugar and Sweets dismisses these as folklores. It points out that since the technique of freezing was not known in Europe till the 16th century, the prevalence of sorbet in this era was nearly impossible. [3]
Nonetheless, parts known and unknown of history have come together to make sorbet into the creation as we know it today. Add to it the sweetness of mangoes, and we have ourselves a refreshing summer treat. Let us take a look at this simple mango sorbet recipe.
How to Make Mango Sorbet?
The first thing you'll need to make an impressive batch of mango sorbet is fresh mangoes. A ripe variety that yields solid flesh instead of a pulp works best, but you can make do with any mango you like. Fruits that are almost ripe to completely ripe work well in this case. The sweetness will depend on how ripe the fruit is.
This is a quick and simple mango sorbet recipe so you won't be needing your ice cream maker, either. You can also make this recipe without as much simple syrup, or any at all, if you are checking sugar intake in your diet. A dash of honey instead would work as well, since mangoes as naturally sweet.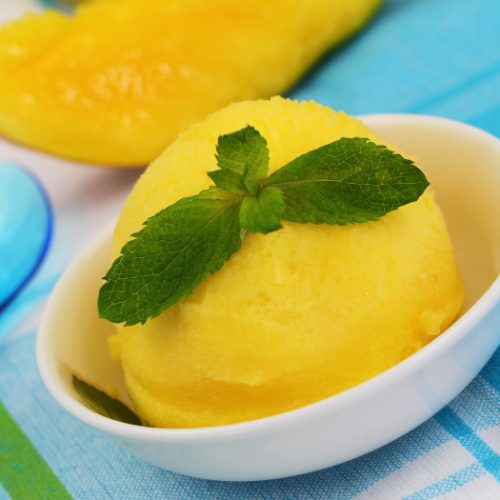 Mango Sorbet
This mango sorbet recipe is a quick-and-easy method to make summers more fun. Falling on a spectrum between ice cream and a slushie, sorbets are a fun way to add fruits to your diet in a manner that makes your inner child happy.
Print
Pin
Rate
[4]
[5]
Ingredients
2

mangoes

peeled and diced

1

cup

simple syrup

1

lime

juiced

honey

optional
Instructions
Start on your mango sorbet by freezing the peeled and diced mangoes for a couple of hours.

Take out this batch of mangoes and put them in a blender. Add the lime juice and simple syrup to it. Blend this till you achieve a mango purée. If you don't have simple syrup handy, you can add honey instead.

Transfer this purée to a metal or plastic box suitable for freezing. Smooth over the contents and place it in the freezer for 4 to 8 hours. It is advisable to lightly whisk this mixture every couple of hours to avoid ice formation and ensure a smoother texture.

Once ready, scoop out the sorbet with an ice cream spoon into a bowl. Garnish with a sprig of mint, if you like.
Notes
If you are feeling adventurous, you can also top your mango sorbet with a dash of chili powder and salt. Candied citrus peels or slivers of salted pistachios also work well.
If you happen to crave this sorbet at a time of the year when you can't find fresh mangoes, remember that you can also freeze mango pulp to make fresh sorbet. Alternatively, you can find tinned mango pulp at your local stores.
Now is the best time to enjoy this mango sorbet recipe. If you happen to try it, do let us know in the comments how it turned out. Also, if you have your own special sorbet recipe you'd like to share, head over to our recipe submission page.