As summer cools into fall, autumn lovers can crank up the oven and bake themselves a batch of soft, chewy, and fluffy pretzels that they can pair well with a wide array of gourmet dipping sauces. What fall is really best for, when it comes to food, is all the baked goodies that you can make working with a warm oven and pretzels are no exception. You can definitely make a sweet version of the same but in this recipe, we will restrict it to the salty ones. So, if you want to make yourselves a bakery-standard pretzel in the comforts of your home, follow these simple instructions.
How to Make Pretzels?
While many may attribute the origin of pretzels to Germany, word has it that it was the Catholic church, way back in the seventh century, that made this knotted bread the ideal food to consume during Lent, when all kinds of meat and eggs are prohibited. You need the most basic ingredients possible- warm water, melted butter, 1 packet yeast, brown sugar, salt, and flour to make these salted delicacies. It's fairly simple to make pretzels at home. The most complicated part of the entire process is, however, to shape them. The finesse is developed only with practice. Now, without further ado, let's get started with the recipe. [1]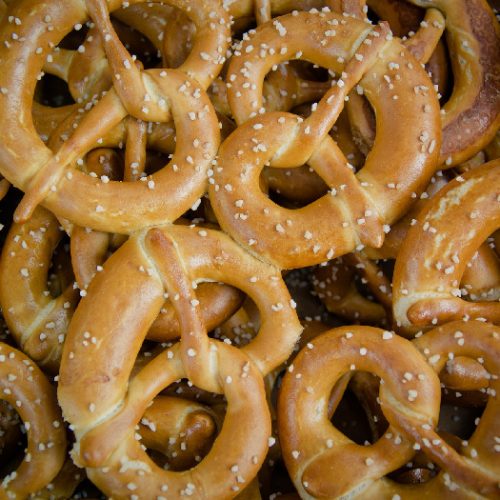 Easy, Delicious, Soft Homemade Pretzels
An easy, effortless way to prepare homemade soft pretzels
Print
Pin
Rate
Ingredients
460-500

grams

all-purpose flour

1

tbsp

melted, slightly cool and unsalted butter

1

tsp

salt

1

tbsp

brown sugar

2 and 1/4

tsp

instant yeast

360

ml

warm water

coarse sea salt
For Baking Soda Bath
9

cups

water

120

grams

baking soda
Instructions
To make pretzels, take warm water in a large bowl and whisk the yeast properly in it. Let it sit for one minute after whisking. To the yeast, add brown sugar, salt, and melted butter in the aforementioned proportion. Add 3 cups of flour, one cup at a time to it and mix it with a wooden spoon until the dough thickens. Now, to the dough, add 3/4 cup of additional flour and continue to mix it until the dough is no longer viscous. Note that the dough can be moist but not sticky. If it continues to be sticky, add 1/4 – 1/2 cup more flour, as required. Once you think you are done, touch the dough with your finger. If it rebounds, it is ready to be kneaded.

Once the dough is ready to be kneaded, turn it out onto a floured surface. For 3 minutes at a stretch, knead the dough and shape it into a ball. Use a towel to cover it lightly and let it rest for 10 minutes this way. In the meantime, in a large pot, bring 9 cups of water and baking soda to a boil.

Simultaneously, preheat the oven to 400°F (204°C). Set aside 2 baking sheets covered with parchment paper or baking mats and begin to cut the dough into 1/3 cup sections using a sharp knife.

Once that is done, toss and roll the dough into a 20-22 inch rope and take the ends of the rope to tie them together to form a circle. After forming a circle, twist the ends, and bring them inwards, only to press them down into a pretzel shape.

Now, shift your attention towards the water and baking soda that you had put for boiling. Slowly drop 1-2 pretzels into the boiling water, but for not more than 30 seconds. If you leave it for more than that, the pretzels could stand a chance of developing a metallic taste. Use a spatula to remove the pretzels out of the boiling water and strain the excess water out of them. Once they are removed, place the pretzels onto a ready baking sheet. Sprinkle coarse salt on each of the pretzels before putting them in the oven.

Allow the pretzels to bake in the oven for 12-15 minutes until they turn golden brown. Once done, serve them with a wide array of gourmet dips. These salty, knotted snacks have a shelf life of 3 days if kept in an airtight container.
Notes
You can also freeze the pretzels for two months. In order to reheat them, bake the frozen pretzels
at 350°F (177°C) for 20 minutes. Likewise, the prepared dough with which the pretzels are prepared can be put in an airtight container and put in the freezer for 2-3 months.
Connect With Us
If you have tried this recipe, we would love your feedback in the comments section below. And while we can't taste it, we would love to see how it turned out! You can connect with us on Facebook or Instagram and tag your picture with #organicfactsrecipes. [2] [3]
Do you wish to share your winning recipes with us? Please click here and fill in the details to get started.