The best time of the year to have a warm side of mashed potatoes is every day. It is a warm, fluffy, creamy cloud of the most comforting form of potatoes. Some might argue that they are the most basic rendition of potatoes, and yet, almost everyone reaches for it, irrespective of what it is accompanying on their plate.
Easy-to-make Mashed Potatoes Recipe
It is somewhat difficult to get potatoes wrong and you are going to enjoy them anyway. However, while it sounds easy to make, the best potatoes are made when you get the basics right. Here's how to make the simplest mashed potatoes to be at the core of your comfort food chart.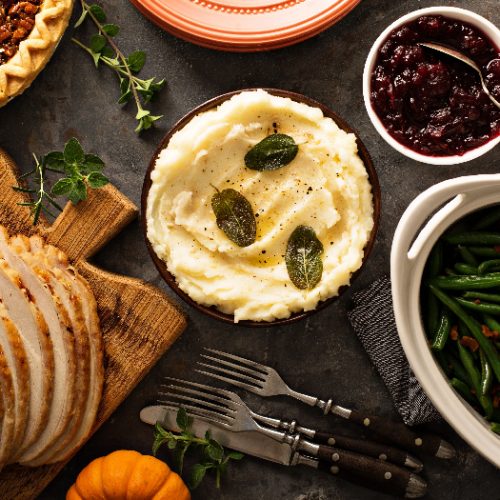 Mashed Potatoes
An easy-to-make mashed potatoes recipe. Potatoes are so versatile that this dish can be customized to suit your palate and your mood! While this is a side dish, it could as easily become your main attraction.
Print
Pin
Rate
Ingredients
500

grams

potatoes

1

stick

butter

unsalted

1

cup

milk

warm
Instructions
Start by washing your potatoes clean. Depending on how you want your mash to be, you can choose from starchy or waxy potatoes or a mix of both. If you plan on making it creamy, use the waxy ones. But if you want fluffy clouds of potatoey goodness, opt for a starchier variety.

Once clean, peel and dice them into big pieces. Add these pieces to a vessel and cover them with water, then put them on for boiling. To check if they are done, pierce them with a fork. If they can be pierced easily, the potatoes are done.

Alternatively, you can put the whole, unpeeled potatoes into a pressure cooker and cover it with water. Close the lid and keep it on medium-high heat for 2-4 whistles. Let it cool before you open the lid. This also helps it to develop resistant starch.

If using the pressure cooker method, at this stage, you can opt to either keep the skin on or peel it off. It is also easier to peel off after boiling.

Add all the potatoes to a bowl and use a masher to manually break them down. While it might be tempting to blend them right now, it won't give you the same result, so keep mashing.

Be careful with the mashing process. Not mashing them enough or properly might leave some lumps, but over-mashing could leave you with a gluey or gummy paste, which is essentially a paste. Do the mashing with a light hand and don't let it turn into a paste.

Once you've broken down the potatoes, it is time to get out the good stuff. Get your stick of butter and divide it into small slabs. Or if you like, melt it into golden goodness.

Start adding the butter bit by bit to the mash and keep mixing it in simultaneously.

Follow the butter with the milk. Put in a couple of teaspoons at a time and mix it in. At this stage, you can see the potatoes coming together as the final dish. Add the milk until you achieve the desired result. Instead of milk, you could also add cream for a more creamier result.

Your mashed potatoes are ready. From here on, you can make several additions to customize it. You can garnish it with chives, coriander, or herbs like thyme and rosemary. You can also add bacon bits to it, or grate a little cheese.

Serve it with your favorite mains or have a little bowl full of potato clouds.
Potatoes, when boiled and cooled, develop resistant starch. This kind of starch is good for your gut health. A side of mashed potatoes is an easy way to include it in your diet.
Connect With Us
If you have tried this recipe, we would love your feedback in the comments section below. And while we can't taste it, we would love to see how it turned out! You can connect with us on Facebook or Instagram and tag your picture with #organicfactsrecipes. [1] [2]
Do you wish to share your winning recipes with us? Please click here and fill in the details to get started.