Asparagus is a must-have vegetable during the spring season, and a springtime classic brunch dish is perfectly roasted asparagus with poached eggs and a creamy hollandaise sauce. Don't miss picking up fresh asparagus from the supermarket, or if you are luckier, you can pick the bundles from the farmers market. It is best to know how to cook asparagus. You can roast, blanch, steam, or broil asparagus. So let's find out more!
How To Cook Asparagus?
Cooking asparagus takes very little time and few ingredients. But first, here are a few pro tips on how to buy, select, store, and trim asparagus.
Buying & Storing Asparagus
Buying & selecting: Look for asparagus spears that are bright green. Avoid the ones that have dry ends or excessively woody ends. You can buy asparagus bundles from the market. They usually weigh a pound and have 18 to 24 spears in them. Thin stalks work well when you are steaming them or if you want to eat them raw.
Storing: It is best to have asparagus when it's fresh. But if you have to store it, treat it exactly like you would flowers. Trim the woody ends and discard. Keep the asparagus spears upright in a glass jar, which has an inch of water so that the spear ends are in the water. Do not rinse the asparagus before-hand as they may spoil faster.
Trimming: The best way to trim the stalks is to keep them bound with a rubber band, and carefully cut off the woody ends. If you find that the spears are too long and could be unwieldy to eat, you can cut them into half. You can also peel the asparagus ends with a vegetable peeler so that they can be cooked easily.
Different Ways To Cook Asparagus
Asparagus has a fresh, natural grass-like flavor that comes through when you eat it steamed or blanched. Alternatively, you can roast or grill it and enjoy a sweeter, mellow taste.
Roasted/oven-roasted asparagus: This is one of the best ways to cook asparagus. Coat the trimmed asparagus with olive oil, salt, and pepper. Roast it in the top rack of the oven at 400°F for 20 minutes. You can keep it for lesser time if you like your asparagus barely cooked. You can also roast the asparagus in a skillet.
Grilled asparagus: Heat a grill over high heat. Coat the asparagus with olive oil, salt, and pepper. Now, put the spears on the grill. There should be a sizzling sound. Turn them around to get a charred effect, and make sure you don't cook them for more than 3-4 minutes. Otherwise, they will be too soft. This is the ideal way to grill asparagus.
Steamed asparagus: The fastest and ideal way to steam asparagus is by using damp paper towels and the microwave. For one bundle of asparagus, take 4 paper towels and dampen it with water. Wring out the water and lay the asparagus spears in one layer on the paper towels. Sprinkle salt evenly and roll the paper towel so that you have collected the spears into a bundle and place it on a microwave-safe plate. Microwave the asparagus for 3 minutes. The moisture in the paper towels will help evenly steam the asparagus. Check the spears for doneness. If you'd like to cook it further, you can nuke it for another minute. You can either have it just as is or add a pat of butter. You can also cut the steamed asparagus into halves and add them to salads.
Blanched asparagus: Bring a big pot of water to a rolling boil. Add salt to taste. Add the trimmed asparagus and let it cook for 2-3 minutes. If you like it a bit soft, you can cook it for 4 minutes but remember the spears continue to cook once you remove it from the hot water. Drain the spears into a colander. Serve immediately. You can add olive oil or butter and season it with pepper.
Bacon-Wrapped Asparagus Recipe
Once you have mastered the basics of cooking asparagus, you can try making fancy appetizers with these bright green, delicious stalks. Asparagus pairs well with fish like salmon, steak, eggs, and chicken. Parmesan cheese and mozzarella cheese, as well as ham, also go well with roasted asparagus. You can also eat it raw if the spears and fresh and tender. A classic simple side dish is asparagus with browned butter. It is a keto-friendly and paleo-friendly dish. For now, let's look at the step-by-step process of making bacon-wrapped asparagus, another keto-friendly dish.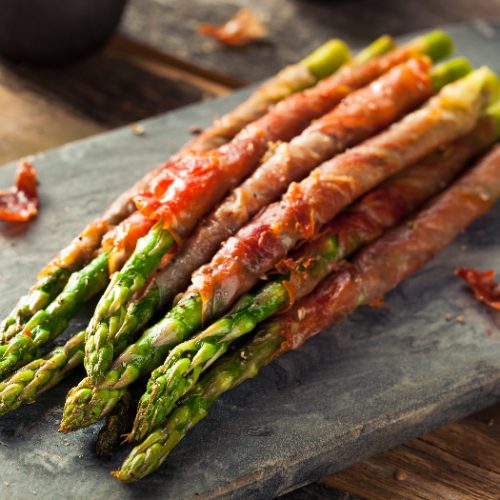 Bacon-wrapped Asparagus Recipe
A delicious appetizer where you can taste the sweet taste of asparagus and the salty, deep flavor of bacon!
Print
Pin
Rate
Ingredients
24

stalks

asparagus

trimmed

12

slices

bacon

center-cut preferable

1

tsp

olive oil

salt

to taste

pepper

to taste
Instructions
Start by preheating the oven to 400 °F. Since we want to make the bacon nice and crispy, we will need to use an oven-safe cooling rack. Place the cooling rack on a cookie sheet to keep the oven free from drippings.

Trim the asparagus and coat it with olive oil, salt, and pepper.

Cut the bacon strips lengthwise and wrap each asparagus stalk tightly with it.

Bake for ten minutes and turn it over with the help of tongs. Bake for another ten minutes or until bacon is crispy.

To get the bacon-wrapped asparagus stalks nice and crispy, place it under "broil" for two minutes. Enjoy!

Asparagus is available all year round, but spring is the best time to eat it. You can enjoy the fresh taste of the spears and pair it with your favorite main course. Try pairing roasted asparagus with your favorite picnic drink or wine – it may be a simple treat you may remember for a long time.