It's a beautiful afternoon with the sun rays spreading a golden hue, and out of nowhere, you have a sweet-tooth craving! Now, you fancy a dessert in the form of a crusty and gorgeous-looking pie. Our rhubarb custard pie recipe will tick all the right boxes when it comes to flavor, fun, and fiesta! Our recipe is a perfect union of creamy, decadent custard and a soft and tangy rhubarb. Its simplicity lies in the rhubarb's flavor with the right amount of sugar to neutralize the tartness, but not overloaded to retain the integrity of the pie! A classic rhubarb dessert is not only tasty but is also healthy and nutritious! [1]
What is a Rhubarb Custard Pie?
A rhubarb pie is ideal for a fresh spring/summer meal or potluck. Its flaky pie crust consists of the richness of egg custard and a tart rhubarb. It has the perfect blend of sweetness and tartness. With a custard base, let the flavor shine through with the sugar-coated pieces of rhubarb. To know more about rhubarb and its benefits, you can read our article on rhubarb: benefits, nutrition, and uses. Okay, we won't make you wait for long, let's jump to the recipe!
Rhubarb Custard Pie Recipe
Here is a balanced recipe of tart, tangy, and sweet rhubarb with a creamy custard center and a yummy pie base. A cool fact? It is super simple to make and oh-so-good.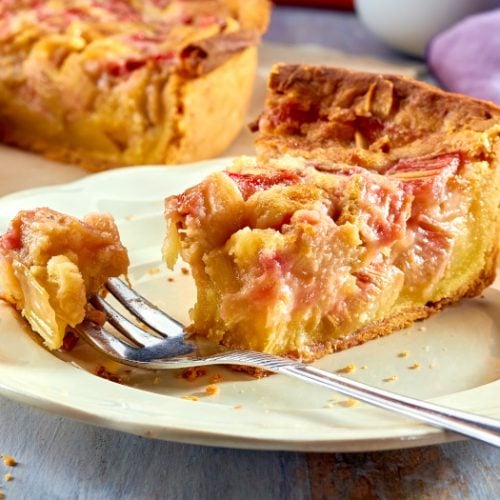 Creamy Rhubarb Custard Pie Recipe
A blend of delicious rhubarb crumble and rich custard is gluttony packed in one. Serve it at your next cookout and enjoy it with your folks!
Print
Pin
Rate
[2]
[3]
Ingredients
For the Pie Crust
1 1/4

cups

all-purpose flour [4]

1

tsp

sugar

optional

1/2

tsp

salt

8

tbsp

butter

chilled & cut into small pieces

4-6

tbsp

water

chilled
Instructions
In a mixing bowl, combine the 1 1/4 cups of flour, add 1/2 teaspoon of salt, and 1 teaspoon sugar. Whisk thoroughly.

Now, add 8 tablespoons of cut butter and mix with the flour mixture using your fingers or a pastry blender.

Pour 4 tablespoons of chilled water and bring the dough together. Add more chilled water, if needed. Pat the dough with some flour and press until it is smooth. Flatten the dough and refrigerate for half an hour.

Heat the oven to 200ºC. Remove the dough and roll out into a circle. Line a 9-inch pie plate with the dough and crimp as desired.

Now, in another large bowl, combine diced rhubarb, sugar, salt, flour, and nutmeg. Mix them well.

Whisk eggs in a bowl with milk. Add the mixture to the rhubarb and keep stirring until it blends well.

Empty the rhubarb mixture into the pie-crust pan. Sprinkle butter pieces.

Let it bake for 45 to 55 minutes, until set or golden-brown.

Remove the pie pan and let it cool on a rack completely before cutting it into slices.

Serve quickly with a huge dollop of fresh whipped cream or a readymade whipped frosting.
Notes
A rhubarb custard pie can be made with a store-bought gluten-free pie crust. You can use cornstarch (tapioca or potato starch) instead of all-purpose flour.
To save time, you can use a store-bought pie crust for the base.
As a non-dairy alternative, you can use canned coconut milk instead of heavy cream.
You can use either light or dark-brown sugar, or even coconut sugar if you refrain from using granulated sugar.
You can also make a different variation, such as a strawberry rhubarb custard pie.
FAQs
How do you know when a custard pie is done?
If you observe the firm edges and the custard is jiggly when you shake the pan, then the pie is ready to serve.
How to store rhubarb custard pie?
You can cover it with a foil and store it in the fridge for up to 2-3 days.
How to freeze rhubarb custard pie?
Wrap the whole pie firmly with a food wrap or aluminum foil. Place it into a freezer bag and store it for up to six months.