While Russian tea may conjure up images of beautiful antique samovars, the Russian tea with Tang is a humble, yet delicious, concoction and most likely an American invention. This warm, citrus-spiced tea is enjoyed during Christmas, mostly in Southeastern US states like Georgia and North Carolina. The recipe for the tea dates back to the 1880s when orange juice was used instead of the yet-to-be-invented Tang. Mostly, the recipes are loving hand-me-downs in families, and they can also be found in church community cookbooks and old newspaper cuttings.
Russian Tea with Tang, An American Invention
Russian tea with Tang is a pre-mixed blend of instant tea, instant orange drink mix, and whole warm spices like cinnamon and cloves. While it may not sound appetizing, the flavors come beautifully together when simmered in a large pot. This tangy and sweet beverage is perfect on a cold winter morning or as a drink to curl up to, next to a fireplace.
The story goes that in the late 19th century, Americans made Russian tea like the Russian autocracy would serve it – with sugar, lemon juice, and slices of lemon. Russians also like to sweeten their tea with jam, mostly strawberry jam, or marmalade. Over the years, the American version grew into a sweet and citrus-flavored one and with the advent of Tang, it became a convenient pre-mix powder. While we may never really know what sparked the orange element in the Russian tea, this beverage has now firmly established its place as a must-do festive traditional drink in the South. And we are not complaining! It's one of those beverages which warms your heart on a cold, snowy day. So let's get to the recipe.
How To Make Russian Tea with Tang?
This is the most common way of making Russian tea for the festive season. It uses a whole bottle of Tang and while the servings are not measurable, it can safely be said that you may finish it quicker than you think as it usually becomes a family favorite.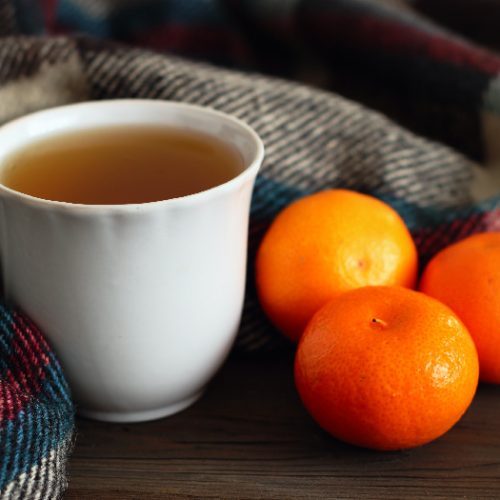 Ingredients
1

lb

Tang (or any other orange drink)

jar

1/2

cup

instant tea

unsweetened

1

packet

lemonade mix

unsweetened

2

cups

sugar

1

tsp

ground cloves powder

1

tsp

ground cinnamon powder
Instructions
Mix all ingredients in a large bowl to make the Russian tea mix. Store it in an airtight container.

To make one cup of Russian tea, add 2 teaspoons of the powder to 1 cup of boiling water.
Making Fresh Russian Tea
If you want to avoid using Tang or pre-mixed lemonade so that you can control the sugar content, here is a simple, no-fuss recipe for citrus spiced Russian tea.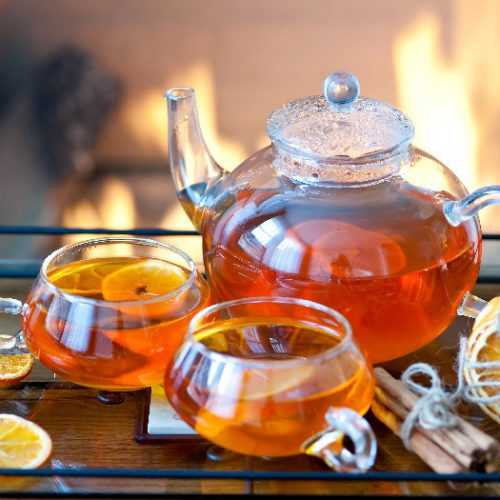 Russian Tea Made From Scratch Recipe
A wonderful, easy recipe made from scratch with teabags and orange slices!
Print
Pin
Rate
[3]
[4]
Ingredients
Instructions
In a large saucepan, add water, spices, sugar, orange and lemon slices. Bring it to a boil. Let it simmer for five minutes.

Add the tea bags and allow it to steep for five minutes. Taste and check for tartness and sweetness. Adjust with additional citrus slices or sugar accordingly.

Using a big fine mesh strainer, strain the tea into a pot. Serve immediately. You can also make it ahead of time and reheat just before serving.
Notes
It is best not to press the tea bags to avoid a bitter taste in the tea.
So the next time, your family is sitting around the Christmas tree opening their gifts, try making a batch of Russian tea and serving it hot. It's one of those beverages that go well with tea time cookies as well as heart-warming family moments!
Connect With Us
If you have tried this recipe, we would love your feedback in the comments section below. And while we can't taste it, we would love to see how it turned out! You can connect with us on Facebook or Instagram and tag your picture with #organicfactsrecipes. [8] [9]
Do you wish to share your winning recipes with us? Please click here and fill in the details to get started.