Drinking Russian tea has been a popular part of Russian culture for hundreds of years, but now this tea style is becoming more common in other parts of the world.
What is Russian Tea?
Russian tea is not a precise type of tea, but rather a method of mixing, preparing, and serving. The tea itself is typically a blend of herbal tea and black or green tea, much of which was imported from China to Russia when tea first became popularized by the czars. The long caravan journey gave the tea a smoky flavor, due to the campfires, and that flavor is still mimicked today in this variety. [1]
In parts of America, there is also a beverage called Russian tea, and it is often consumed around the winter holidays. It is a combination of black tea, orange juice, cinnamon, and cloves. Despite the name, there is no clear link between this American beverage and the Russian style of tea.
How to Make Russian Tea?
If you want to make Russian tea for yourself, you can prepare it in a number of ways, with ingredients like lemon, honey, jam, orange juice, and herbal black or green teas.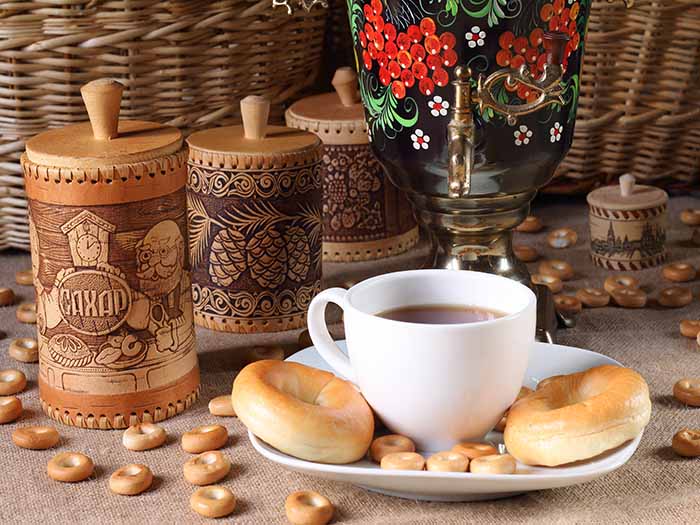 Russian Tea Recipe
Traditional Russian tea is made in a Samovar. You can use any tea for making the concentrate. Just add hot water later for a quick cup of tea.
Print
Pin
Rate
Ingredients
4

tbsp

tea leaves

heaped

Water

for brewing

1

tsp

honey, lemon or jam

optional
Instructions
To make the tea concentrate (zavarka in Russian), add the tea leaves to a teapot and add water. The water should be just enough to soak the leaves, plus a bit extra.

The amount of tea leaves can be adjusted according to taste.

Let the tea leaves brew for 10-15 mins. The leaves should float to the surface of the soaking water.


To drink, pour out as much concentrate as you want in a teacup and add hot water to dilute it.


Add honey, lemon or jam to the tea for flavor, if desired.
Notes
Although this recipe specifies 7 servings, it would depend on how strong you like yoru tea. The more tea leaves you use for the concentrate and the longer you brew the tea, the stronger will be your brew. You can later adjust this by diluting the brew as per taste.
Russian Tea Benefits
The benefits of Russian tea primarily come from the herbal preparation and the black tea or green tea that you included. This tea is known to help with weight loss efforts and can reduce cholesterol, as well as prevent tooth decay and promote the growth of strong bones. Due to the antioxidants found in black and green tea, you can prevent oxidative stress in various parts of the body, and encourage healthier skin. This tea can also give a boost to the immune system, helping to fend off everything from the common cold to more serious infections. [2] [3]
Connect With Us
If you have tried this recipe, we would love your feedback in the comments section below. And while we can't taste it, we would love to see how it turned out! You can connect with us on Facebook or Instagram and tag your picture with #organicfactsrecipes. [4] [5]
Do you wish to share your winning recipes with us? Please click here and fill in the details to get started.