When it comes to choosing a Middle Eastern main course, how can one not include shawarma? This glorious Lebanese creation deserves a hall of fame of its own. Its delectable flavor of juicy meat – chicken or beef along with sauces, pickle, and fries make for an amazing combination. Moreover, imagine the garlic sauce and fries in it to make it a wholesome meal. Mouth-watering, ain't it?
What is Shawarma?
Shawarma is a gourmet sandwich found in Middle Eastern restaurants infused with a variety of flavors and leaves you craving for more. We guarantee you won't be able to stop at just one. The method of grilling vertical stack of meat pieces and shredding it off appeared in the 19th-century Ottoman Empire, what is now known as Turkey, in the form of doner kebab. This food, which is as much the Mediterranean as it is Middle Eastern, has chunks of marinated meat mounted on a large rotating spit and roasted to perfection against a gas-burning grill. [1]
How to Make Shawarma?
While shawarma is prepared with thinly sliced cuts of meat – chicken, beef, mutton, or turkey, our personal favorite is chicken shawarma. Making traditional chicken shawarma requires well-marinated chicken, layered on the vertical spit where it's slow-roasted for hours – in its juices and fat – until perfectly tender and cooked. To serve it, the chef typically shaves a layer of the meat off the spit and piles it into pita bread, jazzes it up with fries, veggies, and tops it up with heaps of garlic sauce to give you the heavenly goodness!
Trust us, chicken shawarma is the epitome of seductive Middle Eastern flavors. The good news is we've found an easy way to make it at home with guaranteed authentic flavor.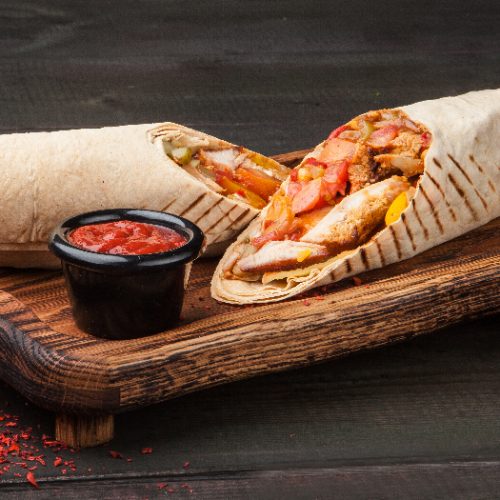 Grilled Chicken Shawarma Recipe
Make shawarma at home with this simple recipe and serve it as a best-selling appetizer!
Print
Pin
Rate
Total Time:
1
hour
5
minutes
Ingredients
8

boneless chicken thighs

skinless
For the marinade
1/2

cup

malt vinegar

1/4

cup

plain yogurt

1

tbsp

vegetable oil

to taste

salt and pepper

1/4

tsp

freshly ground cardamom

1

tsp

allspice powder

1

tsp

shawarma seasoning
For the sauce
1/2

cup

tahini

1/4

cup

plain yogurt

1/2

tsp

garlic

minced

2

tbsp

lemon juice

1

tbsp

olive oil

1

tbsp

fresh parsley

chopped

to taste

salt and pepper
For plating
4

medium

tomatoes

1/2

cup

onion

sliced

4

cups

lettuce

shredded

8

pita bread rounds
Instructions
In a glass baking dish, mix together malt vinegar, 1/4 cup yogurt, vegetable oil, mixed spice, cardamom, salt, and pepper.

Place the chicken thighs into the mixture and turn to coat it evenly on both sides. Cover and marinate in the refrigerator for at least 4 hours or overnight.

Preheat the oven to 350℉ (175℃).

In a small bowl, mix together the tahini, 1/4 cup yogurt, garlic, lemon juice, olive oil, and parsley.

Season with salt and pepper, taste, and adjust the flavors. Cover and refrigerate.

Cover the chicken and bake in the marinade for 30 minutes. flipping once.

Uncover, and cook for an additional 5 to 10 minutes, or until chicken is browned and cooked through.

Remove from the dish, and cut into slices.

Place sliced chicken, tomato, onion, and lettuce on pita bread.

Roll up, and top with tahini sauce.
Notes
You can also serve the chicken marinade in a garlicky, buttery naan, or as a whole wheat pita wrap. For vegans out there, do not be sad. You can definitely make your cool version of shawarma replacing the meat with mushroom, soy chunks, or tofu, and have your vegan shawarma ready in minutes.
What to do with Leftover Chicken?
You can use the leftover chicken marinade and incorporate it into salads, fried rice, or even a healthy rice bowl. Make your recipes interesting by experimenting with different sauces and veggies. This way, you can avoid burning a hole in your pocket and discover new recipes.