Shea butter is a unique substance made from raw fats extracted from shea nut that can be used both internally and externally to improve your health.
What is Shea Butter?
Shea butter is made from a type of fat that is found in the nuts of an African tree – the shea tree. Scientifically known as Vitellaria paradoxa, when the fat is extracted from the nut, it can be processed in various ways to make it more versatile and useful, both in food preparation and cosmetic products. As a triglyceride, this butter is primarily composed of oleic and stearic acids, both of which have a wide range of effects on human health. [1]
In Europe and North America, shea butter is typically found in cosmetics and certain chocolate recipes, but in other parts of the world, this rich fat is also popular as an ingredient in food. Contrary to what some people believe, it is edible, provided you use it in moderation. Similar to olive oil, shea butter comes in various forms, such as organic, unrefined, and raw, which designate how much processing and bleaching it has undergone.
Shea Butter Nutrition
The nutritional details of shea butter are quite limited, as it may only be composed of a series of organic acids, including oleic acid, stearic acid, linoleic acid, palmitic acid, and arachidic acid. These fatty acids might often have other effects, such as antioxidant or anti-inflammatory impacts on the body. Depending on the level of processing and the addition of any other aromatic or chemical compounds for cosmetic products, the nutritional composition of this butter may change. There might be 120 calories in a single tablespoon of shea butter, as well as trace amounts of other minerals, such as vitamin E, vitamin A, and vitamin C. [2]
Shea Butter Benefits
The most recognized benefits of shea butter may include effects like moisturizing the skin, reducing inflammation, preventing premature aging, protecting cardiovascular health, and lightening the skin, among others.
May Moisturize The Skin
The fatty acids in this butter may be popularly known to penetrate the skin and deliver nutrients and antioxidants deep into the skin, keeping it hydrated and healthy. [3]
May Aid In Hair Care
Using shea butter on your scalp and hair may help increase growth, prevent hair loss, and reduce inflammation. This simple fix may lead to less dandruff. [4]
May Be Anti-Inflammatory
Applying this substance to itchy or irritated areas of the body may help quickly relieve discomfort and soothe conditions like psoriasis, acne, eczema, or rosacea. [5]
May Help In Skin Care
Regularly applying this fat-rich butter to your skin may eliminate rough skin and boost skin tone by encouraging circulation and repair of damaged skin cells.
May Prevent Premature Aging
The antioxidant activity of certain active compounds in this butter, such as linolenic and linoleic acid may help prevent oxidative stress in the skin, which may reduce the likelihood of wrinkles, age spots, and other signs of premature aging. [6]
May Help Remove Stretch Marks
Following rapid weight change (pregnancy, crash diet, etc.), your body may develop stretch marks that can be difficult to eliminate. Thanks to the skin-lightening properties of this natural butter, you can make the stretch marks less noticeable. [7]
May Protect From Diaper Rash
Popular with new parents, shea butter may help protect your child against one of the most irritating and annoying conditions of infancy – diaper rash. Daily application of a small amount can keep them feeling good all day!
How to Make Shea Butter?
Although shea butter is widely available around the world, some people like to prepare their own at home, which isn't particularly difficult, provided you have the time and are willing to put in the effort! Let us take a look at the recipe below.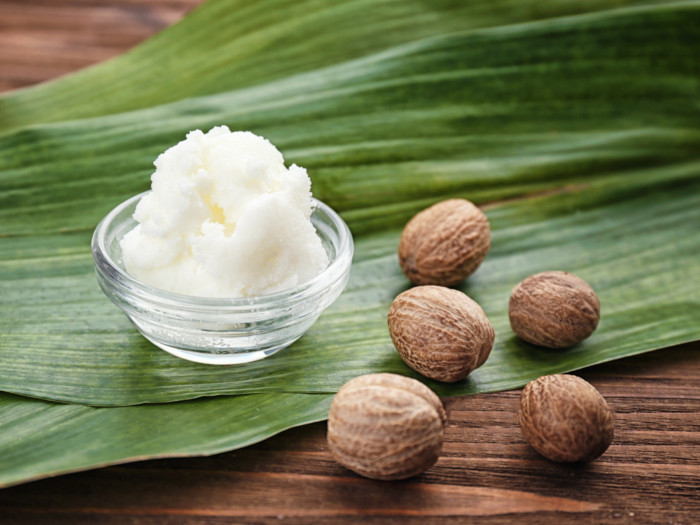 Homemade DIY Shea Butter Recipe
This homemade DIY shea butter recipe is pure gold!
Print
Pin
Rate
[8]
[9]
Ingredients
1/2

cup

of unrefined shea butter

1/2

cup

of coconut oil

5-10

drops

of essential oil of your choice

1

saucepan

water
Instructions
To make your own DIY shea butter, you must buy unrefined shea butter (in a solid form); extracting the fat from the nuts themselves is beyond the scope of this article, and individual skills.

Bring a saucepan of water to boil.

Place the unrefined shea butter in a smaller pot and place above the boiling water. This will gradually melt the shea butter, without compromising its nutritional quality.

Add a carrier oil, such as coconut oil, roughly 3 parts carrier oil to 1 part shea butter.

Add 5-10 drops of essential oil, for aroma, if desired (lavender, peppermint, etc.)

If you want to make a whipped cream butter, blend this with a hand-mixer as it cools.

You should store the shea butter in a glass jar with a lid. You can use it as you would use regular lotion or body butter.
Shea Butter Uses
This butter has been used in countless ways throughout history, but some of the most popular applications may include its use as a skin lotion, hair conditioner, cooking oil, and soap. In terms of its strictly medicinal uses, it might be known to help relieve inflammation and the pain of insect bites, while also stimulating regrowth, repair, and better health of the skin. While most commonly known as a cosmetic product, this versatile butter continues to appear in new products every year. [10]
How to Store Shea Butter?
If you make your own butter, or have an excessive amount and want to store it safely, be sure to wrap it in saran wrap and store it in a plastic bag. From there, place it in a cool, dry place. If exposed to excess heat, or fluctuations in temperatures, the butter can melt and harden over and over, which will gradually reduce the potency of the active ingredients. Unrefined shea butter should have a shelf life of roughly 2 years when stored properly.
Shea Butter Side Effects
Some of the side effects of this specialty butter may include allergic reactions, as well as heart issues when used in excess. As mentioned, most people use this butter for cosmetic purposes, and that can result in irritation or inflammation for those with sensitive skin or allergies to shea. Furthermore, using an excessive amount of this "butter" in your cooking can result in weight gain or even obesity, due to the concentrated fat levels. [11]