Move over cauliflower rice and zucchini pasta, there's a new low-carb dish on the block. Shirataki noodles, also branded as miracle noodles, are taking over menus in restaurants and supermarket aisles because of their low-GI and low-carb content.
What Are Shirataki (Konjac) Noodles?
Shirataki noodles or konjac noodles are traditional Japanese noodles that are made from glucomannan, a dietary fiber extracted from the root of konjac or elephant yam (Amorphophallus konjac or Amorphophallus rivieri). The glucomannan is mixed with water and a little lime juice and shaped into thin or thick noodles or rice grains. People often refer to the noodles as miracle noodles, skinny noodles, or zero noodles because of the low-calorie and low carbohydrate content. You may also find them referred to as yam noodles or konnyaku noodles. [1]
In terms of taste, shirataki noodles have no real flavor of their own but they absorb the juices of the vegetables and spices that they have been cooked with. They can be delicious when stir-fried with strong-flavored Asian spices like ginger and garlic. But their gelatinous texture needs a little getting used to. Shirataki means 'white waterfall' in Japanese, which describes the long, translucent appearance of the noodles.
Shirataki Noodles Nutrition
Here are the main nutrition factors that make shirataki noodles a favorite among health enthusiasts. The noodles are:
Low-carb
Low-GI food
Low-calorie
Grain-free
A healthy option for people on a keto, paleo, vegan, or vegetarian diet
According to the USDA FoodData Central, a serving of konjac noodles (100 grams or a little more than 3/4 cup) has barely 10 calories, zero fat, and 5 grams of carbohydrate. Also, the noodles have a low energy density and can keep you feel satiated for longer. A 2013 study published in the Journal of Obesity stated that glucomannan, which is the main ingredient in the miracle noodles, can absorb almost 50 times its weight in water. It could also potentially help people with diabetes to prevent hyperglycemia as it causes a reduction in postprandial blood glucose levels. [2] [3] [4]
While it has been popularised as a weight-loss aid, there have been contradictory studies on the links between glucomannan and weight loss. A study published in the Alternative Reviews in Health and Medicine suggests that glucomannan may promote weight loss and also lower total cholesterol levels. However, a recent 2019 report of a randomized trial conducted on 96 children, who were overweight as per WHO standards, showed that there was no effect on weight reduction on glucomannan supplementation for 12 weeks. [5] [6]
The adverse effects of eating shirataki may include diarrhea, constipation, and abdominal discomfort. So make sure you slowly include them in your diet to avoid being uncomfortable. [7]
How to Make Shirataki Noodles (Miracle Noodles)?
It is fairly easy to make miracle noodles at home. In Japan, the noodles have been used for centuries to bulk up soups, salads, and hot pots. The trick to making good shirataki noodles is to rinse it well to get rid of the fishy smell it may have due to the yam.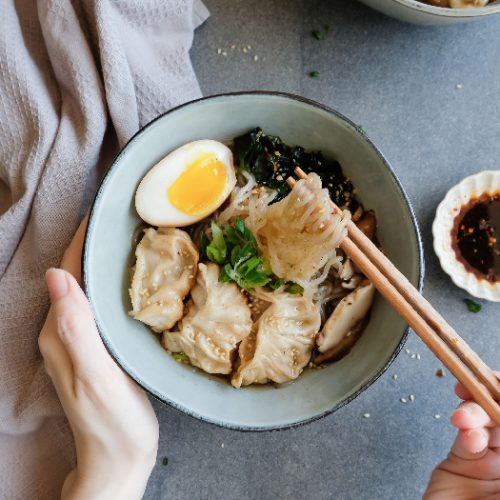 How to Cook Shirataki Noodles: Easy Recipe
Make these traditional Japanese noodles at home with ease. You can use it to make salads, stir-fries, and to bulk up your soups.
Print
Pin
Rate
Ingredients
1

pack

shirataki noodles

water
Instructions
Shirataki noodles are usually available in packages with water in them. This water smells fishy because it has absorbed the odor of the yam plant. So you need to rinse the noodles very well.

First, throw away the water and place the noodles in a sieve. Rinse the noodles well under running water.

Boil water in a large pot and add the noodles. Cook for 2-3 minutes. This helps remove the bitterness.

Drain the noodles completely. Heat a frying pan and warm the noodles on moderate to high heat; do not add any oil or liquid. This step is important to dry out the noodles completely so that it has a noodle-like texture. This may take 8-10 minutes and it is best done with tongs.

You can now add the noodles to a stir-fry, salad, or make a wonderful warming bowl of soup. Add your choice of meat, vegetables, hot broth, and condiments like miso, red chili paste, or soy sauce. Enjoy!
Where to Buy Shirataki Noodles (Miracle Noodles)?
Shirataki noodles are available online on sites like Amazon and Walmart. Specialty health stores also sell miracle noodles; you will find them in the refrigerator section usually due to the water content in it. If you have access to an Asian grocery store, that is another option to source the noodles. They are sold under different brand names – miracle noodles, zero noodles, skinny noodles, konjac yam noodles, ito konnyaku, low-carb noodles, and of course, shirataki noodles. You can also try the tofu shirataki noodles, which are made with a combination of tofu and glucomannan.
If you are looking for a new low-carb dish or maybe just want to try a new addition to your stir-fry, shirataki noodles make a great choice. Just remember that if you want to make it nutritious, load it with lean protein and lots of veggies!