Drinking slippery elm tea is a great way to spice up your beverage routine, while also boosting your overall health.
What is Slippery Elm Tea?
Slippery elm tea is a traditional medicinal tea that is prepared with the bark of the slippery elm tree. This plant is renowned in Native American cultures and the bark is widely used in natural remedies, but when the bark is powdered and ground down, it can be brewed into a thick and nutrient-packed tea. The leaves can also be brewed into a tea, but the leaves are less potent, and therefore, less commonly used. When it comes to taste, this powdered bark is essentially tasteless, but that isn't what makes this tea stand out.
The unique quality of slippery elm tea is the consistency; this herb is known to have mucilaginous properties, meaning that it takes on a gel-like consistency after coming in contact with water. While this doesn't sound overly appealing to drink, the impact it can have on your overall health may change your mind! [1]
How to Make Slippery Elm Tea?
Brewing your own slippery elm tea at home is very easy, and you can either prepare the powdered bark yourself or purchase slippery elm powder at health food stores.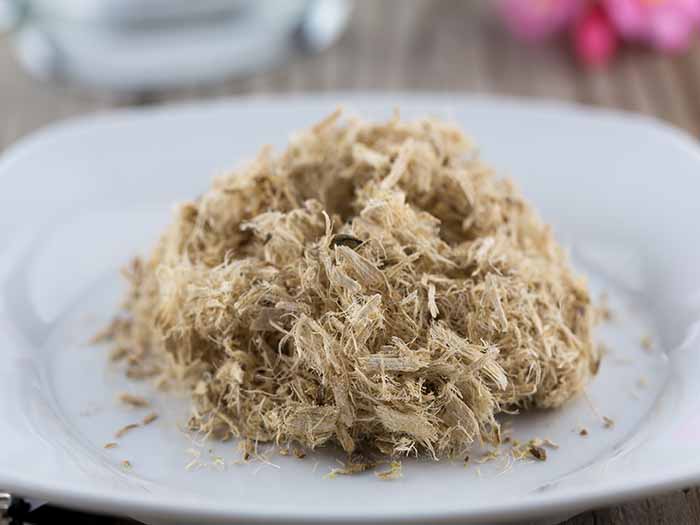 Soothing Slippery Elm Tea Recipe
This gel-like tea may seem unusual at first. But do give it a try. Its soothing properties pack a host of health benefits.
Print
Pin
Rate
[2]
[3]
Ingredients
1

tsp

slippery elm powder

1/2

jar

cold water

1/2

jar

hot water
Instructions
Add 1 teaspoon of slippery elm powder to a glass jar.

Fill the jar halfway with cold water.

Seal the jar and shake thoroughly.

Fill up the rest of the jar with hot water.

Seal lid and shake thoroughly for the second time.

Let the mixture sit for no more than 2 minutes.
Notes
The longer the mixture sits, the thicker it will become, so immediate use is recommended.

Slippery Elm Tea Benefits
Slippery elm tea helps in treating inflammatory bowel disease (IBD), constipation, and coughs. It also helps with other respiratory, inflammatory, and stomach issues.
Inflammatory Conditions
Numerous studies have linked the active ingredients in slippery elm to a reduction in inflammation, particularly in the bowels, making it a preferred natural remedy for inflammatory bowel disease (IBD). [4]
Stomach Issues
Aside from inflammatory bowel disease, this tea can also help to soothe constipation, stomach upset, and heartburn. The antioxidants and other compounds in the tea can prevent the production of excess acid in the gut. [5]
Respiratory Health
The mucilage that forms when this tea is brewed can coat inflamed respiratory tissues and prevent coughing, while soothing sore throats. [6]
Immune System
With antioxidants and anti-inflammatory compounds, this tea can support good immune health in all areas of the body. [7]
Slippery Elm Tea Side Effects
Although this tea has many benefits, there are also quite a few side effects, such as complications with pregnancy, toxicity, and interference with medication. As this tea can stimulate menstruation, it can also induce labor in rare cases, so pregnant women should not use this herbal beverage. Also, the mucilaginous nature of this tea can block membranes from absorbing medication, so speak with your doctor if you are on prescription medication before using slippery elm tea.