Tea tree oil or melaleuca oil has strong antibacterial, antimicrobial, and anti-fungal properties among a list of other properties. With all these amazing properties, it should not be a surprise that tea tree oil shampoo can do wonders for your hair.
Tea Tree Oil Shampoo Benefits
The most popular benefits of tea tree oil shampoo include the treatment of lice, dermatitis, and dandruff.
Eliminates Dandruff: Tea tree oil, rich in anti-fungal property, is effective in treating dandruff on your scalp. A study suggests that the use of five percent tea tree oil is effective in relieving itchiness and greasiness associated with dandruff. [1]
Relieves Itchiness: Tea tree oil helps reduce itchiness on the scalp because of its antibacterial and anti-inflammatory properties. It is also effective in treating an oily scalp.
Promotes Hair Growth: Tea tree oil helps unclog the hair follicles by flushing out toxins and provides necessary nutrients to scalp and follicles which promote hair growth.
Prevents Hair Loss: By unclogging the hair follicles, tea tree oil helps to strengthen the roots of your hair which in turn prevents hair loss.
Treats Seborrhoeic Dermatitis: A recent research conducted by Thomas Berk and Noah Scheinfeld suggests that tea tree oil aids in treating seborrhoeic dermatitis that affects scalp, chest, and face. [2]
Improves Blood Circulation: Tea tree oil promotes blood flow in your body. Using tea tree oil shampoo which is mixed with a carrier oil has therapeutic benefits for the hair and scalp.
How to make Tea Tree Oil Shampoo?
Tea tree oil can be made easily at home. All you need is a bottle of shampoo and tea tree oil to prepare this amazing hair cleanser. So what are you waiting for? Let's get started!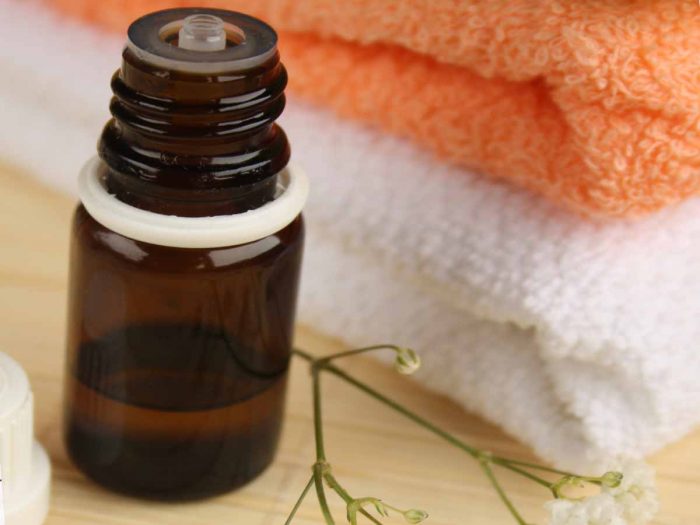 A DIY Recipe to Make Tea Tree Oil Shampoo
The perfect DIY solution for damaged hair!
Print
Pin
Rate
[4]
[5]
Ingredients
10

drops

lavender oil

10

drops

tea tree oil

15

drops

rosemary oil

250

ml

shampoo base

1

tbsp

Vitamin E oil

2

tbsp

Sweet almond oil
Instructions
To make tea tree oil shampoo, combine the aforementioned ingredients in their respective quantities in a glass jar and close the lid tightly. To thoroughly mix the solution, shake it well. Keep the glass jar in a cool place for storage.
Notes
Ensure you shake the shampoo well before using it. Even though this shampoo does not create the foamy lather like the other store-bought shampoos, be rest assured that it will keep your hair healthy and clean, as it does not contain any harmful chemicals. Additionally, t
he above solution has about a 2% concentration of tea tree oil. Avoid increasing the concentration of oil above 5% as that may cause scalp irritation. If you are preparing shampoo for a child, then add a maximum of 5 drops.
How to use it?
Using tea tree oil shampoo is very easy and convenient. Just follow the process below to get the best results:
Step 1: Apply tea tree oil shampoo directly to your hair and massage gently
Step 2: Make sure you don't leave the solution on your hair for more than 5 minutes
Step 3: Rinse your hair thoroughly with water
Tea Tree Oil Shampoo for Lice
Tea tree oil shampoo is an effective natural remedy against lice. Follow the steps below and get rid of the lice that have been troubling you or your loved ones.
Step 1: Add a few drops of extra-virgin olive oil to the tea tree oil shampoo mixture and apply it on the scalp directly.
Buying Tea Tree Oil Shampoo
If you do not wish to go through the process of making a DIY shampoo, here are a few shampoos you could try.
KICK Men's Shampoo – Tea Tree Oil and Peppermint Shampoo
Amplixin Scalp Therapy Shampoo – Dry, Itchy Scalp Treatment With Tea Tree Oil For Men & Women
Era Organics Tea Tree Shampoo
John Paul Mitchell Systems' Tea Tree Special Shampoo
Note: These shampoos are recommended on the basis of an average customer review of more than 4 stars on Amazon. Please consult with your doctor before trying any new products or brands to avoid any adverse effects.
How to make Tea Tree Oil Conditioner?
Tea tree oil conditioner can be prepared at home using a few ingredients that include egg, olive oil, and tea tree oil. Follow these simple steps.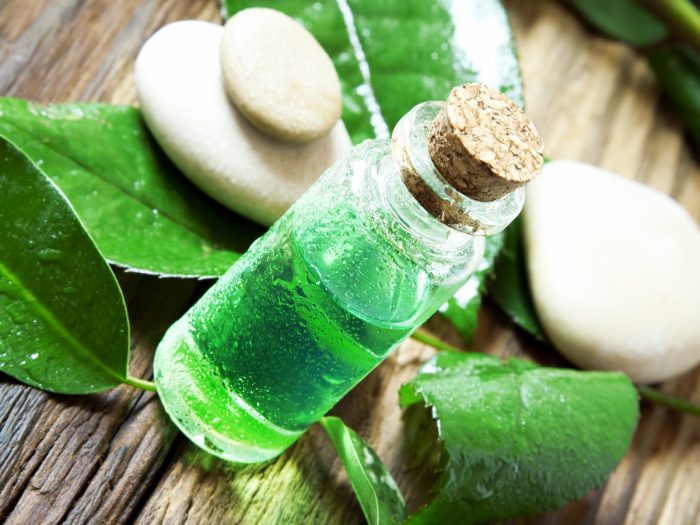 Tea Tree Oil Conditioner DIY Recipe
Your own homemade tea tree oil conditioner for lustrous hair!
Print
Pin
Rate
[6]
[7]
Ingredients
10

drops

of tea tree oil essential oil

1/2

tsp

glycerine

3/4

cup

water

1/2

cup

aloe vera juice

5

drops

rosemary essential oil

5

drops

lavender essential oil
Instructions
To make tea tree oil conditioner, add aloe vera juice, water, glycerin and tea tree oil in a measuring cup. Stir the solution well to combine all the ingredients properly. Now pour this concoction in a spray bottle for usage.

Shake the bottle properly before spraying it in your hair after a wash. This is particularly useful to remove the frizziness from your hair. It also helps to control the flyaways.
Notes
You can also add coconut oil, coconut milk, and any other carrier oil that is good for hair, in the conditioner.
How to use it?
Always use a tea tree oil conditioner on damp hair. Keep the conditioner on your scalp for about 10 minutes and then rinse your hair thoroughly with water.
Word of Caution: The use of tea tree oil may cause allergy. Do not use tea tree oil without diluting it with a carrier such as a shampoo, bland oil or lotion. Also, speak to your dermatology specialist before use.