Often called Nature's aspirin, the willow bark tea is an age-old recipe to relieve pain in the body. It was used by the ancient Egyptians, as far back as 3000 BC to treat several ailments. Let's find out more about this herbal tea.
What is Willow Bark Tea?
Willow bark tea is a hot beverage made by steeping white willow bark in hot water. The bitter-tasting white willow bark contains salicylic acid and salicin, making it the herbal equivalent to aspirin (acetylsalicylic acid). A report on willow bark by the PSH Milton Hershey Medical Center reveals that salicin has pain-relieving and anti-inflammatory properties. In fact, in the 1800s, salicin was used to make aspirin. [1]
How To Make Willow Bark Tea?
You can buy white willow bark teabags from certain health food stores or online. However, if you have access to pre-cut white willow bark, you can make it at home quite easily.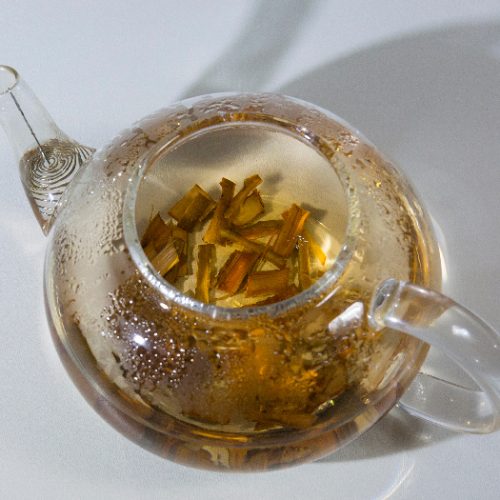 Willow Bark Tea Recipe
An age-old remedy for joint pain and headaches.
Print
Pin
Rate
Steeping Time:
30
minutes
[2]
[3]
Ingredients
4

tsp

white willow bark

2

cups

water

filtered

1

cinnamon stick [4]

optional

2

tsp

honey

optional
Instructions
You can buy white willow bark from health stores. Follow the package instructions to store it properly.

In a saucepan, take water and white willow bark. Boil it for 5-10 minutes. Turn the heat off.

Let the willow bark steep for an additional 20-30 minutes. You can add a cinnamon stick in it for additional flavor.

Strain the tea in teacups. The tea is bitter-tasting and you can use honey to sweeten it.
Benefits
This herbal tea is mainly used to get relief from joint pain. Let us look at the many health benefits of drinking willow bark tea. [5]
Natural Analgesic
Willow bark tea is primarily known for its analgesic properties and is used quite often to treat headaches. A 2014 report in the Cochrane Database of Systematic Reviews suggests that daily doses of white willow bark, equivalent to 120 mg to 240 mg salicin, are better than placebo for short-term improvements in pain and rescue medication. Also, willow bark extracts are included as an ingredient in sports performance and weight loss products for its anti-inflammatory and pain-relieving properties. [6] [7]
Reduces Arthritic Pain
According to a 2015 Phytotherapy Research report, a small number of clinical studies have been conducted that support the use of the bark extract in chronic lower back pain, joint pain, and osteoarthritis. [8]
Antipyretic (Fever-Reducing) Properties
Research on the history of antipyretic therapy reveals that willow bark was used by the early Romans, ancient Chinese, as well as the early Native Americans to reduce fever. Also, Hippocrates also recommended the use of extracts of willow bark to alleviate the pain of childbirth and to reduce fever. This is how the use of aspirin for fever management came into practice.
Side Effects
Before using any herbs, always check with your doctor or a certified experienced herbalist. Common side effects include:
Increase in blood pressure [9]
Gastrointestinal problems
Allergic reactions
If you are pregnant or a nursing mother, it is best avoided. Children under 16 years of age should not be given this tea. Also, since willow bark tea may cause increased blood pressure, people on blood thinners should check with their doctor before having it. [10] [11]