Since 2020 seems to be the year of purple food, its time to revisit the acai juice. The popularity of acai has never really waned since it first came into our radar in the early 2000s. From the health food center to the hipster juice bar, everyone swears by its health benefits. The earthy and delicious acai berry juice is both, filling and very rewarding for your health. It is easy to make and loads you with much-needed antioxidants.
What is Acai Juice?
Acai juice is derived from the acai berries, the fruits of a type of palm plant. The acai is native to South America, in the Amazon basin. The fruit is small, black-purplish in color, and highly perishable. Hence, unless you are in the region, you are unlikely to get hold of fresh berries. In the rest of the world, including, the US, acai is available in powdered form or as a juice concentrate.
In the early 2000s, it created a splash in the health-conscious community as a superfood that could also help in weight loss. In recent months it has made a reappearance, thanks to Instagram. As purple food started trending, the juice with its deep color was a natural choice. Acai juice and acai smoothie bowls are now making waves for its colors as well as its health benefits.
How to make Acai Juice?
The acai juice can be prepared in a matter of minutes. We have used frozen berries for this recipe. You can buy frozen berries when they are out of season. When in season, you can freeze the berries a day before. To make this a smoothie, add a frozen banana to this recipe. You can again freeze sliced bananas a day before.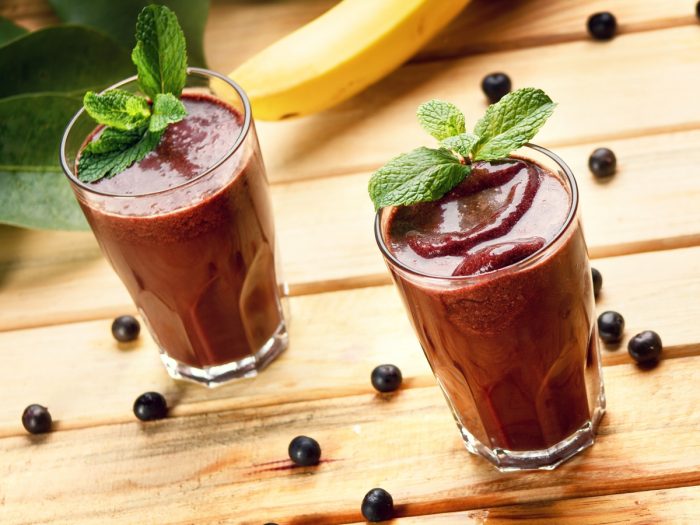 Acai Juice Recipe
The acai juice is as delicious as it is pretty. The sweet juice with a slightly acidic edge is the perfect way to start your day or to boost energy levels after a workout.
Print
Pin
Rate
Ingredients
4

tbsp

freeze-dried acai berry powder

1

cup

mixed frozen berries

blackberry, blueberry & raspberries

1

cup

milk

almond or dairy

1

tbsp

chia seeds

optional
Instructions
Put the frozen mixed berries in a blender and give them a whiz.

Add the milk, chia seeds (if using), and the acai berry powder. Give it another whiz until everything blends together.

Your delicious purple acai berry juice is ready!
Notes
We have used freeze-dried acai berry powder to ensure the highest nutritional component. Look for organic options wherever you can.
You can get the frozen acai berry fruit puree or pressed juice. Make sure you use similar proportions when using a different form of acai berry. 
You can add whatever fruits you want. We included berries for maximum berry benefits. 
Benefits of Acai Juice
Acai juice has many benefits that come from its main ingredient, the acai berry. The indigenous tribes of the Amazon jungle have long used these berries for medicinal purposes. In the West, it was marketed as an anti-aging and weight loss product. However, since then, the Federal Trade Commission has taken a strict stance against companies marketing acai berry weight loss products in deceptive ways. This is usually because many companies use other ingredients with known side-effects in their formulations. Hence, it is always better to check the label when buying acai-based products.
Nutrition Facts

---

Fruit juice, acai blend

Serving Size :
Nutrient
Value
Total lipid (fat) [g]
0.83
Carbohydrate, by difference [g]
12.83
Energy [kcal]
62
Water [g]
84.88
Sugars, total including NLEA [g]
11.1
Fiber, total dietary [g]
1.2
Calcium, Ca [mg]
19
Iron, Fe [mg]
0.16
Magnesium, Mg [mg]
11
Phosphorus, P [mg]
13
Potassium, K [mg]
130
Sodium, Na [mg]
13
Zinc, Zn [mg]
0.11
Copper, Cu [mg]
0.08
Vitamin A, RAE [µg]
485
Carotene, beta [µg]
5784
Carotene, alpha [µg]
46
Vitamin E (alpha-tocopherol) [mg]
11.11
Cryptoxanthin, beta [µg]
23
Lycopene [µg]
899
Lutein + zeaxanthin [µg]
783
Vitamin C, total ascorbic acid [mg]
42.1
Thiamin [mg]
0.03
Riboflavin [mg]
0.04
Niacin [mg]
9.06
Vitamin B-6 [mg]
1.1
Folate, total [µg]
4
Vitamin B-12 [µg]
3.4
Vitamin K (phylloquinone) [µg]
16.7
Folate, food [µg]
4
Folate, DFE [µg]
4
Vitamin E, added [mg]
11.11
Vitamin B-12, added [µg]
3.4
Sources include : USDA
Antioxidant Content
The acai berry is most prized for its antioxidant properties. According to the National Center for Complementary and Integrative Health, consumption of juice blends with acai berry as the main ingredient increases antioxidant consumption. A clinical trial comparing acai juice with applesauce found that the antioxidants of the acai pulp were more readily absorbed by the volunteers.
Regulating Blood Sugar
A pilot study, published in Nutrition Journal, found that the consumption of acai pulp by overweight adults helped in regulating with markers of obesity, such as glucose, insulin, and cholesterol levels. The research showed us that while we may not be sure whether it can cause a direct loss of weight, it does mitigate the harmful effect of obesity. It also showed us that acai berry can help in regulating blood sugar levels.
Reducing Muscle Stress in Athletes
Drinking acai juice post a workout session may really help in reducing your muscle stress. A Brazilian study, published in Canadian Science Publishing, found that the consumption of acai beverage reduced perceived exhaustion and can help one cope with high-intensity training. Another study on the effect of acai berry juice supplements on junior athletes found that while it did not make any difference to their performance, it helped in repairing exercise-induced muscle damage.
Word of caution: The National Center for Complementary and Integrative Health warns that the existing research on the benefits of acai berry is inadequate. Drinking too much juice can have other side-effects. On the negative side, the consumption of acai can affect MRI test results. Check with a doctor if you are scheduled to get an MRI. The center also advises consulting your health care provider if you are using any integrative or complementary medications, such as acai juice for managing blood pressure.
Where to Buy Acai Juice or Acai Powder?
Since acai berries are highly perishable, you can get them only in freeze-dried powdered or frozen puree packs. These are available online, including on Amazon. Look for organic options. Make sure that the puree or powders are unsweetened. If you can, check the sourcing of the product.
If you don't want to make the juice, but want to get the benefits, we recommend that you buy the juice from a good health store. Fortunately, many health stores today offer acai juice and the super yummy acai bowls. Jamba Juice has the very popular Acai Super Oxidant juice and the Acai Primo smoothie bowl. Similarly, Costco has the Sambazon juice and acai bowls. The only thing you must keep in mind is the presence of additives, especially sugar. Many of the commercially available juices have a high sugar or corn syrup content.