You may have never tried arak, but it is widely enjoyed in certain parts of the world and has a flavor that you would almost certainly recognize.
What is Arak?
Arak is a clear alcoholic anise-flavored aperitif that originated in the Levant region of the Middle East. It tastes like anise or black licorice, a key ingredient in the second round of distilling. It is usually made from grapes. Arak is a highly potent liquor, ranging from 30% to 60% alcohol by volume, or ABV. It is also traditionally combined with water and chilled with ice, and the addition of water causes the anise oils to emulsify, or break down into smaller particles, which gives the drink its milky-white appearance. It is similar to Ouzo, the Greek spirit, although ouzo is generally distilled to a lower ABV. [1]
How to Drink Arak?
There are many popular ways to consume this liquor variety, let us take a look at them below.
This specialty liquor is traditionally drunk diluted with water and ice, such that it turns white.
In Lebanon and surrounding countries, it is often consumed with mezze, or a variety of small appetizers, since it complements the flavors of a wide range of foods. [2]
It has recently become a popular spirit that is added to cocktails as the taste is light and refreshing.
How To Make An Arak Cocktail?
Since arak is mostly had with ice and water, there are not many cocktail recipes for it. One of the most popular alcoholic beverages made with Arak is called Beirut.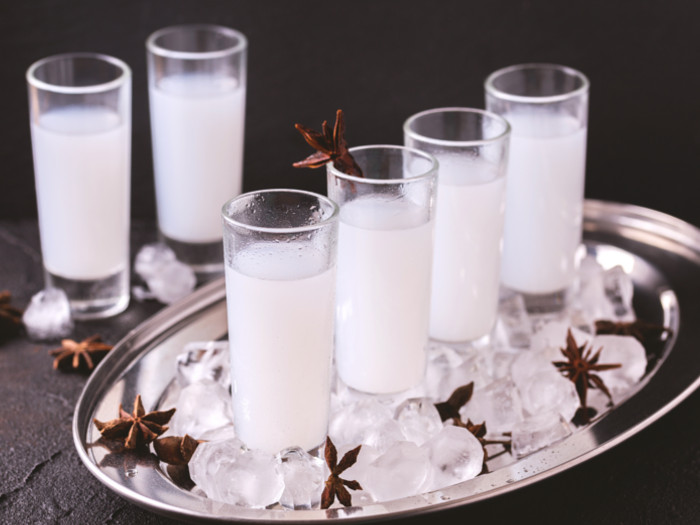 Beirut Cocktail Recipe
With the sweetness of pomegranates, Beirut is perhaps the best way to enjoy Arak.
Print
Pin
Rate
Ingredients
6

oz

pomegranate juice

3

oz

Arak

1.5

oz

simple syrup

1.5

oz

club soda
Instructions
Take 4 shots of pomegranate juice and add 2 shots of Arak.

Combine with 1 shot of simple syrup and 1 shot of club soda

Mix or use a cocktail shaker to combine and serve
Notes
While this recipe carries the exact amount, you can also remember it simply in terms of proportions. Just remember to take 4 parts pomegranate juice, 2 parts arak, and 1 part simple syrup and club soda.
Side Effects & Risks
It is wise to remember that even when arak is diluted with water or mixers, it is a very powerful form of alcohol, and you should avoid having it in excess. Alcohol consumption, if done in an excessive manner, can lead to short-term health risks such as violence and injuries as well as long-term health risks such as addiction, alcohol abuse, and chronic diseases. Laws, rules, and regulations regarding alcohol consumption and purchase vary in different countries. According to the Centers for Disease Control and Prevention in the US, people who should not drink alcohol include women who are pregnant, individuals younger than 21 years of age, and people who are recovering from alcoholism or cannot control the amount they drink. Also, it should be avoided by people who are planning to drive or any other activity that required focus and skill. [3] [4]