Drinking black currant tea is a great way to boost the strength of the immune system, but you should also understand the various health benefits associated with this fruit tea.
What is Black Currant Tea?
Blackcurrant tea is an herbal beverage brewed from the flavorful berries of the blackcurrant bush, which is scientifically known as Ribes nigrum. For centuries, the fruit of this plant, as well as the leaves, have been used to brew a powerful tea with a wide range of nutrients and free of caffeine.
You can use either the dried berries or the chopped leaves, both of which will provide a rich supply of antioxidants and other active ingredients, such as vitamin C, tannins, and gamma-linolenic acid.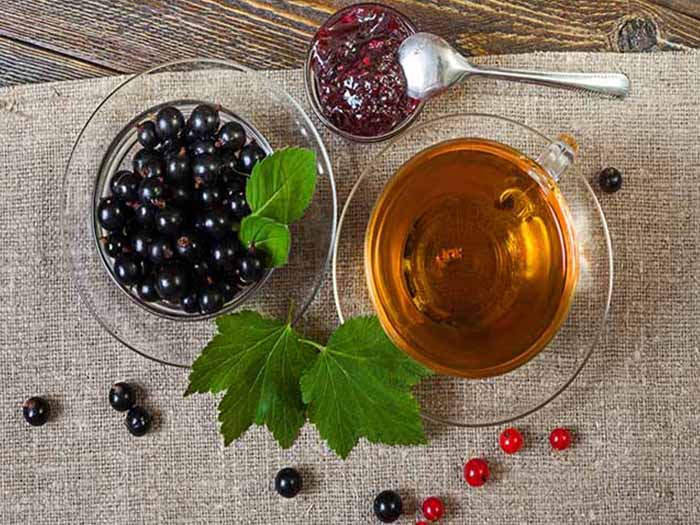 Benefits
The major benefits of this tea include its ability to strengthen the immune system, boost skin health, and induce sleep, among others.
High in vitamin C
Antioxidant activity

Antiviral

and

antibacterial

properties.
Reducing inflammation throughout the body
Protecting the skin against various conditions
Inducing sleep and preventing insomnia
Boosting mood
Regulating hormones
Improving

cardiovascular

health
Optimizing

digestive

function

Anticancer

potential
Treating cold and flu and

infections

Improving memory
Preventing urinary tract infections (UTI)
How to Make?
Making your own black currant tea at home is possible if you follow these simple instructions!
Step 1: Using either 2 teaspoons of the chopped leaves or a teaspoon of the dried fruits.
Step 2: Add hot water to the mixture and allow it to steep for 3-4 minutes.
Step 3: Strain the tea leaves and enjoy, adding honey as necessary, for flavor.
Side Effects
Drinking an excessive amount of this tea can result in a number of side effects, such as the following:
Complications of pregnancy
Difficulty sleeping

Gastrointestinal

problems
Potential bleeding disorders