Adding calendula tea to your weekly health regimen is an excellent way to boost your immune system and ease hormonal fluctuations.
What is Calendula Tea?
Calendula tea is an herbal tea brewed with the flowers of the calendula plant, scientifically known as Calendula officinalis. This tea is brewed with the whole flowers, which are a bright vivid orange. Calendula has been used for medicinal purposes for thousands of years, and the essential oil of these flowers is perhaps even more popular than the tea itself. [1]
Calendula tea can be served warm or cold, depending on how you intend to use it, and it has an unusual taste, earthy with a hint of pumpkin flavoring. It is often spiced with cinnamon and other sweeteners to make the taste more palatable. Despite having a less than ideal taste, its many benefits make it a valuable and popular beverage.
Calendula Tea Benefits
The top health benefits of calendula tea include its ability to improve the appearance of skin, stimulate healing, boost the immune system, ease menstrual pain, & detoxify the body.
Skin Care
There are a number of flavonoids and other antioxidants in calendula tea that can help prevent the damage of free radicals on our skin, which can contribute to wrinkles, age spots, and blemishes. [2]
Immune System
The antioxidants in this flower tea are also helped by natural antibacterial and antiviral compounds, which can relieve strain on your immune system and prevent infection. [3]
Detoxifies the Body
This tea has known diuretic properties, meaning more urination and the more rapid removal of toxins accumulating in the body. [4]
Menstrual Pain
This floral tea has estrogenic effects, which can help to rebalance hormones during menstruation and also settle some common symptoms, such as cramps and mood swings. [5]
Healing Speed
You can use this tea, once you let it cool, as a topical treatment for wounds, burns or inflamed areas of skin. The anti-inflammatory and analgesic qualities make it a great topical remedy.
How to Make Calendula Tea?
Making calendula tea at home is very easy, and quite rewarding, provided you have calendula flowers to use. The tea can be made with either dried or fresh flowers; the recipe below is for the dried variety. Take a look at the recipe below.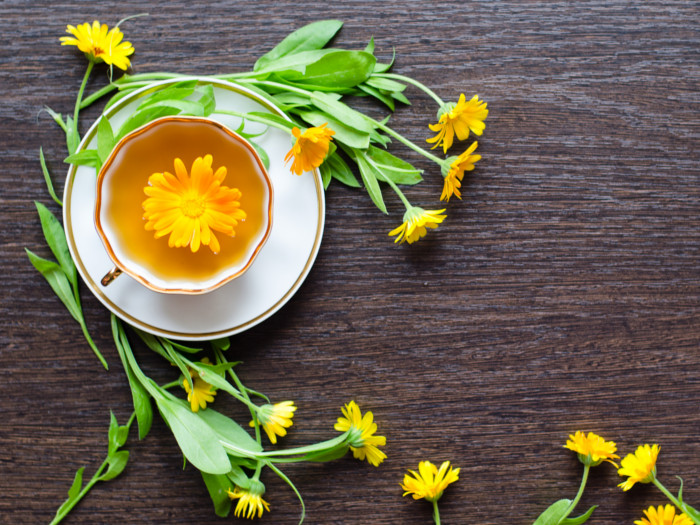 Calendula Tea Recipe
Harness the healing power of this amazing herb by sipping this tea daily!
Print
Pin
Rate
Ingredients
2

tsp

dried calendula flowers (powdered)

2

cups

of water

1

tsp

of honey (or)

(if desired)

1

tsp

cinnamon powder

(if desired)
Instructions
To make calendula tea, bring 2 cups of water to a boil in the saucepan.

Meanwhile, add 2 teaspoons of dried flowers to a tea infuser or teapot.

Pour hot water over the leaves and allow it to steep for 10 minutes.

Once done, strain out the flowers and add a teaspoon of honey or cinnamon powder, if desired, to enhance the taste.
Notes
You can air-dry the calendula petals in the house or outside (of course on a non-windy day), but it is likely to take a long time.
Calendula Tea Side Effects
There are some side effects of which you should be aware of before drinking this tea, particularly if you are pregnant. Since this tea can induce menstruation and has a notable effect on your hormone levels, it is not recommended that women who are pregnant drink this tea, as it could cause complications with the pregnancy. Furthermore, some people are allergic to calendula or other flowers in the marigold family, in which case, stomach upset or topical irritation may occur.