Cassava flour is becoming increasingly popular around the world as a gluten-free flour option, but there are a number of things you should know about the nutrition and potential health effects of this flour variety.
What is Cassava Flour?
Cassava flour is a wheat-free flour made from peeled, dried, and ground cassava root, from the cassava plant, scientifically known as Manihot esculenta. This flour has been produced and used widely by native people in South America and others around the world as a nutrient-dense flour alternative to wheat. The plant is also known as yuca and manioc in some cultures.
There has been some concern that cassava flour is toxic, given the cyanide-like compounds found in the root, but these are only dangerous when the root is eaten raw. As for the question of whether this flour is a viable gluten-free option, it most definitely is and is also becoming more and more popular around the world, because it is known to have the closest consistency to wheat flour for those who need to avoid gluten.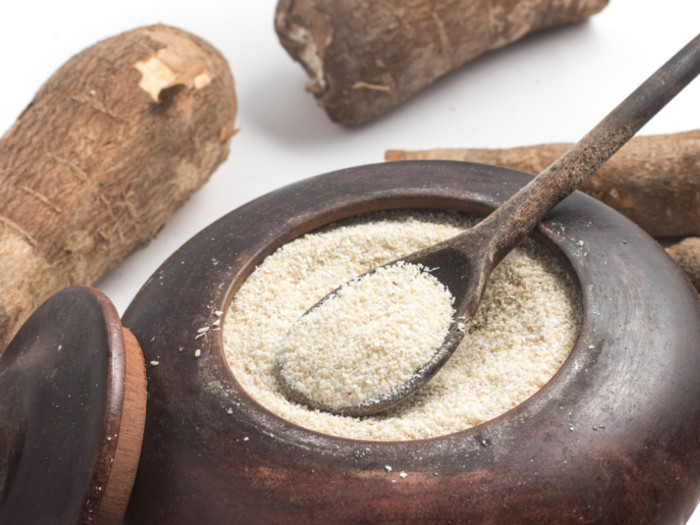 Cassava Flour Nutrition
In terms of nutrition, this flour is dense, but also has a very high level of carbohydrates. A 1/2 cup serving of this flour delivers more than 220 calories, 4 grams of fiber, and 56 grams of carbohydrates. It also delivers a significant amount of magnesium, vitamin C, vitamin B6, and potassium. While low in fat, it is also quite low in protein. In some countries, cassava flour is praised for its high-calorie count, but for those watching their sugar intake, moderation is needed when dealing with this flour.
Benefits of Cassava Flour
The top benefits of this flour include its ability to do the following:
Replace the gluten-free flour
Increase energy
Improve gut health
Easier to

digest

Boost metabolism
Regulate diabetes
Furthermore, studies have shown that cassava flour is easier to digest and can improve gut health in those who regularly consume it. Due to the high carbohydrate level, it delivers a solid energetic burst to your metabolism. The carbohydrates in this root, while there are a lot of them, are complex in nature, so they don't contribute to spikes in blood sugar like the simple sugars from wheat flour, which is good news for diabetic patients.
How to Make Cassava Flour?
If you want to make cassava flour, it is a time-intensive process, but definitely possible.
Step 1: Preheat your oven to its lowest setting.
Step 2: Bring a pot of water to boil and add 3 pounds of peeled cassava.
Step 3: Replace boiling water with cold water in the pot and chill the cassava.
Step 4: Grate the cassava and lay it out on a

baking

sheet.
Step 5: Bake the cassava for 8 hours until all moisture is gone.
Step 6: Using a food processor, blend the dried cassava into a fine, cassava flour powder.
How to Use Cassava Flour?
This flour can basically be used in the same way as any other flour in your diet, particularly if you are gluten-free. The most popular uses include the following:
Baking bread

Desserts

Cakes and

muffins

Tortillas
Sauces
Cream soup
This flour is known as the closest replacement for the consistency of normal wheat flour.
Cassava Flour vs Tapioca Flour vs Arrowroot
Cassava flour is made from the peeled, dried, and ground cassava root, while tapioca flour is made through a process of pressing, pulping, and squeezing of the same root. Arrowroot, on the other hand, may contain both tapioca flour and cassava flour, but it is a combination, and may also include powdered flour from other root vegetables, such as Florida arrowroot and West Indian arrowroot.