Caviar is a globally renowned type of sea dish that has numerous health benefits. There is a wide variety of caviar to choose from. Let's take a look at it in detail below.
What is Caviar?
A worldwide delicacy, caviar consists of 'roe' – a mass of small and delicate fish eggs. Traditionally, caviar is made from the eggs of sturgeon. In most commercial productions of this delicacy, the roe is extracted from a stunned female fish and then cured in salt. The soft and popping texture of the egg is considered a unique selling point of this luxurious dish. Salt and seaweed are the dominant flavors of caviar, but fresher varieties are less salty; the less salty it is, the more expensive it will be. Both the complicated extraction method and the short lifespan of caviar account for its high cost. Caviar is considered to be a good source for a range of vitamins and minerals such as vitamins A, B6, B12, and E, as well as iron, magnesium, and selenium.
Types
There are many different types of caviar available in the market including beluga, sterlet, Kaluga hybrid, ossetra, American ossetra, Siberian sturgeon, and sevruga. Let us take a look at them below.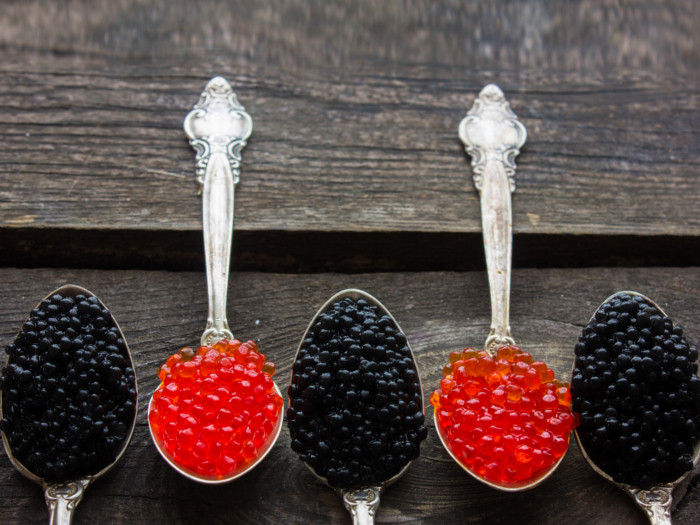 Benefits
A small amount of caviar can supply the recommended daily amount of vitamin B12 for adults. It promotes circulatory health and boosts immunity, among other benefits. Vitamins B6 and B12 can be hard to find in most fresh foods and have a range of health benefits, such as:
It contains a high level of omega-3 fatty acids, which can also provide a number of healthy boosts, including the following:
It also contains antioxidants, which are essential for maintaining a youthful skin.
How to Eat?
Caviar is to be savored as a delicacy. Let us take a look at the various ways to eat it.