Are you one of those people who think that the idea of cheese tea is unappetizing? If you are, then you will be surprised to know that this cupful of art has already swayed people around the world. While this tea is not as huge as bubble tea, it is certainly a beverage you could try.
What is Cheese Tea?
Cheese tea or naigai cha is a beverage made with green tea or black tea, topped with a generous layer of milk and cream cheese. Tea makers generally sprinkle salt to give this sweet-tasting beverage a savory touch.
There is a peculiar way to drink this tea. Straw lovers may frown upon knowing this but the only way to enjoy this tea is to tilt the cup at a 40-degree angle and then take a sip. The science behind this is that you get the perfect taste of cheese and tea in every sip. (By the way, environmentalists are giving this tea a huge shoutout. And if you are guessing it's for making straws redundant, you are absolutely right!)
Who Cupped the Cheese?
Cheese tea traces its origins to Taiwan, where the night market stands came up with this distinctive brew in 2010. Vendors used powdered cheese as opposed to fresh cheese, along with other ingredients to create a tasty cup of tea. It was in 2012 that HeyTea, a well-known tea salon in China, caught on to this topping and remodeled it into a trendy, premium beverage. They wanted to bring to the table an unconventional beverage that could, perhaps, replace the mainstream milk/water-based beverages. The strategy proved successful as people loved naigai cha very much. Eventually, the craze for it grew so much that people were ready to wait for hours to have the perfect Instagram selfie with the teacup and a cheesy mustache on their lips. They vividly describe it as an experience that evolves with every sip!
Today, naigai cha finds itself in most Asian countries like Malaysia, Hong Kong, and Singapore. It is also found in many tea shops in the United States and the United Kingdom.
How to Make?
Making cheese tea is very simple. You make a cup of green tea or any tea of your choice and top it with a layer of creamy foam. The topping looks dreamy with cream cheese, milk, whipping cream, and half-and-half put together.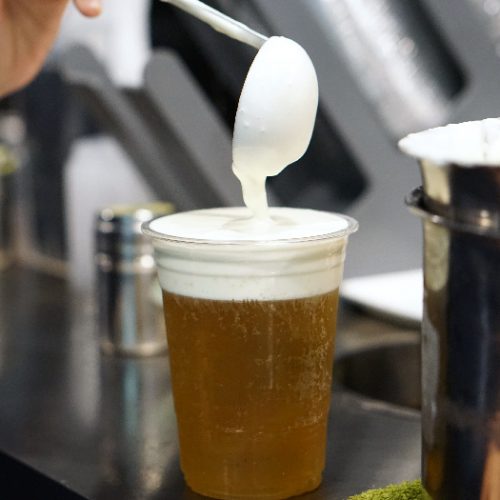 Easy Cream Cheese Tea Recipe
An unconventional cup of tea for the explorer in you!
Print
Pin
Rate
Ingredients
1/2

cup

milk

1/2

tsp

salt

2

tbsp

sugar

1/4

cup

half-and-half

2

tbsp

cream cheese

2

glasses

green tea

cold, brewed

1/2

cup

heavy cream
Instructions
Pour the milk, half-and-half, and cream cheese into a bowl and mix them well with a whisk or a frother.

Once you get a smooth consistency without any lumps in this mixture, add salt and sugar to it.

Whisk all of these together slowly.

Now add the heavy whipping cream and whisk again for a smooth consistency. You want to make it creamy and thick. When it coats the back of your spoon, consider it perfect.

Now use a large spoon and pour the cream cheese on your green tea. Sprinkle some green tea powder for more flavor and your cheese tea is ready!
Notes
You can get creative while making cheese tea in many ways like having a black tea, oolong tea, or an earl grey tea base. You could try adding different types of cheese to it for fun. If you are lactose-intolerant, then you can go ahead with vegan or lactose-free milk. Many people also add fruits like apple, pineapple, and berries to the tea for a fruit flavor.
Which Places Serve Cheese Tea?
If you want to try naigai cha with your friends or family, there are many international tea franchises like Gong Cha and Happy Lemon in the United States you could go to. Many fancy tea-houses also serve it, so you can look for a place nearby and plan a date with the cheese tea this weekend.
Is it Healthy?
Cheese tea does not outrightly spell healthy but there are some advantages to having it. Cheese is known to help improve gut health, lower the risk of diabetes, and help you maintain bone health. Green tea is an antioxidant-rich beverage that has protective effects against cardiovascular and neurodegenerative diseases. However, the amount of sugar and calories in a single serving of this tea can affect your health if you drink it too often. It is best to have it as an occasional treat, rather than indulging in it every day. [1] [2]
Cheese tea may seem like a beverage made up of all your insecurities, thanks to all the calorie-loaded contents but remember, You Only Live Once (YOLO). So, go ahead and enjoy it!