Cistus tea or Cistus incanus tea is one of the most ancient teas, brewed for centuries in the Mediterranian regions. It was prized for its medicinal properties and a pleasant aroma. Named the European Plant of the Year in 1999, the cistus tea is making a comeback as people rediscover its many health benefits.
What is Cistus Tea?
Cistus tea is made from the herb Cistus incanus, popularly known as rockrose. It is one of the oldest brewed tea in the world. It was used for medicinal as well as cosmetic purposes. It finds mention in both the Bible and the Quran. The tea is made from the dried flowers and leaves of the plant. It has a pleasant floral taste. One of the best aspects of this tea is its wonderful aroma. In fact, its extract is used as a perfume ingredient.
Health Benefits of Cistus Tea
There is good reason cistus tea was considered so beneficial in traditional medicine. It was believed to heal wounds, inflammations, and help regulate one's health. Modern research has backed up this long-held belief as we find that the plant is indeed rich in antioxidants. So, what you get is a pleasant tasting and fragrant cup of hot tea, full of health benefits.
Lyme Disease
Cistus was traditionally used for treating Lyme disease. It was believed to prevent and treat the disease. Even today many believe that it can protect people and pets from ticks that are primarily responsible for the disease. Research into the cistus extract used for borreliosis therapy (treatment for Lyme disease) found that it contained a compound named manoyloxides, which made it very effective as a treatment. [1]
Rich in Antioxidants
The miracle-like medicinal properties of the cistus tea clearly come from its rich deposits of antioxidants. This plant has been researched independently by different scientists and has consistently shown impressive results when it comes to its antioxidant potential. A comprehensive 2018 research on its antioxidant capacity, published in the journal Plants, revealed that it was rich in polyphenols and flavonoids. It was found to be potent in food and for medicinal purposes. [2]
Reducing Risks of Cardiovascular Disease
Cardiovascular diseases or CVDs are the number one reason for deaths worldwide. The WHO recommends that people who are at high risk need early detection and management. Cistus tea could be useful in that. According to a 2019 study published in Cardiology Journal, Cistus incanus tea decreased CVD risk factors, such as oxidative stress and dyslipidemia (an unhealthy lipid profile). The study recommended a daily intake of Cistus incanus tea for managing CVDs. [3] [4]
Treating Respiratory Illnesses
One of the common traditional uses of cistus tea was in treating infections. A randomized, placebo-controlled clinical study found that regular consumption of cistus extract significantly reduced the symptoms of common cold among the participants. The researchers credited the presence of polyphenols for this benefit. [5]
Managing Viral Infections
Viral infections are notoriously difficult to treat, even with potent medications. But natural antidotes like cistus can provide a welcome alternative. A 2016 research published in Scientific Reports found powerful antiviral properties in Cistus incanus extract with low chances of viral resistance. Unlike other natural remedies, it does not harm the host cells. The study, aimed to find herbal alternatives, recommended further research into its potential in managing chronic viral infections. [6]
Removing Dental Plaque
One of the cistus' many traditional uses was for oral hygiene. The polyphenols in cistus tea have antibacterial properties that help in removing dental plaque. Research published in the Journal of Dentistry found that rinsing one's mouth with cistus tea reduces the bacterial adhesion (which causes dental plaque) in the oral cavity. [7]
How to make cistus tea?
Some people believe that cistus tea must be brewed thrice. But we have a simpler recipe, which is just as effective. The two important factors that you must keep in mind are to ensure that you use filtered water and never let it come to a boil. The tea you will get is as fragrant as it is pleasant.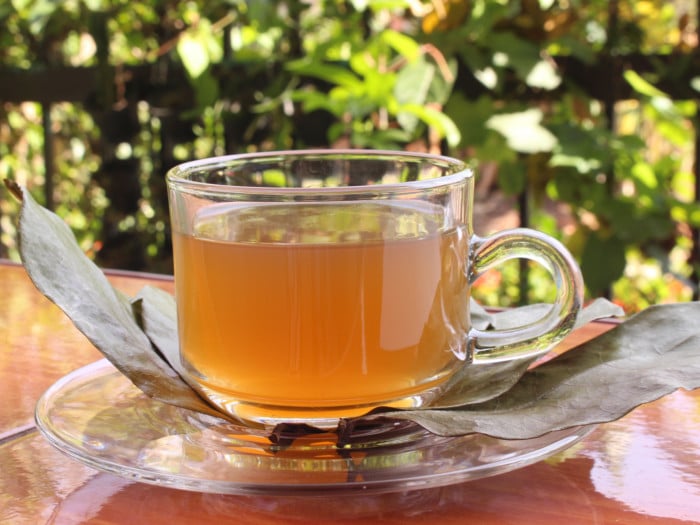 Cistus Incanus Tea Recipe
This medicinal tea has many benefits and has a pleasant floral flavor.
Print
Pin
Rate
[8]
[9]
Ingredients
3

tsp

tea leaves

1

ltr

water

filter

honey or stevia

optional
Instructions
Add the tea leaves to the water in a pan and put it on a stove.

Heat the water upto 75 degrees celsius, but not more than 90 degrees celsius. If you do not have a kitchen thermometer, make sure that you do not let the water come to boil.

Bring to a simmer just as you see bubbles start to appear. Cover the pan with a lid to ensure that the volatile compounds present in the leaves do not evaporate. Let the water simmer for 5 minutes.

Let the tea leaves steep for 5 more minutes and then strain. Enjoy your cup of hot tea.
Notes
Make sure that you use only filtered water. The presence of other metals and contaminants can interfere with the tea's health benefits.
Where to Buy?
You can get cistus tea at some specialty stores. It is also available online. When buying the tea, make sure that it lists 'cistus incanus' as the ingredient. It is also labeled as CYSTUS052. Some brands may use its other popular name, rock rose. Always try to buy organic tea to ensure minimal chances of contamination.
Word of caution: While there is a comprehensive research on the benefits of cistus tea, we do not advise using it as the only treatment for a disease. Talk to your doctor before taking it if you are on any medication. It is also recommended that you talk to a herbalist before taking it for the first time. Lastly, it is not recommended for long-term use or in very large quantities.