Fava beans have been part of Middle Eastern cuisine since the 4th century, and now more people are discovering these buttery, sweet beans all over the world. These fresh bright green beans are reminiscent of the spring season and need very little cooking. However, they are different kinds of fava beans available. Let's take a look at how to cook them.
How To Cook Fava Beans?
Fava beans are available in several varieties – fresh, dried, canned, or frozen. They all require different cooking methods and time to cook.
Fresh Fava Beans: If you are lucky enough to get your hands on fresh fava beans, you can cook it by sauteeing for ten minutes with just butter and garlic. Fresh fava beans come packed in tight, green pods and they usually have blemishes on the peel. The blemishes and spots do not matter as the peels need to be discarded. With the help of a sharp knife or your own hands, peel off the string from the side of the pod and pluck out the beans. Blanch the beans and then remove the skin to get the soft, creamy fava bean. The skin comes off easily once the fresh beans are blanched.
Frozen Fava Beans: Fresh fava beans are only available for a couple of months in the spring season. However, frozen fava beans are available in specialty grocery stores. Most of the time, frozen fava beans are prepped for cooking and their peels are removed. If the peel is still on the bean, it is best to let the frozen beans come to room temperature. Then, follow the same procedure as with fresh beans where you blanch the beans and remove the peel with your fingers.
Dried Fava Beans: You can find canned dried beans in most supermarket aisles. Dried fava beans are light brown or dark brown in color and they have a creamy texture, similar to boiled chickpeas. These dried beans are available in two sizes, the smaller variety, and the big bean variety. If you are cooking dried beans from scratch, you will have to soak them overnight so that they cook easily.
Fava Bean Salad Recipe
Fresh fava beans need very little to plump up the flavor. Dried fava beans, on the other, can be used in stews, curries, and salads and need spices to bring out the flavors. Let us look at an easy recipe for fava bean salad made using canned brown fava beans.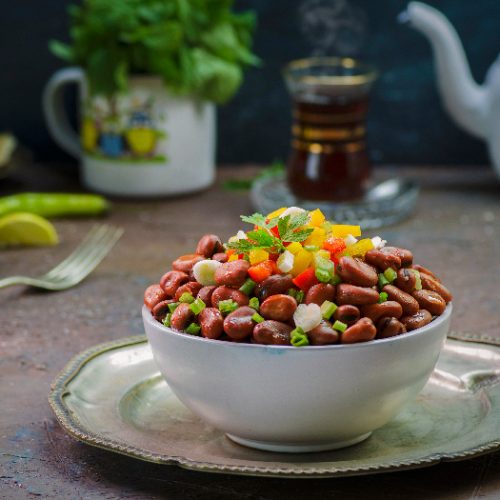 Ingredients
1

can

fava beans

1

red pepper

1

yellow pepper

1

scallion

2

cloves

garlic

minced

1

lemon

3

tbsp

olive oil

1

tsp

cumin powder [3]
Instructions
Whisk lemon juice, olive oil, cumin powder, salt, and pepper in a bowl. It should become a creamy dressing. Add minced garlic and mix well.

Cut the scallion whites and greens and keep aside. Chop the red and yellow pepper.

Add drained fava beans to a salad bowl. Mix the scallion and peppers. Toss the salad with the dressing. Enjoy the salad!
Notes
You can skip the peppers and add cucumbers, tomatoes, and red onions instead.
Connect With Us
If you have tried this recipe, we would love your feedback in the comments section below. And while we can't taste it, we would love to see how it turned out! You can connect with us on Facebook or Instagram and tag your picture with #organicfactsrecipes. [5] [6]
Do you wish to share your winning recipes with us? Please click here and fill in the details to get started.