Spinach is perhaps one of the most underrated dietary greens. The last time someone went gaga over spinach was Popeye who made his debut just a little less than a century ago! Since then, these lovely greens have been relegated to side dishes or accompaniments. And yet, there is so much you can do with spinach, from quiches to dips, and soups. We tell you some easy ways to cook spinach, whether by sauteing, blanching, or steaming. You can also learn about the right way to store and freeze spinach.
An excellent source of calcium, vitamins, and minerals, spinach is one of the most nutritionally rich greens for your diet. Learn more about the benefits of spinach in our article on Spinach: Top 15 Benefits, Nutrition, & Recipes.
How to Cook Spinach?
When it comes to cooking spinach, most people have been doing it quite wrong. Unlike other greens like kale or collard, spinach does not need a long braising time. It takes just about a couple of minutes. There are three main ways of cooking spinach, sauteing, blanching, or steaming.
Steaming Spinach
We used Martha's Stewart's quick steamed spinach. Of the three, this seemed like a clear winner because there was no fat involved and we could season it later in any way we wanted. All you have to do is wash the spinach and while the water is still clinging to the leaves, place it in a wide pan over medium heat. Keep moving around the spinach with a pair of tongs. Do not walk away. The spinach is done in just a couple of minutes. Turn off the gas as soon as it just collapses and the tender stalks look soft. You can store it like this for up to three days in the refrigerator.
Sauteing Spinach
Sauteing involves cooking the spinach quickly over medium heat with some form of fat. This is an easy and super-quick way of cooking the spinach that is ready to eat.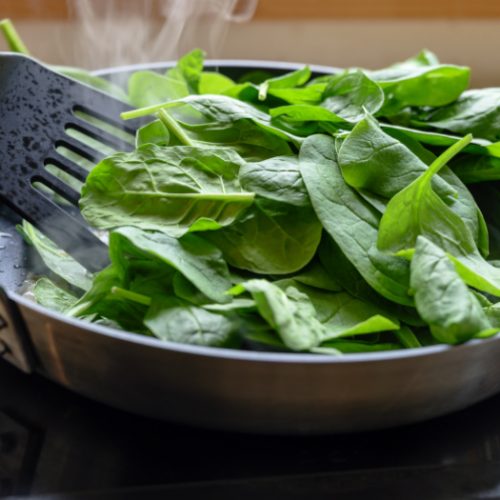 Quick Spinach Sauté Recipe
This basic spinach sauté is delicious as it is. It can also be used as a base for any number of dishes, from quiche to a quick Chinese stir-fry.
Print
Pin
Rate
Ingredients
1

lb

spinach

1

tbsp

butter or olive oil

2

cloves

garlic

minced

salt to taste
Instructions
Start by prepping the spinach. The best way to cut spinach is to hold the spinach bunch gently by the leaves and cut the thick stems at their base in one go. Discard these. Don't worry if there are some thinner tender stalks still left. You can leave the leaves whole or cut them as per the length you want.

Wash and clean the leaves. Pat them dry with a kitchen towel. Alternatively, you can also use a salad spinner.


Melt the butter or heat the olive oil in a wide pan or wok over medium heat. If using butter, take care that it does not burn or brown.


Add the minced garlic and saute them lightly. Add the spinach just as the garlic is beginning to brown.

Saute the spinach in the garlicky butter or oil with a pair of tongs or a spatula. The spinach should just wilt. This will take only about a couple of minutes. Do not overcook the greens.

Make sure that the spinach is in one even layer. If your pan is too small to take all the leaves in one go, cook in batches. Cook as much as it can take, wait for it to just wilt and then add some more. Try to finish this process in two parts and avoid overcooking the spinach.

Your delicious sauteed spinach is ready!
Notes
You can add other ingredients in this basic saute to jazz up your spinach and make it a main dish. Add mushrooms with the garlic for spinach-mushroom stir-fry. Or add bacon to give it a 'meatier' lift.
Add cream and cheese to this saute and you have a spinach quiche filling!
Blanching Spinach
Another popular method of cooking spinach is by blanching. Bring a pan of water to a roiling boil, add the washed spinach, and make sure that it is immersed in the water. Let it remain in the water till the stems are no longer rigid. It will take less than a minute if the stems are tender. Quickly drain the spinach in a colander and dunk it immediately in ice-cold water. We recommend that you keep the water bath ready before putting the spinach in the boiling water. Timing is important because the quick dunking will ensure that the spinach does not cook further and retains its lovely green color.
Let it remain in the cold water till it cools down and immediately, drain the water. You can squeeze out any excess moisture. Blanched spinach can be seasoned with salt, pepper, butter or a drizzle of olive oil before serving. You can also store it in the fridge to use later.
What is The Best Way to Prepare Your Spinach?
The best way to take your spinach is to not prepare it at all! Instead, eat it in its raw form, preferably with some form of dairy. According to a 2019 research, published in the journal Food Chemistry, boiling, steaming, or pan-frying resulted in the loss of the antioxidant lutein in the spinach. The more you subjected it to heat, the more was the loss of lutein. The optimal method of getting the most from your spinach is by liquifying, preferably with some dairy. So, juices and smoothies win the contest. [1]
Here's a selection of some easy and quick spinach juices and recipes:
How to Store Fresh Spinach?
The trouble with spinach and indeed, any dietary greens, is how quickly it can spoil. How many of us have bought a fresh bunch, only to find slimy bits a day later? There are a few ways to store your spinach. Needless to say, it must be stored in the refrigerator. But before that there are a few things you have to do:
Make sure that your spinach is fresh and bright green when you buy it. Avoid bunches with yellowed leaves or where you see the leaves wilting at the edges. Check the stalks. Tender stalks mean they come from a young plant.
As soon as you get home, open up the spinach bundle and check again for any yellowing, wilting leaves, or slimy bits. Discard these.
Wash your spinach thoroughly under running water and dry them. A salad spinner works best here. At the very least, use a kitchen towel to pat them dry.
Once you have washed and dried your spinach, you are ready to store them. The trick is to make sure that you minimize the build-up of any moisture in your stored greens. There are three ways to do this:
In a sealed plastic bag: Wrap up the spinach in a paper towel, put it in a sealable plastic bag. Seal the bag, taking care to remove as much air as possible. The paper towels will soak up any water and keep the greens fresh for at least 4-5 days.
In a plastic container: Wrap up the spinach in a paper towel and put it in a lidded plastic container. Make sure that the container is closed tightly. This has a slightly longer life than the bagged method with the greens staying fresh up to 10 days.
Freezing it: If you want to store it long-term, freezing your spinach is the best way to go. You have to cook the spinach and then freeze it.
How to Freeze Spinach?
Freezing fresh spinach is not recommended. You will find that the leaves will become slimy very quickly. To freeze spinach, you have to cook it before. Cook the spinach by sauteing or steaming it as explained above. Let the cooked spinach cool down, put it in a container, and freeze it. Alternatively, you can also freeze tablespoons of cooked spinach in an ice-cube tray. This will give you ready-to-use smaller portions. Add the frozen spinach directly from your freezer to your quiche or lasagna when you are cooking.