They say that one kind word can change someone's day from bad to good. Is that word 'wine' for you? If yes, then you've come to the right place. The fondness is surely for its versatility, we guess. It tastes amazing, complements countless dishes, and is great to unwind with after a long day. Plus, there are so many varieties of wine you can explore and one of them is dandelion wine. If you have never tried it before, follow our recipe and make the wine at home.
Because, when life gives you dandelions, you ought to make wine!
How to Make Dandelion Wine?
Making dandelion wine at home requires two things- effort and patience. This wine is made from flower petals, which means plucking and segregating the flowers from the greens may be a cumbersome task. But in the end, it's all worth it when you finally take a sip of this beautiful goldish yellow beverage.
Useful Tips
Wine-making is an interesting process just as wine drinking. All you have to do is remember a few key points to do it right so that it is not succeeded by a headache.
Pick the flowers on a bright sunny day. Ensure that these flowers have not been exposed to pesticides.
Also, if you are plucking the flowers from your yard, make sure your pets have not touched or hampered them.
It's the petals that make the wine tasty. So, try to clean out the green parts as much as you can. You can use the discarded parts of the flower for compost.
Raisins help to add vinosity to the wine, making it heartier and letting its flavor linger in the mouth. So, if you really do wish for a good-tasting wine, add raisins.
Some people also like to use spices like cloves and ground ginger to the wine to make it more flavorful. You can try it out for a small batch.
Most recipes of dandelion wine consist of refined white sugar. You can experiment with raw cane sugar as well.
You can add other citrus juices like lime juice to the wine.
Make sure you have at least two large jugs to make the wine shifting process easier before you bottle them.
Dandelion wine, when made right, tastes mild and sweet. It has a smooth, floral essence to it that leaves your tongue wanting more. If you are one of those who believe in fine wine, here is the perfect dandelion wine recipe for you.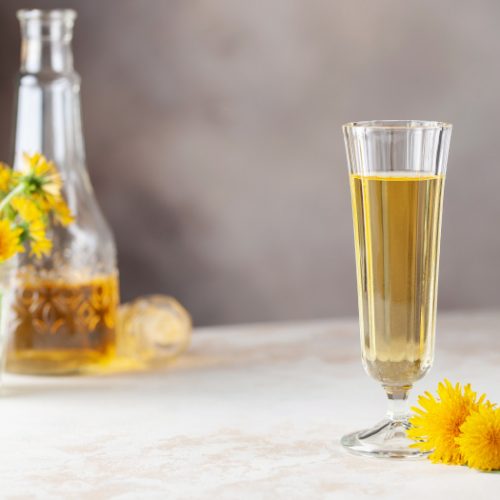 Dandelion Wine Recipe
Try your hand at this amazing spring tonic, because it's wine o'clock!
Print
Pin
Rate
Fermentation time:
731
days
Total Time:
2
hours
15
minutes
[1]
[2]
Ingredients
2

quarts

dandelion flowers

1

gallon

water

filtered

3

lemons

juiced and zested

3

oranges

juiced and zested

1 1/2

lbs

sugar

3/4

lbs

golden raisins

chopped

1

tsp

yeast nutrient

5

grams

wine yeast

simple syrup

optional
Instructions
To start with, separate the green leaves from the base and stems of the flowers. Ensure that you remove most of them because too many of these green parts may make the wine bitter if they are left out. Add the flower petals to a crock.

Now, bring water to a boil and pour it over these flowers in the crock. Let the flowers steep in for 4 hours.

Line a colander with a cheesecloth and strain the flowers now. You can press the flowers to extract as much water as possible.

Heat this infusion and bring it to a boil. Then, stir in the citrus fruit juices and sugar. Mix well.

Once you do that, add orange and lemon zest, and raisins to this mixture and turn off the heat. Again, stir it thoroughly and let it cool till it comes down to room temperature.

Now, add yeast nutrient and wine yeast to the infusion and mix it well. Cover it well and let it stay at room temperature for 12 days. During this period, stir the mixture 3 times every day.

After 12 days, strain this infusion into a clean, one-gallon jug. Seal it using a fermentation lock or a balloon with a single pinprick. The single prick in the balloon keeps the bacteria out while allowing the release of gases from the wine-to-be.

Keep this mixture at room temperature for 21 days.

After this, carefully pour the mixture into another jug. This ensures that the sediments from the yeast and other ingredients stay at the bottom and you get a clearer wine in the new jug.

If there is more than a 2-inch difference between the level of wine and the rim of the jug, fill that gap using simple syrup.

Now, cover it with the fermentation lock or balloons and keep it at room temperature for one more month.

Transfer the wine to a new jug, leaving the residue in the existing jug. Repeat this process every 30-60 days until your wine is clear and not cloudy.

Once the wine becomes clear, funnel it into clean bottles and cork the bottles. Age it for about a year and you will have an amazing batch of wine to celebrate with!
Notes
You can start having the wine in about two months. But the taste gets better as it ages, so we suggest you wait for about a year or two to open the cork. Keep the wine bottles in a cool and dark place like a basement or a closet.
Alcohol Percentage in Dandelion Wine
The alcohol percentage majorly depends on the wine yeast you use. If you have followed this exact recipe and used 1 pack i.e. 5 grams of wine yeast, your dandelion wine contains about 10 to 13 percent alcohol.
So, the next time you are having a bad or a long day, you know what you need to do. Pour in some homemade dandelion wine, cook up some delicious Italian food to go with it, and have a fabulous dinner with your family!