Kiwi fruit is delicious, but knowing how to eat kiwi fruit is just as important. Despite being a small and seemingly simple snack, there are definitely some good and bad ways to enjoy this nutrient-packed fruit.
How to Cut Kiwi Fruit?
While some people eat the entire fruit – skin and all – there are others who prefer to keep that fuzzy skin out of their mouth. If that sounds like you, simply cut the kiwi fruit in half, revealing two round halves of green, juicy fruit.
Depending on how you want to use the kiwi fruit, you can also peel the entire fruit with a paring knife. To ensure that you get the most fruit out of your kiwi, however, the cutting and scooping method is probably the most efficient.
How to Scoop Kiwi Fruit?
Scooping kiwi fruit is one of the easiest and most convenient ways to eat a kiwi, since all you require is a spoon. After slicing the kiwi fruit in half, you can quickly scoop out the juicy flesh of this fruit from the sides of the thin skin. The seeds are edible, as is the central, slightly harder area of the kiwi.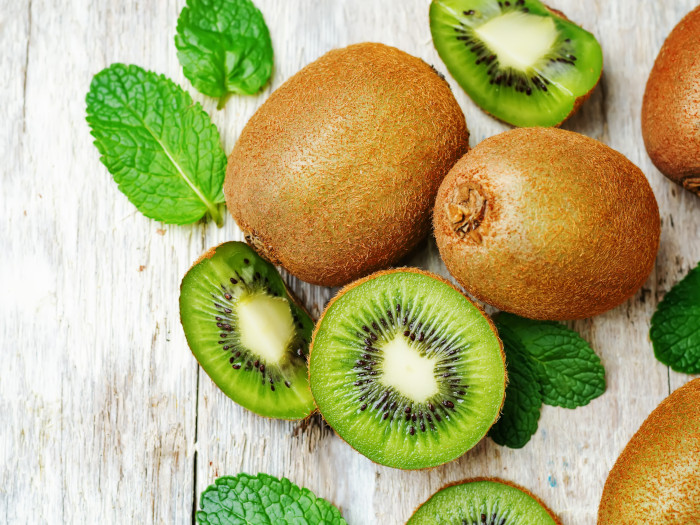 How to Eat Kiwi Fruit Skin?
Kiwi fruit skin is something that some people happily munch on, while others turn up their nose in disgust at the fuzzy texture in their mouth. Kiwi fruit skin is perfectly safe to eat, and for those who simply want to eat a kiwi fruit whole, the most important step is to thoroughly wash the fruit. There may still be residue from pesticides or herbicides, depending on where you bought the fruit, both of which can cause negative side effects if consumed in high enough quantities.
Incorporating Kiwi Fruit into Your Diet
Now that you know how to eat kiwi fruit, it is important to know where it can fit into your diet. Many people enjoy cutting up kiwi fruit and adding it to salads as a sweet and refreshing ingredient. Others blend kiwis into their morning health smoothies and shakes, although the seeds can be a bit fibrous in this particular use. Kiwi fruits are a popular addition to fruit tarts and pies, and can also be juiced into an extremely potent and nutritious beverage. Although the overwhelmingly sweet and tart taste of kiwis doesn't lend itself to savory dishes, there are countless sweet applications, both as a topping or a key ingredient.