Ginger beer is increasing in popularity around the world, but not only is this beverage refreshing and versatile, but it can also provide potential health benefits.
What is Ginger Beer?
Ginger beer is a beverage that has been around for about 200 years in various forms, originating in England, but spreading from there. Many people mistake ginger beer with ginger ale – the classic stomach-settling remedy – but they are prepared in two very different ways. That being said, they can have similar effects on the body. This "beer" tastes strongly of ginger and is typically sweetened and carbonated. The designation as "beer" comes because of the production method, which does involve fermentation with a specific type of bacteria. [1]
When this beer was first introduced in the mid-18th century, it rarely had an alcohol content of over 12%, but nowadays, anything over 2% is almost unheard of. In fact, the majority of producers of ginger beer have completely eliminated alcohol. Even so, it remains a very common beverage choice and is a key ingredient in a number of popular cocktails.
How is Ginger Beer Made?
It is actually rather simple to make it, both for manufacturers and for those who wish to make it at home. The basic ingredients include lemon juice, sugar, fresh ginger, and active dry yeast.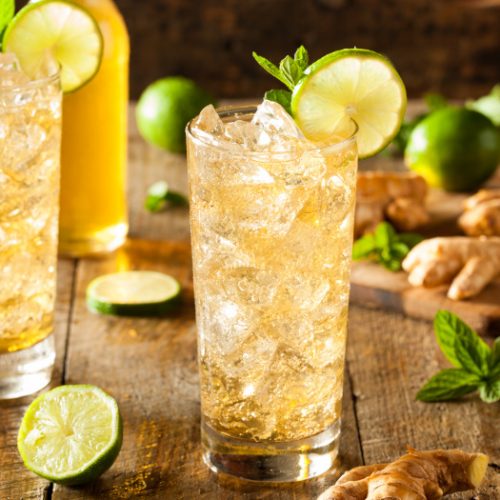 Old Fashioned Ginger Beer Recipe
Savor the taste of old fashioned ginger beer on a warm sunny day!
Print
Pin
Rate
Ingredients
4

tbsp

ginger

freshly grated

1

cup

sugar

1/4

tsp

dry active yeast

1

tbsp

lemon juice
Instructions
To make ginger beer, grate approximately 4 tablespoons of fresh ginger into a fine-mesh sieve.

Press the grated ginger to extract any juice into a small bowl.

Funnel the ginger juice into a bottle (about 3 tablespoons)

Add 1 cup of sugar and 1 tablespoon of lemon juice.

Add 1/4 teaspoon of dry active yeast.

Fill the rest of the bottle with water, leaving 1-2 inches of space at the top.

Seal the bottle tightly and shake well to dissolve sugar.

Let this bottle stand for 36 hours at room temperature.

Serve this beverage cold.
Notes
It is best made in plastic bottles. Should you choose to bottle the ginger beer in glass bottles, ensure that the ginger beer has lost most of its fizz before bottling them. If you don't, it will continue to carbonate in the bottles, which could cause the bottles to explode due to acute pressure.
Always keep it refrigerated and consume it within six days. This will ensure that the alcohol content of the drink remains low.
Benefits
There is not enough research done on the health benefits of this ginger-based beverage; the majority of the health claims are due to the health-enhancing properties of ginger. The potential benefits of ginger beer include soothing the stomach, boosting heart health, preventing chronic diseases, and regulating diabetic symptoms, among others. Let us look at them in detail.
May Eliminate Nausea & Indigestion
Ginger beverages of all kinds are famously used to settle the stomach. Gingerol, the active ingredient in ginger and these beverages, is may be able to settle indigestion, reduce acidity, and reduce inflammation, while also possibly eliminating symptoms of nausea and indigestion. [2]
Might have Anticancer Properties
Research has revealed that the active ingredients in ginger may have anti-cancer properties, particularly when it comes to colorectal cancer. While this research is in the early stages, the results thus far are promising. [3]
May Reduce Inflammation
Many cultures have traditionally may have used ginger-related remedies to reduce inflammation. Modern medicine is beginning to corroborate these findings, and ginger beer can now be a potential remedy for arthritis pain and other common inflammatory complaints. [4]
Might Protect Heart Health
Research has pointed to ginger may have a positive effect on heart health, namely by possibly reducing cholesterol and lowering blood pressure; while ginger beer has lower levels of active ingredients, it may still give you a cardiovascular boost. [5]
May Act as Analgesic
The anti-inflammatory properties of this ginger-based beverage may also make it an effective analgesic substance. If you are recovering from an illness or an injury, regular consumption of this ginger-rich beverage can be very helpful. [6]
Difference Between Ginger Ale & Ginger Beer
Ginger ale and ginger beer are often mistaken for one another, and while they do share a similar flavor and origin plant, there are a few clear differences. Ginger ale, for one, is usually nothing more than carbonated water that has been flavored with ginger juice or ginger concentrate. The beer, on the other hand, is prepared using active yeast, and it does undergo fermentation. However, this "brewing" process is minimal and few brands have an alcohol content higher than 0.5%. Some companies are changing their approach, however, creating both their ginger ale and ginger beer through artificial means. However, the fermentation process is the main point of separation between these two beverages.
Word of Caution: If you are following a total avoidance of alcohol due to religious or other reasons, you may want to skip this beer as it still contains some level of alcohol.