Coconut oil can work as a natural deodorant, due to its antibacterial nature, while also keeping perspiration at bay and moisturizing the underarms to prevent irritation. The medium-chain fatty acids, specifically lauric acid, capric acid and caprylic acid, can boost the immune system and eliminate bacteria in topical applications. Underarm odor is primarily caused by the apocrine glands, which releases sweat that is high in protein. This is a delicious meal for bacteria that like the warm, moist area, and release foul-smelling odor as a byproduct of protein metabolism. Coconut oil is able to neutralize those bacteria, which prevents the unpleasant and embarrassing smell.
Furthermore, deodorants are meant to promote dryness, and are marketed as antiperspirants. However, most deodorants that you find in the store contain a huge range of chemicals and compounds, including aluminum, parabens and alcohol, to stop the body's natural perspiration process. Coconut oil can reduce or stop the sweating process from the underarms, while also moisturizing and ensuring that the area doesn't become irritated. As per the USDA, coconut oil is rich in minerals, vitamins, and fatty acids. Furthermore, the chemicals and compounds in non-organic deodorants, namely the aluminum compounds, bind with the proteins in sweat to form the hard-to-clean stains on the underarms of your shirts. [1] [2]
How Do You Make Homemade Deodorant from Coconut Oil?
Some people find that they can simply spread a small amount of coconut oil under their arms for a dry and odor-free day, but that doesn't work for everyone. There are countless different recipes for coconut oil deodorant. You can make it at home quite easily. We have also included a recipe that does not use baking powder, an otherwise common ingredient in homemade deodorants.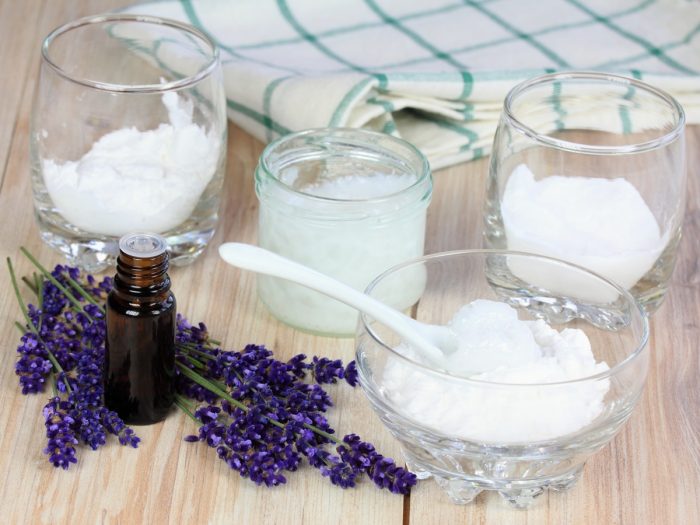 Two Easy Coconut Oil Deodorant Recipes
Coconut oil makes an excellent deodorant. The baking soda, shea butter, corn starch, arrowroot, beeswax, and essential oils act as stabilizers. We have also included a baking soda-free recipe for people who are sensitive to it.
Print
Pin
Rate
Ingredients
Common Coconut Oil Deodorant
3

tbsp

coconut oil

2

tbsp

baking soda

2

tbsp

corn starch

8

drops

Lavender essential oil
Coconut Oil Deodorant Without Baking Soda
1

tbsp

coconut oil

1

tbsp

shea butter

1.5

tbsp

beeswax

6

drops

vitamin E oil
Instructions
Common Coconut Oil Deodorant
First, mix the baking soda and corn starch in a glass bowl.

Mash in the coconut oil into the mixture, mixing thoroughly with a fork.

Add the lavender essential oil and mix it in well.

Store the mixture in a small glass jar or container for easy use.

When using, scoop out a small amount on two fingertips and apply to the underarms.
Coconut Oil Deodorant Without Baking Soda
Once you've gathered the ingredients, mix the coconut oil, Shea butter, and beeswax into a double boiler and heat until all three melt.

If you don't have a double boiler, simply put the three ingredients into a large glass bowl or Pyrex dish, and place it on top of a smaller pot or pan with 1-2 inches of water in it. Heat the pot or pan on the stove; the steam from the boiling water will melt the ingredients.

Stir them thoroughly until they are mixed, and then take them off the heat to cool. While they are cooling, add the vitamin E oil and continue to mix.

If you would like, you can also add various essential oils (sage, lavender etc.) to the mix at this point to give the deodorant a pleasant smell. Pour the cooling liquid into a jar or deodorant container and store it in a cool place between uses.