If you enjoy milky tea, Hokkaido milk tea or royal milk tea is one of the teas you must try. This hot, sweet beverage originated in Hokkaido, a province in Japan, and has now found its place in the menu of tea houses in Kyoto, Singapore, London, and the US. Sometimes, the tea may also be referred to as Nidashi milk tea. Let's find out more.
What is Hokkaido Milk Tea (Royal Milk Tea)?
Hokkaido milk tea or royal milk tea is a sweet tea made by simmering black tea leaves and the well-known creamy milk from Hokkaido, Japan. Hokkaido is known for its delicious fresh cow's milk, dairy products, and baked products. The rich milk is also used to make a delicious sweet and spongy bread called Hokkaido milk bread or Shokupan. While the milk is the key ingredient, the choice of tea leaves also matter. Traditionally, the tea is made using high-quality tea leaves of the Assam, Earl Grey, or Darjeeling tea. It is sweetened with brown sugar, caramel sauce, or honey.
In modern tea houses. you may find that the tea is made from loose green tea leaves or oolong. Some versions may have tapioca pearls or pieces of jelly. Also, for people who are lactose intolerant, the milk is replaced with nut milk or coconut cream. You can also find it bottled in vending machines in Japan.
This royal milk tea is best enjoyed in the morning or in the late afternoon. While it is a treat on its own, you can enjoy it with matcha cookies.
How To Make Hokkaido Milk Tea?
Hokkaido milk tea is traditionally made with fresh milk sourced from Hokkaido. You can alternatively use milk powder sourced from Hokkaido. Let us look at how to make this creamy, rich tea.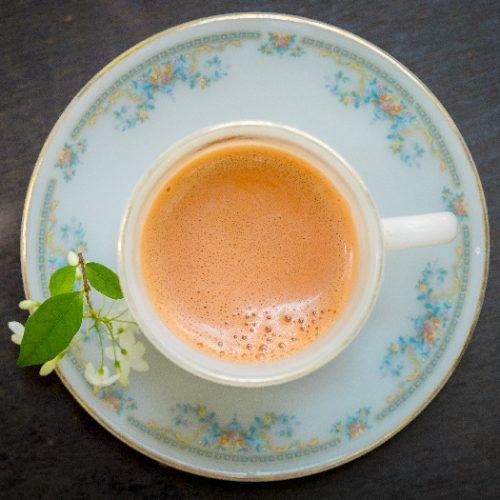 Hokkaido Milk Tea Recipe
A creamy, delicious tea from the Hokkaido province of Japan
Print
Pin
Rate
[1]
[2]
Ingredients
1

cup

water

2

tsp

black tea leaves

1/2

cup

Hokkaido milk

Brown sugar, caramel sauce, or honey

to taste
Instructions
In a medium saucepan, bring the water to a boil.

Once the water comes to a rolling boil, add the black tea leaves.

Turn the heat to a low and boil the tea leaves for 1 minute to 3 minutes, depending on how strong you want your tea.

Add the milk and simmer for 3 minutes.

If you would like to follow the traditional method, you would want to give your teacups a boiling water rinse. For this, pour boiling water into the teacup and discard the water. This helps keep the tea warm for a longer time.

Pour the milk tea through a tea strainer into the warm teacups. Sweeten with brown sugar or honey as preferred. For a more indulgent sweet flavor, you can use caramel sauce. Enjoy your Hokkaido milk tea!
Notes
For an iced version, add the milk tea in a shaker with ice cubes and shake well till foam is formed. You can also add sweet jelly, tapioca pearls, or ice cream to make it even more delicious.
Connect With Us
If you have tried this recipe, we would love your feedback in the comments section below. And while we can't taste it, we would love to see how it turned out! You can connect with us on Facebook or Instagram and tag your picture with #organicfactsrecipes. [3] [4]
Do you wish to share your winning recipes with us? Please click here and fill in the details to get started.