Drinking horsetail tea is an excellent way to detoxify the body and strengthen your bones, but there are some potential side effects you should know about as well.
What is Horsetail Tea?
Horsetail tea is an herbal tea brewed from the dried leaves of Equisetum, the last remaining genus in an ancient family of vascular plants. Horsetail tea contains a high level of silica and calcium, as well as magnesium, iron, potassium, selenium, zinc, and, manganese. It also has a wide range of vitamins, antioxidants, fatty acids, saponins, and sterols, all of which can affect health in various ways.
Most commonly found in North America, these plants are actually found throughout the world, primarily in non-tropical regions of the Northern hemisphere. Although these have been used medicinally for more than 2,000 years – and likely even longer – modern research has been somewhat inconclusive about the exact benefits of this tea or the extracts.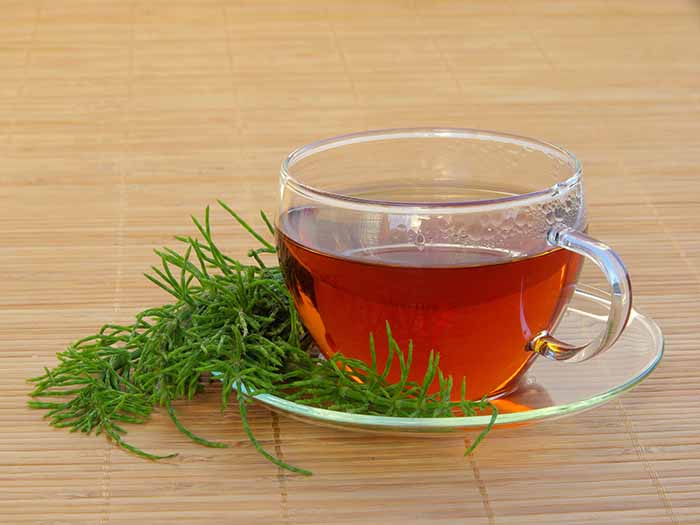 How to Make?
You can brew horsetail tea easily at home, provided you can find the right ingredients.
Step 1: Bring a pot of water to a boil.
Step 2: Add 2-3 teaspoons of dried horsetail to a teapot.
Step 3: Pour the hot water over the dried leaves.
Step 4: Steep the tea for about 8 minutes.
Step 5: Strain the tea and add honey for flavor.
Benefits
The key benefits of this tea include the following:
Improved nail and bone health

Detoxifying

the body
Hair care
Improved

circulation

Better digestion
Delay in premature aging
Lower risk of chronic diseases
This tea has the ability to strengthen the bones and nails, thanks to its wide range of minerals. Furthermore, it is known as a diuretic, which can aid in the detoxification of the body, while also purifying the blood. This tea has also been linked to stimulating the growth of the hair and boosting circulation. Digestive issues can be improved thanks to the antioxidants, and your skin can be protected from premature aging. If you regularly suffer from respiratory problems, the anti-inflammatory nature of this tea can soothe even the worst symptoms. Finally, the range of antioxidants lowers inflammation in the body and reduces your risk of chronic diseases, such as cancer.
Side Effects
There are a number of potential side effects when consumed in excess, such as the following:
Complications of

pregnancy

Stomach upset
Dangerously low blood sugar levels
Deficiency in certain key

electrolytes
Be sure to only consume this tea regularly for a week, and then take a break. Continuous use of this tea can cause a number of unwanted side effects.