For all the tea-time or high-tea lovers, a moist and fluffy lemon cake never disappoints. It is delicious, tangy, zesty, and soft. Every bite of this rich and creamy cake bursts with a fresh lemon flavor and hooks you after one bite. It has a delicate crumb that enchants your palate and makes your tea-time even better.
What is a Lemon Cake?
A lemon cake is dense, tasty, and a famous cake. Lemon adds a unique zest to a plethora of cakes, like bundt, white cakes, or angel food. However, this cake is a loaf cake that is grainy and has more crumbs, similar to a pound cake. It is a favorite amongst tea-lovers and a bestseller in coffee shops and bakeries. Since it is a shortened cake, the topping is a glaze, light icing, or a syrup.
This cake evolved from a pound cake, which was baked in England around 1700. A pound of each ingredient underwent into making a comfortable and decadent cake to feed large groups of people.
Lemon Cake Recipe
A lemon cake is made with lemon zest or juice, seldom both. When you begin making the cake, make sure all the ingredients are at room temperature. Besides the texture and flavor, it is noteworthy how easy this cake is to make. It includes essential ingredients like butter, sugar, eggs, lemon, and flour. Now, let's talk about the recipe!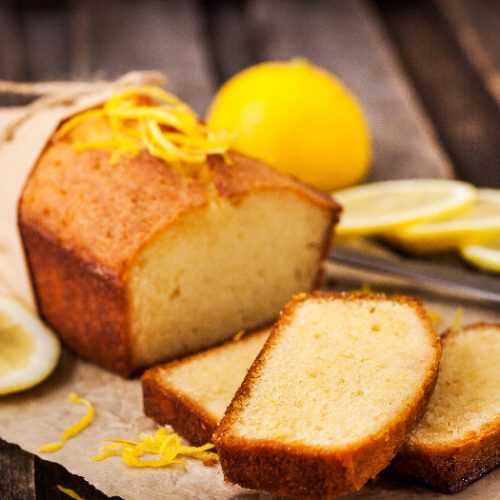 Simple & Moist Lemon Cake Recipe
Enveloped in a luscious fluffy base and garnished with rich cream, this lemon cake beauty stands up to its other counterparts with finesse!
Print
Pin
Rate
[1]
[2]
Instructions
Preheat the oven to 175ºC. Take a 9-inch square baking pan and grease it with butter.

In a bowl, beat butter and sugar together using an electric mixer. Beat in some eggs and vanilla extract until the batter is light and fluffy.

In a separate bowl, sift all-purpose flour and baking powder together, and add to the creamy mixture.

Now, pour in lemon zest, milk, and lemon juice, and whisk until you achieve a rich consistency. With a spatula, empty the mixture into the greased pan.

Put in the preheated oven and bake for 45 minutes to 1 hour until golden brown and a toothpick comes out clean.

Let it cool for 15 minutes. Transfer the cake onto a cooling rack. Garnish with icing and let dry before serving.
Notes
You can use buttermilk by combining 1/2 cup milk with 1.5 teaspoon lemon juice or white vinegar. Let the mixture sit for a few minutes until it starts to curdle.
It is good to beat the sugar and butter for long as it incorporates air into the batter, making it fluffier and tender.
The cake will also taste great with orange juice or lime juice.
How can you store the cake?
This cake can be stored overnight at room temperature in a covered container. It is essential to do so as butter-based cakes harden at cold temperatures. Moreover, you can freeze them as long as they are wrapped well.
How to make the cake dairy-free?
You can use almond milk, soy milk, or rice milk. Instead of butter, margarine is a good choice. Also, instead of white sugar, opting for coconut sugar or brown sugar works well. The darker the sugar you use, the darker your lemon cake is likely to be.