If there is one fruit that the Southeast Asian region is extremely grateful for in the summers, it is mangoes. Mangoes, with their bright, green, yellow, and orange-ish red hues, deliciously sweet taste, and melt-in-the-mouth-good, smooth texture make for a great dessert on their own. They also make for an important add-on in some mouth-watering sweet-dishes. One such recipe that instantly comes to our mind, is the traditional Thai dessert- mango sticky rice. A combination of fresh and sweet ripe mangoes, sticky rice, and creamy coconut sauce is what makes this dessert a refreshing remedy to the tropical heat. Want to know how to make it at home any time you want? Well, let us find out.
How To Make Mango Sticky Rice?
Mango sticky rice is a great summer delight and works wonders when served warm with freshly made sticky rice, or as the Thais like to call, Kao now. This also happens to be a vegan specialty. During summers, which is between March till May in South-east Asia, you will see street vendors, neighborhood fruits stands, and high-end restaurants all serving this delicacy. It is also quite simple to prepare at home if you keep the following steps in mind. Let us look at the individual components of this dessert in great detail below.
Sticky rice: Also known as glutinous rice, sticky rice is semi-opaque and has a gooey-texture when cooked, all thanks to its extra starchiness. It comes in both long-grain and short-grain varieties. You can purchase sticky rice from specialized grocery stores like Whole Foods Market and online e-commerce portals like Amazon. The one that is used in this dessert is the long-grain one. For best results, it is advisable to soak it much in advance (4 hours or more) and then steam it. Cooking this rice is very different from cooking regular rice. While cooking sticky rice, you need not add any water to the rice while cooking it. It doesn't absorb as much water while cooking. This 'soaking-in-advance and steaming method' works best while making sticky rice as this way it neither gets overly soggy nor burns at the bottom. Note that if this rice is cooked the way regular rice is done, the grains will break down easily making them mushy and soft in texture. The grains need to be whole, firm, and in lumps. Check out our article on 6 Proven Benefits Of Sticky Rice (Glutinous Rice) to know more about sticky rice.
Mangoes: Mangoes need to always be ripe when served with sticky rice. If they aren't, all you need to do is store them at room temperature so that they ripen properly before they are cut. However, ensure that they don't soften too much. If they begin to soften, put them in the fridge so that they don't over-ripen. Check out our article on How to Tell If A Mango Is Ripe Or Not.
Coconut milk sauce: Use thick, rich, and creamy coconut milk sauce for the recipe. Sometimes just coconut milk thickened with cornstarch also works just fine. This thick sauce is added to the sticky rice to give it a sweet taste and then again added to the entire dessert as a garnish.
Other optional ingredients: Sometimes people prefer to garnish the dessert with other ingredients such as stir-fried, golden-brown, crispy, and caramelized mung beans to add crunchiness to the otherwise gooey and soft-textured dessert. Some also prefer using toasted sesame seeds as a garnish.
Let us take a look at the detailed recipe of mango sticky rice below.
Mango Sticky Rice Recipe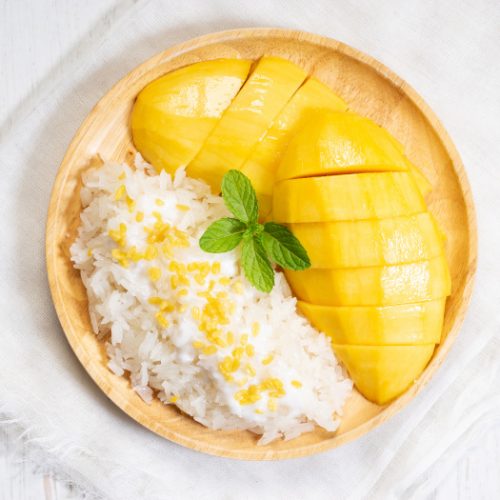 Mango Sticky Rice Recipe: A Tropical Delight
This gooey, sticky-rice dessert, served with thick and luscious coconut cream and ripe mangoes, will definitely satiate your tastebuds this summer!
Print
Pin
Rate
Ingredients
1

cup

of coconut milk

1

cup

of raw sticky rice

1/4

tbsp

of salt

2-4

tbsp

of sugar

1

big

ripe mango

peeled and sliced

2

tsp

cornstarch

toasted sesame seed or caramelized and stir-fried mung beans fir garnish

optional
Instructions
To Make Sticky Rice
To begin with, take a cup of raw sticky rice in a container and rinse it properly. Use your hand to gently stir the grains. It is important to do so for some time and then drain the water to remove the excess starch. Repeat this process one more time and then add water to soak the rice. You need to soak this rice for at least 1 hour or 5 hours, depending on your preference. Once done, rinse again and drain the water,

After you are done with this process, place this rice in a heatproof bowl, and add water to your steamer or electric pressure cooker, and not into the rice, Place the rice-filled heat-proof bowl on the steaming rack in the steamer or inside the cooker filled with 2-inches of water. Turn to medium-high heat to allow the water to boil. When the steam begins to come out of the pot, reduce it to medium heat. Allow the rice to steam this way for 20-25 minutes until it is thoroughly cooked, with no raw grains. Once done, remove the pot and keep it aside and begin to prepare the coconut sauce.
To Make Coconut Sauce
Take a saucepan, and add coconut milk, sugar, and salt. Stir in the ingredients properly. Now, cook over medium heat so that the sugar is properly dissolved and the mixture properly combined. Ensure that it does not boil but sufficiently heats up.

Meanwhile, take a small bowl and mix cornstarch with 4 tablespoons of water, Stir well so that the cornstarch dissolves. Add this mixture to the coconut milk, sugar, salt-mix that's being heated and keep stirring it till it thickens. You can adjust the thickness as per your preference by adding more cornstarch and water. Ensure that the sauce doesn't become too thick in the process as that just doesn't go well with the dessert,

Once the sauce is prepared in your desired consistency, add half of it in the bowl containing the sticky rice. Mix the two very well. Allow the rice and sauce mixture to cool before serving. Remember the sauce will begin to thicken once it begins to cool, so add more sauce to dilute it.

Transfer the rice, once cooled, in serving bowls or plates. Cut the ripe mangoes into slices and place them next to the rice on the plates. Pour in some more coconut sauce over it. Sprinkle some toasted sesame seeds or caramelized, golden-brown mung beans over it as a garnish and you are good to go! Enjoy the delicious dessert!
Notes
If you choose to refrigerate sticky rice, you can gently heat it in the microwave to bring it to room temperature before serving.
It would be advisable to have the sticky rice fresh as that is how you will enjoy it the best.
Refrain from freezing the sticky rice as that can create a very rough and coarse texture.
We have used 4 tablespoons of sugar but you can add or reduce it depending on how sweet you want it to be.
The sauce can be stored for 2-3 days if it is properly refrigerated.
In Thailand, people also use durian instead of mango and have it with sticky rice.
How did you find our recipe? If you have any more recipe notes to share with us or any other way of making this dessert, do share them with us in the comments section below.