Neem powder is extensively used in Ayurveda to treat skin conditions, improve the health of the skin and hair, and to help cleanse the liver. While this herbal powder is now available in most beauty stores as well as online, you can easily make it at home.
What is Neem Powder?
Neem powder is an herbal green powder made by crushing the sun-dried leaves of the neem tree (Azadirachta indica). Neem leaves contain polyphenol flavonoids such as quercetin and ß-sitosterol. These powerful compounds are known to have antifungal and antibacterial properties. You can use the herbal powder to make homemade face masks, for hair care, to purify the blood, and to boost immunity levels. [1] [2] [3]
How To Make Neem Powder at Home?
You can easily make neem powder at home if you have access to a pesticide-free neem tree in your garden or if you can buy organic neem leaves. Here is the step-by-step method to make the powder.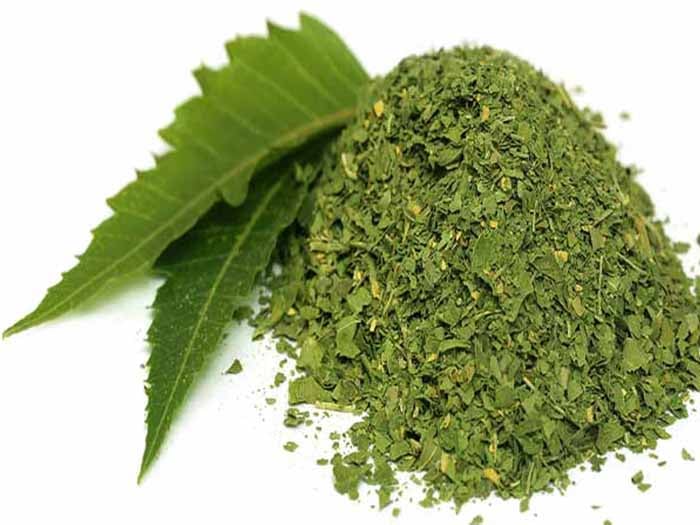 Make Your Own Neem Powder: Easy Recipe
Neem powder can be used for face packs or home-made hair care products.
Print
Pin
Rate
Instructions
Collect a handful of neem leaves. Make sure they are free of chemicals and pesticides; 100 percent organic leaves are recommended to make the herbal powder.

Wash it well under running water. You can hold the stalks upside down in the kitchen sink to let the water drain off easily.

Remove the leaves from the stalks and pat it dry with a kitchen towel.

Take a baking tray lined with parchment paper and place the leaves on it.

Dry it for a couple of days in the shade. Do not dry under direct sunlight as it may decrease the nutrient content of the neem leaves.

The leaves should feel crisp and dry on the touch after being dried. You can keep it for a day more if you feel they are not dry enough.

Grind the leaves in batches in a coffee or spice grinder till you get a fine powder.

You can pass it through a sieve to get a smooth powder, or you can skip the step.

Store the neem powder in an airtight container and keep it in a cool, dry place away from sunlight.
Health Benefits & Uses
Many of the health benefits of powdered neem leaves are anecdotal or have been verified on animal models. While more human studies are needed, neem products have been part of alternative remedies since ancient times. Let us look at the health benefits and uses of neem powder in detail.
Skincare
Neem, with its strong anti-inflammatory properties, can be used to soothe skin rashes, irritation, burns, and infections. For a traditional Indian facemask for radiant skin, mix two tablespoons of neem powder, two tablespoons of sandalwood powder, a tablespoon of rosewater, and make a paste. You can add a little more water if need be. Apply on your face for ten minutes and wash it off with cold water. [4] [5]
To know more about neem oil for skincare, you can visit 11 Amazing Benefits Of Neem Oil For Skin.
Haircare
The herbal powder is often used as a hair pack to get rid of dandruff naturally due to its antifungal properties. You can mix 3 tablespoons of neem powder with water to make a thick paste and apply it to your scalp. Leave it on for half an hour and wash off well. [6]
Blood Purifier
Studies have shown that neem has a bitter taste, which helps have a balancing effect on the body. In Ayurveda, neem products help cool the body due to its detoxing abilities. The herbal powder, when ingested in small doses (under the supervision of an expert), can help cleanse the liver and improve overall health. It also acts as a natural immunity booster by removing toxins from the gastrointestinal tract. [7]
Side Effects
It is advisable to consult with your health care practitioner before the use of this product if you are pregnant or nursing, taking medications, or have a medical condition. Avoid giving it to babies or children as neem products can cause serious side effects such as seizures or unconsciousness. It may also cause aggravation of respiratory conditions such as asthma. [8]
While side effects in adults are rare, there are certain cases reported where people have experienced toxicity associated with neem oil. It would be advisable to buy the herbal powder and source neem leaves from a reputable or known source. [9]