West African Cuisine is known for its distinct flavor and taste. It is particularly known for its soups and stews that are drastically different from its counterparts available in other parts of the world. They come in different forms. Some are heavy, while others are light, but irrespective of their texture, they are an important feature of a quintessential African meal. One such soup is the famous Nigerian Ogbono Soup, which is made of ogbono seeds, also known as bush mango seeds.
What is Ogbono Soup?
Ogbono soup has a unique slimy, viscous, and sticky texture like cooked okra. It is also known as Apon and is a variety of draw soup. For the uninitiated, draw soup is a term denoted to a variety of soups from southeastern and southwestern parts of Nigeria and is characterized by the thick viscosity of the broth. Ogbono seeds are commonly found across the tropical areas of Africa. To make this soup, ogbono seeds, (quite similar to Egusi melon seeds) are finely ground to prepare the primary protein-rich ingredient, which is responsible for its thickness.
How to Make Ogbono Soup?
Ogbono soup is quite an acquired taste. While some may fancy its thick and sticky texture, the same could be the reason why many don't prefer it. However, give this recipe a try and we assure you that you won't be disappointed. If anything, you will try out something different and who knows may even start to like it. Either way, it's worth giving it a shot. So what are we waiting for? Let us get started.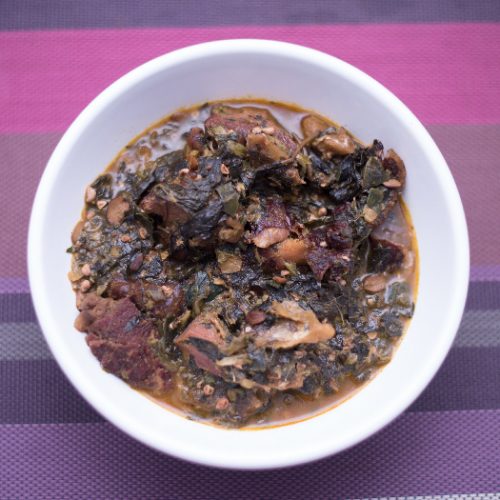 Ogbono Soup: The Delectable Nigerian Draw Soup Recipe
Enjoy this thick and wholesome Nigerian stew loaded with vegetables and meat in the comforts of your home!
Print
Pin
Rate
Ingredients
4

cups

of Chicken or Beef stock

1

cup

of blended ogbono or mango seeds

1

cup

fish stock

Meat of your choice - fish, tripe, cow skin

1/3

cup

palm oil or peanut oil

salt (as per taste)

3/4

cup

of periwinkle

1

tbsp

ground crayfish

Kale or Collard greens

1/2

tbsp

of red chili flakes or cayenne pepper

2

onions

2

bouillon stock cubes
Instructions
To make ogbono soup, cut the beef or chicken into medium-sized pieces and rinse them in a pot. Season the soup with salt, and bouillon stock cubes. For those of you who don't know, bouillon stock cubes are simply made from meat stock, dehydrated vegetables, a small portion of fat, monosodium glutamate (MSG), salt, and seasonings, shaped into a small cube.

Now to this, add red chili flakes or cayenne pepper and diced onions.

Once done, add water and allow it to boil for almost 20 to 30 minutes. Continue to boil till the meat turns tender soft.

Once done, add the fish stock and cook it for an additional 5 minutes. Meanwhile, take a cup of ogbono seeds and blend them well. Add them to the boiling meat and ensure there is enough stock in the pot. To be precise, you will need nearly 4-5 cups of stock, to begin with. This can be either chicken or beef stock, depending on which meat you plan on using in your recipe. Stir the broth well until the ogbono seeds are properly dissolved. If this step is not done properly, it could affect the viscosity of the soup.

Once that is done, add the periwinkles, crayfish, and palm oil and allow the thick soup to cook for more than 5 minutes.

Once done, lower the heat of the stove and add your green leafy vegetables. Allow it to simmer for the next 2-3 minutes. Serve it either with steamed rice or fufu. Enjoy!
Notes
The challenge in making ogbono soup is that it tends to get thick very easily. So if you do not plan on having it soon, add extra stock or water to it when you do.
The soup can be quite bland if you do not add red pepper flakes, cayenne pepper or minced habanero to it. We have added red pepper flakes to the soup to add heat to it.
While we have added green leafy vegetables, you can add okra instead if you'd like. This adds to the draw-ness of the soup.
People usually use palm oil to make this soup.

Nigerian food, like most West African food, is mainly cooked in

palm oil

. However, due to the

various

ethical issues surrounding the effects of

palm oil

's production on the environment and wildlife, you can use

peanut oil

as a substitute.

The best way to enjoy the authentic flavor of the soup/stew is to ensure you do not overdo it with the seasoning. In order to get a well-rounded flavor of the soup, make sure you do not add too much of the seasoning and spices while boiling the meat for the stock as it could impact the overall flavor of the soup. Keep it simple. Just add salt, stock cube, and onions if you'd like for the base stock of the soup. This will definitely keep the authentic flavor of the ogbono soup alive.
Things to remember while cooking Ogbono Soup
Obgono Soup is a draw soup, so the main thing to watch out for is its viscosity. Your soup should be thick and should draw. If not, it is not ogbono soup. There are several reasons why your soup may not draw. One of the main reasons could be because you may have used the wrong seeds. Many markets sell similar-looking seeds in the name of ogbono seeds but they may not necessarily be what you are looking for. To ensure that you are buying the actual ogbono seeds, break one of them and rub the broken sides together. If that causes sap to secrete-one that draws, then you know you have the right kind of seeds.
If your ogbono seeds are too old and dusty, don't be surprised to see the soup lose its stickiness and its ability to draw.
Another reason could be because of the packaged ground ogbono seeds, which people living outside Nigeria tend to use. Once ground, the ogbono seeds tend to lose their potency to draw. Over a period of time, they just won't draw.
If you happen to fry the ground ogbono seeds before adding the meat or fish stock, and not simply dissolve them in palm oil, the resultant soup will not draw.
If your soup is too watery, that is if the quantity of water added to the soup is way more than the amount of ogbono seeds used, then the soup will cease to draw.
An important thing to keep in mind while preparing this soup is to see that it doesn't burn. A viscous soup such as this tends to easily burn. That is why it is important that you cook it in low heat.
Given that we have mentioned using crayfish in the recipe, make sure you add it in the end. That is because crayfish speeds up the burning process. So note that you add crayfish and the other ingredients only once the ogbono is properly cooked. Moreover, use aluminum pots or stainless steel utensil to cook the soup.
Additionally, remember that ogbono soup is a dish that requires a lot of time to cook. So, once you add the ingredients allow it to cook in its entirety for over 20 minutes on low heat. Failing to do so will cause the soup to taste bland. Properly allowing it to cook will enable the individual ingredients to give out their flavors, further enhancing the overall flavor of the soup.