If there was ever a tea with a misleading name, it is orange pekoe. It has nothing to do with oranges or China from where the word 'pekoe' comes from. It is actually a grade of tea and while it may have had its origin in China, today it is used in reference to black tea which comes from India or Sri Lanka. One school of thought believes that the orange comes from Holland's 'House of Orange', the first European monarchy to import tea from China. The word pekoe may have had its origins in the Chinese word pek, which meant the tiny hair at the underside of a bud. Eventually, it was used by the British to grade the tea coming from India and Sri Lanka.
For tea snobs, the orange pekoe is among the highest grades of tea where every aspect matters. In fact, there is an entire industry that categorizes the quality of the tea by the quality of the leaves used, its aroma, and flavor. This multi-million dollar industry determines the fate of many tea manufacturers.
What is Orange Pekoe?
Orange pekoe is a grade of black tea originating in South Asian countries. Over the years it has come to denote a particular genre of black teas that mostly originate in India, Nepal, and Sri Lanka. The grades are decided based on the size of the processed and dried black leaves. Although many people see it as a synonym of black tea, it is actually just a grade. There are also many different types of grades within orange pekoe.
Variations of Orange Pekoe
Orange pekoe is an umbrella term for many different grades. It depends on the type of tea leaves and how they are processed. These variations are:
Orange pekoe: It mainly consists of long wiry leaves, but without tips. It is further categorized as OP1 (delicate, pale liquor), OPA (stronger than OP1), and OPS (OP grade from Indonesia).
Flowery orange pekoe: It consists of long leaves that are picked in second or third flush. It includes an abundance of buds.
Finest Tippy golden flowery orange pekoe: This is considered the finest grade in this category. This high-quality tea includes plenty of fine golden tips. The abbreviation is also jokingly known as 'Far Too Good For Ordinary People', an indication of its snobbish status in the tea world.
Tippy golden flowery orange pekoe: Usually found in Darjeeling and Assam tea. It contains a very high proportion of golden fresh buds and tips.
Benefits of Orange Pekoe
Orange pekoe is one of the best grades of black tea. A cup of this tea, therefore, means a premium quality black tea. Drinking this tea gives you the benefits that are associated with black tea, such as managing diabetes, heart diseases, stress, and asthma. High in antioxidants, it also shows anticancer potential. To know more about the health benefits of black tea, check out our comprehensive article on the subject. [1]
How to Make Orange Pekoe Tea?
Considered to be among the best grades of black tea, it has long been revered by tea snobs. Connoisseurs of black tea are even particular about the addition of lemon or milk with opinion divided on whether or not one should add them. Many tea lovers consider these additions unnecessary that dilute the quality of the tea. If you want to enjoy this tea, here are a few tips that you should follow:
Heat the teapot by rinsing it with warm water before steeping your tea leaves. It ensures that tea leaves are exposed to warm temperatures.
The orange pekoe has a very delicate aroma and flavor. But it gets bitter the longer you steep. People have their preference for how strong they want their tea. If it seems too light, try steeping it for longer. However, avoid steeping it for longer than 5 minutes.
For a true tea connoisseur, the aroma of the tea is also very important. Steeping time ensures that the fragrance develops.
Many people consider that the addition of milk, sugar, or lemon dilutes the flavor of the tea. However, if you like it, go ahead.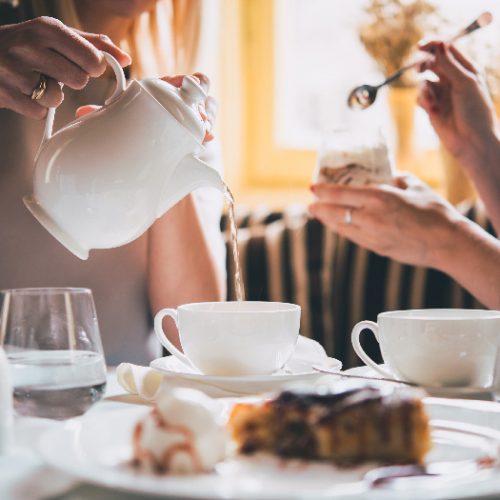 Orange Pekoe Tea Recipe
As one of the best grades in black tea, the orange pekoe is meant to be sipped leisurely and savored for its delicate flavor and aroma.
Print
Pin
Rate
Ingredients
1

tsp

orange pekoe tea leaves

1

cup

water

boiled

1

tsp

sugar

optional

1

tsp

milk

optional

1

tsp

lemon juice

optional
Instructions
Before you make the tea, rinse your teapot with warm water. Add the tea leaves to the pot and pour over the hot water.

Let the tea steep for 5 minutes. Keep in mind that the tea can get bitter if you soak it for too long.

Strain the tea into a teacup. You can take it without milk. But if you do want milk, add no more than a scant teaspoon. Add sugar as per taste.

Your cup of hot tea is ready.
Notes
The orange pekoe goes excellently with cake or cookies. The steeping time is important here and is usually as per one's preference. Some like it lightly brewed, while some like a strong, slightly bitter tea.
Proper storage of the tea: The orange pekoe has a delicate flavor. Hence, you must store it carefully. Store it in an airtight container in a dry and dark place to minimize exposure to any moisture or light in the atmosphere. Keep it away from any strong smells, such as spices or perfumes.