The Middle eastern platter has a range of top-notch delicacies for the sophisticated palates. Ranging from hummus to knafeh, everything you see and the taste is delicious, yet diverse, with a certain degree of uniformity, thanks to the generous flavors of spices that makes one want more. Also, what better way to enjoy flavorful dishes than pairing them with some soft, cushiony pita bread? Let's find out more with our recipe.
What is Pita Bread?
Baked from wheat flour, pita is a family of yeast-fermented round flatbreads with a pocket. This bread is common in the Middle East and Mediterranean regions. Due to its popularity across the Gulf, its origin is still a hot topic for debate.
This bread, also popularly known as khubz, is a favorite amongst the masses because of its puffy and soft texture that goes well with every type of dish – meat platter, shawarma, falafel, and hummus. It is soft, chewy, and melt-in-the-mouth goodness.
How to Make Pita Bread?
Homemade pita bread is super easy to make. The dough is made with basic ingredients such as flour, water, yeast, oil, salt, and a sweetener such as sugar or honey. Then it is rolled thin and baked at a high temperature. As it bakes, it puffs up and creates a pocket so perfect for filling. Watching them puff gloriously in your oven or on your stovetop is culinary magic at its best. Refer to our recipe and let us show you how we do it.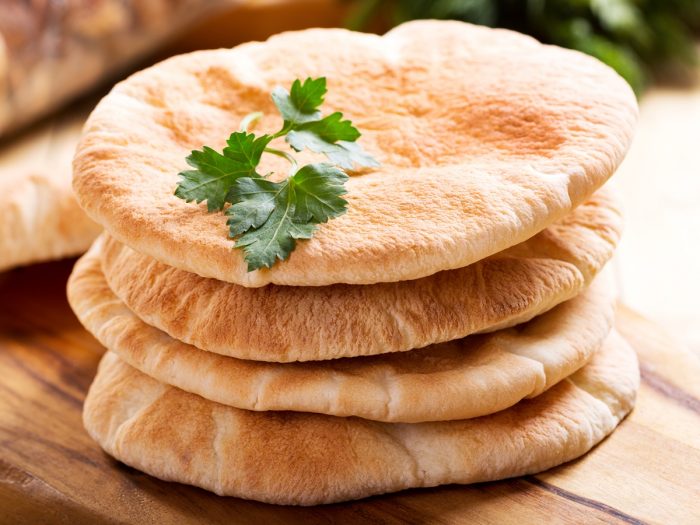 Middle Eastern Pita Bread Recipe
Make fresh pita pockets at home and indulge in a complete Middle eastern experience. Have options to choose from - shawarma, falafel, hummus, or labneh.
Print
Pin
Rate
Ingredients
1

tbsp

instant dry yeast

or active dry yeast

2 1/2

cups

warm water

1/4

tsp

sugar

6

cups

all-purpose flour

1 1/2

tsp

salt

3

tbsp

olive oil
Instructions
In a bowl of a stand mixer, combine yeast, water, sugar, and 3 cups of the flour to form a sponge. Let the sponge rest for 10 minutes. Mix in the salt and 2 tablespoons of olive oil.

Add the remaining 3 cups of flour little at a time until the dough forms into a nice ball. Knead on medium speed for 5 minutes. It should get smooth, shiny, and elastic.

Use the remaining 1 tablespoon of olive oil to grease a large bowl. Roll the dough in the oil, put it in the bowl, cover it with a towel and let it rise for 2 hours.

Preheat an oven to 500℃ with a baking stone. If you don't have one, just put a baking sheet in the middle.

Divide the dough into 12 pieces. Roll it into 8-inch rounds. Let the rounds rise for 20 minutes. Just before cooking, roll each piece out into an 8-inch circle.

Cook it in batches two at a time on the baking stone. They should ideally puff up and brown in 3-5 minutes.

Now, remove them from the oven and wrap them in a clean dish towel and put them in a plastic bag to keep them soft and pliable.
Notes
Cook time applies if you bake the bread one at a time. Cook time for one pita varies between 3-5 minutes. If you do not have a baking stone, use a cast-iron skillet or a baking sheet. To ensure a pocket, make sure your oven is very hot. It is advisable not to roll your pita too thin.

You can also mix the famous Middle Eastern spice mix, za'atar, to the olive oil and drizzle it over the pita bread for flavoring. This is, however, optional.
Frequently Asked Questions
There are a lot of questions that arise in everyone's mind when they try pita bread for the first time. Let us have a look at some of them.
How many calories in pita bread?
Pita bread has relatively low calories. It is also a rich source of protein and carbohydrates.
How many carbs in pita bread?
According to FoodData Central, 100 g serving of whole wheat pita fetches you 55 g of carbohydrates. [1]
What to eat with pita bread?
We think of pita usually as a vehicle for falafel and hummus. But pita is a delicious and versatile bread that can be used in a variety of ways. We have curated few of them to add creativity to your Mediterranean platter:
Pizza pitas: Throw some sauce, cheese, and your favorite toppings. Bake it in the oven until the cheese melts, and you have your pizza ready.
Toasted pita bread: A toasted version of this bread makes a cool alternative to regular bread. Spread jam, butter, hummus, or cheese spread and have it for breakfast or snack.
Turn salad into a sandwich: Pita has pockets for a reason. Use them by filling your favorite salad or veggies. You can also include strips of meat – steak, chicken, or lamb. Top it with tahini for the extra zest.
Pita bread hot dog: Instead of using the traditional hot dog bun, wrap the hot dogs in small pita bread. It can also be wrapped around kofta – made of ground beef and herbs.
Replace white bread with pita: Grilled cheese, caesar salad, or sub sandwiches are tastier on pita bread. Wrap them or fill them, we bet you can't have just one.
Where to buy pita bread?
Pita bread is found in the bread aisle in most supermarkets. If not, try the deli area of your supermarket which has freshly baked artisanal bread. However, if it is not available, a good substitution is commercially sold pocketless naan which is a similar type of bread popular in Indian cuisine.