Homemade apple juices are way more beneficial than the fizzy overly sweet apple juices found in the market. Although unpasteurized, homemade apple juice is packed with antioxidants and vitamin C. One glass of apple juice can help boost immunity, cure constipation, induce weight loss, and boost skin health. Here is a step-by-step guide to making apple juice at home.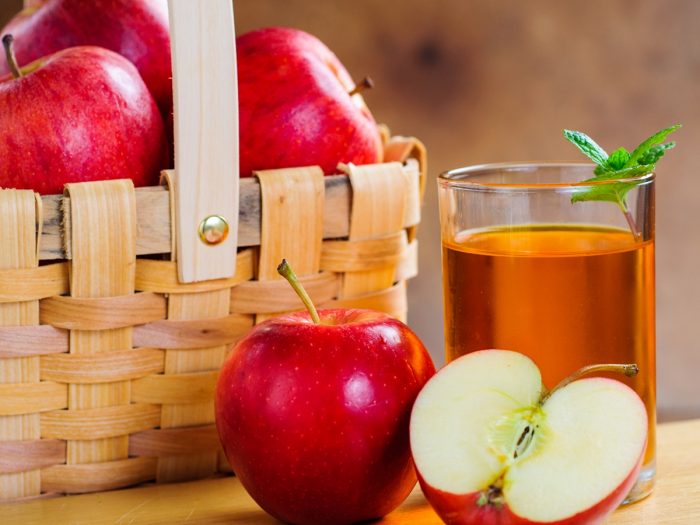 How To Make Apple Juice
A glass of apple juice a day keeps the doctor away!
Print
Pin
Rate
[1]
[2]
Instructions
Clean the apples thoroughly under running water, but do not remove the peel, as many of the nutrients can be extracted from the peel.

Slice each apple into 12-15 chunks and remove the seeds.

Fill a large pot with the apples and enough water to cover about half the apples.

Slowly warm the water, and eventually bring it to a low simmer. This should cause the apples to begin breaking down.

Occasionally, mash the apples to speed up the process.

Gradually strain the apple mash through a strainer into a jar or any other container. Press the mash to extract as much juice as possible. Do not discard the mash, as they can be used to make applesauce.

For a very thin consistency, you can further filter the apple juice through cheesecloth or coffee filters, although many people prefer a bit more pulp in their juice.

Once you have the final product, you may add cinnamon for taste.

Chill the juice, serve and enjoy!
Notes
If you find the flavor to be too strong, you may add some water to dilute it as per your taste. Since homemade apple juice lacks pasteurization, make sure to refrigerate it and consume it within a week.
Connect With Us
If you have tried this recipe, we would love your feedback in the comments section below. And while we can't taste it, we would love to see how it turned out! You can connect with us on Facebook or Instagram and tag your picture with #organicfactsrecipes. [4] [5]
Do you wish to share your winning recipes with us? Please click here and fill in the details to get started.