Watermelon is one of the most popular fruits in America, particularly in the summer, and its juice is increasingly available at grocery stores and markets around the world. If watermelon juice isn't widely available in your area, it is quite simple to make it at home. While some people shy away from the sweet, almost saccharine flavor of this juice, it can make a major difference in your health. Let's take a look at watermelon juice recipe!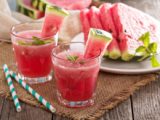 A delicious thirst-quencher!
Instructions
Add the watermelon, ginger, and lemon juice in a blender. Blend thoroughly until the consistency is smooth.

Pour the blended juice through a fine sieve to remove fibrous material.

You can add mint leaves or a teaspoon of sugar before serving.
Recipe Notes
You can store the excess juice in an airtight jar or jug in the refrigerator.
Connect With Us
If you have tried this recipe, we would love your feedback in the comments section below. And while we can't taste it, we would love to see how it turned out! You can connect with us on Facebook or Twitter and tag your picture with #organicfactsrecipes.