Ayahuasca tea should be made with extreme caution, and only if you are trained in its preparation or are an extremely cautious chef. People who have consumed this tea have reported incredible effects like discovering their purpose in life and curing terminal diseases. The process to prepare the Ayahuasca tea takes anywhere between 5 to 10 hours.
This ancient tea is known to be psychoactive in nature and is believed to have some incredible healing properties. It is recommended to consume it in small dosages. The tea is easily available in local grocery marts and online stores, however, if you're keen to prepare the concoction at home, here's how you can go about it.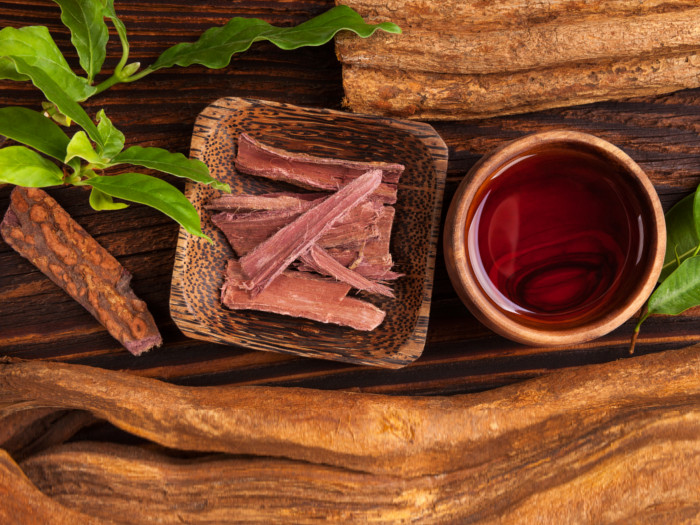 Here's How to Make Ayahuasca Tea At Home
Savor the experience of sipping this psychoactive brew!
Print
Pin
Rate
[1]
[2]
Ingredients
200

ml

vinegar

(white vinegar or vinegar apple preferable)

160

g

mimosa hostilis

(shredded or powdered)

150

g

Banisteriopsis caapi

(powder)

3

liters

water

(filtered)
Instructions
Heat the water in a large pot until it is just about to reach boiling and then reduce to medium heat.

Add vinegar and mimosa hostilis to the water and stir thoroughly.

Cook this for 3 hours at low-medium heat. Do not boil!

Filter all the liquid using a hand towel or any other cloth. Squeeze as much liquid as possible from the mimosa.

Store the liquid in another pot and then repeat the entire process with fresh water and the same shredded mimosa.

Repeat the process again. It will leave you with 3 pots of mimosa-infused liquid.

Combine all three pots of mimosa water and cook on medium heat. Reduce it to 1.5 liters, and make it more concentrated.

Put the water in the fridge and cool overnight.

Filter the liquid in the morning to remove any excess particulate matter.

Warm the liquid on the stove again, but do not boil.

Add the Banisteriopsis caapi powder and stir for 15-30 minutes on low heat.

Serve the tea in small amounts.
Notes
The final 1-liter product will serve 26 to 28 dosages. It is a psychoactive beverage, so be mindful of the quantity. Ayahuasca plant contains a monoamine oxidase (MAO) inhibitor. Therefore, it should never be taken with an SSRI (which is usually present in antidepressant drugs) or any other prescription medications.
Connect With Us
If you have tried this recipe, we would love your feedback in the comments section below. And while we can't taste it, we would love to see how it turned out! You can connect with us on Facebook or Instagram and tag your picture with #organicfactsrecipes. [3] [4]
Do you wish to share your winning recipes with us? Please click here and fill in the details to get started.