If you are running out of snack options to make for the kids, or need more ways to make your slice of bread cheesy and interesting, here is a quick and easy chili cheese toast recipe for you. Enjoyed as a midday snack as well as a teatime accompaniment, the open-faced toast is something we don't mind as a midnight sneaky bite either. With a few standard elements, the recipe is otherwise customizable to fit your taste and what you can find in the pantry. Our version here is something that serves as a reminder of a cheesy pizza but without half the effort.
Whether you are looking for a simple snack or side idea, want to impress the kids with a tasty treat, or trying to impress someone with your cooking skills without really doing a lot, we got you. What's more, this recipe can be made in two ways, both giving slightly different results. The pan version gives you a golden, crispy crust, whereas the oven-made one will cook the toppings and give a crusty cheese cover.
How to Make Chili Cheese Toast?
While the name chili cheese toast suggests that chilies and cheese would be the star of the show, it is all held together by a generous amount of butter and garlic. If you are not a fan of garlic, you could use garlic powder or skip it altogether, but we recommend you try it.
We also like this best with slices of plain white bread. You are free to go with any other variety, but ensure that the bread is not crumbly or falling apart easily. French baguettes are an option, or sourdough bread if you want to use that.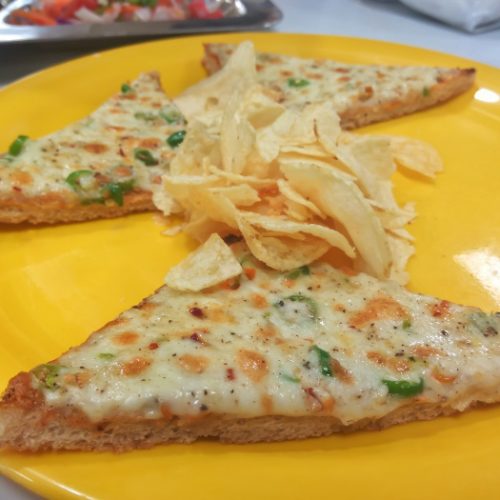 Chili Cheese Toast
A perfect accompaniment to your tea or coffee, the Chili Cheese Toast lies somewhere between garlic bread and pizza on the spectrum of cheesy goodness. These also make for fun picnic snacks, starters at kids' parties, or for binge-eating when binge-watching.
Print
Pin
Rate
Ingredients
4

slices

bread

2

cup

mozzarella cheese

grated

1

cup

capsicum

chopped

1

cup

yellow onion

chopped, optional

1

tsp

green chilies

chopped

1

tbsp

jalapeno

chopped

butter

8

cloves

garlic

chopped coriander

optional

oregano

chili flakes
Instructions
To make chili cheese toast, start by crushing your garlic cloves and then chopping them up into small pieces.

Next, take over one tablespoon of room temperature, soft butter in a bowl, and add the chopped garlic to it. Also add a couple of pinches of oregano, chili flakes, and all the green chilies to the butter. Mix this well.

Spread this mixture on one side of each slice of bread. Set it aside.

Take the grated mozzarella cheese in another bowl. To this bowl, add capsicum, jalapeno, onions, as well as the rest of the oregano and chili flakes. Give it a light toss to mix the ingredients together.
Chili Cheese Toast in the Oven
Place the cheese mixture on the buttered side of the bread. Pile it as high as you like!

Preheat the oven at 200°C or 390°F. Place the bread in for about 5 minutes. It tastes best when the cheese has developed a golden, crusty top.
Chili Cheese Toast in the Pan
Place a non-stick pan on medium heat. With the buttered side down, place the bread slices in the pan for a minute or so, till the butter melts into the slice. Take them off the heat.

Spread a layer of the garlic butter on the plain side. Top the lightly toasted side with the cheese mix. Place it back on the pan.

Do not overcrowd the pan and let it stay on medium heat. Place a lid on after a couple of minutes. Take it off when the cheese has melted the way you like it.

Carefully lift one slice with a spatula to check whether the bread has crisped enough. Take it off the heat when it has toasted well enough.

To serve the chili cheese toast, cut the slices diagonally, and plate it up. Garnish with finely chopped coriander. Serve it with a side of sweet chili sauce, mint mayonnaise or mint chutney, or any dip of your choice. Something spicy, light, and fresh goes well with these.
Notes
The oven version gives a nice crisped-up cheese topping, while the pan version is best if you like your bread properly toasted with melted cheese.
To the cheese mix, you can also consider adding chopped pepperoni or bacon bits.
We love the chili cheese toast hot and crispy. Do you have any special tricks to make them even yummier, maybe a secret dipping sauce you don't want to keep a secret anymore? Let us know in the comments! Also, if you want to share some of your awesome recipes with us, head over to our recipe submissions page.